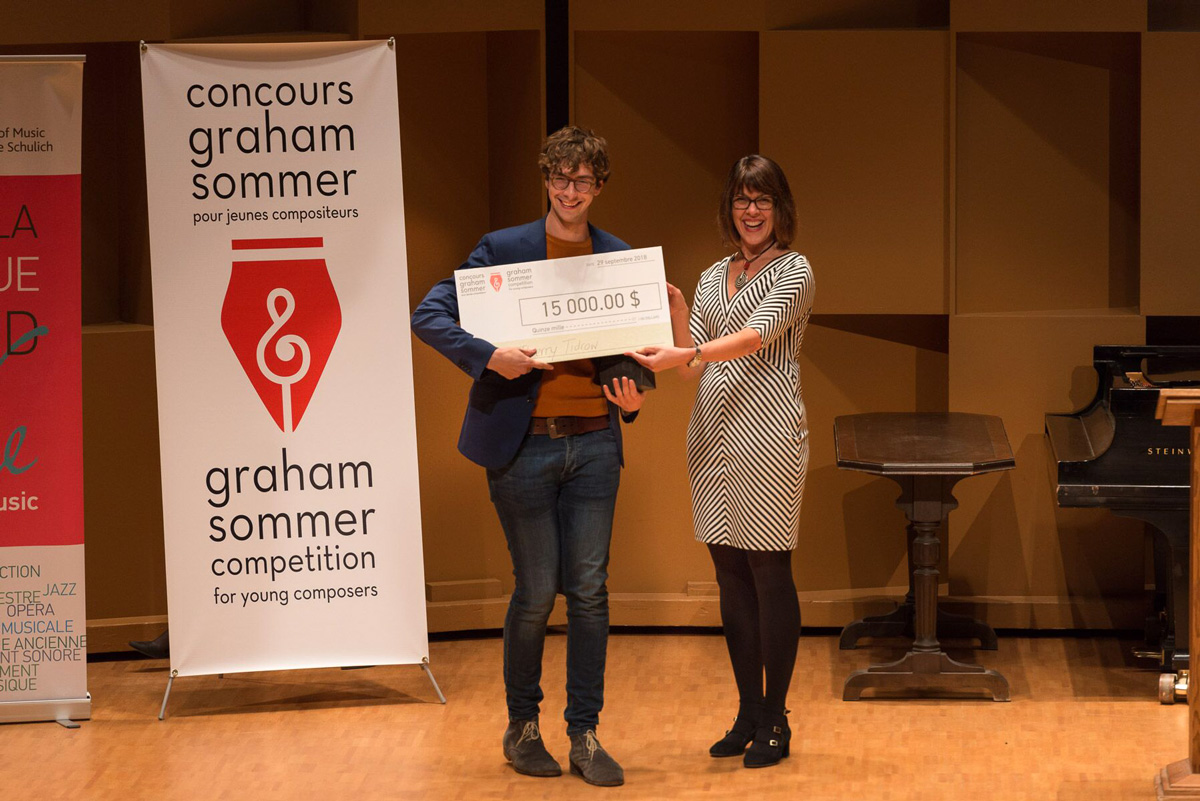 While it isn't a milestone birthday, Thierry Tidrow will probably remember his 32nd birthday for the rest of his life.
On Sept. 29, the same day he turned 32, Tidrow was named grand prize winner of the inaugural edition of the Graham Sommer Competition for Young Composers. The $15,000 first prize for Tidrow's new work for piano quintet, Quicksilver, was among $45,000 in total prize earnings awarded at the Concert and Prize Gala at Pollack Hall. This new national competition for Canadian composers under the age of 35 was founded by the late Dr. Graham Sommer, MDCM'72, a graduate of McGill's Faculty of Medicine and an accomplished pianist and devoted music lover.
"As a freelance composer, this prize allows me to be committed to write more music," Tidrow said. "It was a big challenge to find how I could express myself in a work for piano quintet, a formation with so much history. With Quicksilver, I tried to use strings in a different way, almost slipping out of the players' fingers."
Pan-Canadian competition
Five finalists, chosen from 84 applicants from across Canada and Canadians living and studying abroad, were each commissioned to write a new work for piano quintet, which were premiered by pianist Sara Laimon and the Molinari Quartet.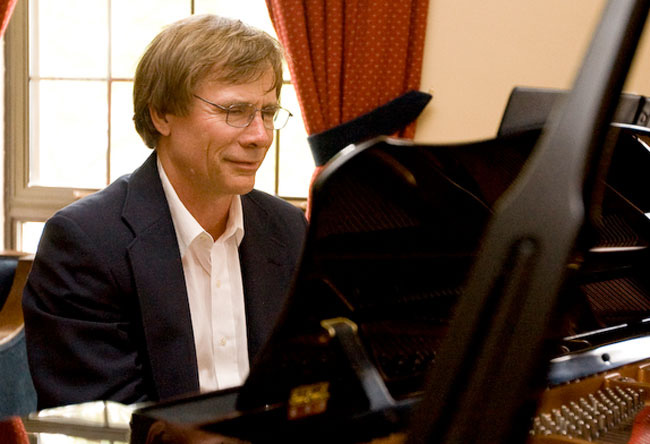 Tidrow, who graduated from McGill with a B.Mus. in 2009, expressed his gratitude to his teachers Christoph Neidhöfer and Brian Cherney, as well as Schulich School of Music faculty Jean Lesage, Peter Schubert, and others. His studies in Montreal were followed by a Master's degree in composition from the Conservatorium van Amsterdam and an Advanced Studies diploma at the Hochschule für Musik Freiburg. A winner of the Canada Council for the Arts' Jules-Léger Prize, Tidrow has collaborated with many performers across Europe and North America, and was selected for the ECM+ Generation 2018 tour. He currently lives in Berlin.
A second-place prize of $10,000 was awarded to Ashkan Behzadi, with the $5,000 third-, fourth-, and fifth-place prizes going to Christopher Goddard, Taylor Brook and Alison Yun-Fei Jiang, respectively. Jiang's In Absent Waters was also awarded the $5,000 Audience Choice Award, voted upon by the audience in attendance at the concert as well as online.
"To all the finalists, I hope that this experience will encourage you to pursue your artistic and creative endeavours without reserve," said Dr. Brenda Ravenscroft, Dean of the Schulich School of Music and chair of the competition jury. "We are very fortunate here at the Schulich School of Music to be able to host competitions of such quality and distinction. I'm absolutely thrilled that these awards extend to composers across the country, thanks to the generosity and vision of the late Dr. Graham Sommer."
Lifelong passion for music
A native of British Columbia, Dr. Sommer was a graduate of McGill's class of '72 and pursued a successful career in academic radiology at Stanford University for 37 years before retiring in 2016 as Professor of Radiology, Emeritus. In addition to his 'day job,' Dr. Sommer was an accomplished classical pianist in his own right and a keen performer who has written a number of compositions.
Dr. Sommer's enduring passion for music has resonated at the University, notably through the Dr. Graham Sommer Piano Fund, which supported the restoration of pianos in McGill residences and the purchase of a new piano for Douglas Hall. In 2016, he pledged $1 million to McGill to fund a Canada-wide competition for young composers, providing an exciting forum for the creation of new musical works.
Dr. Ravenscroft was joined on the competition jury by composers Ana Sokolović and Alexina Louie; clarinetist and composer Kinan Azmeh; David Pay, Founder and Artistic Director of Vancouver's Music on Main; violinist/violist Barry Shiffman, Associate Dean at the Glenn Gould School in Toronto and Executive Director of the Banff International String Quartet Competition; and Robert Everett-Green, feature writer and Montreal cultural correspondent for The Globe and Mail.