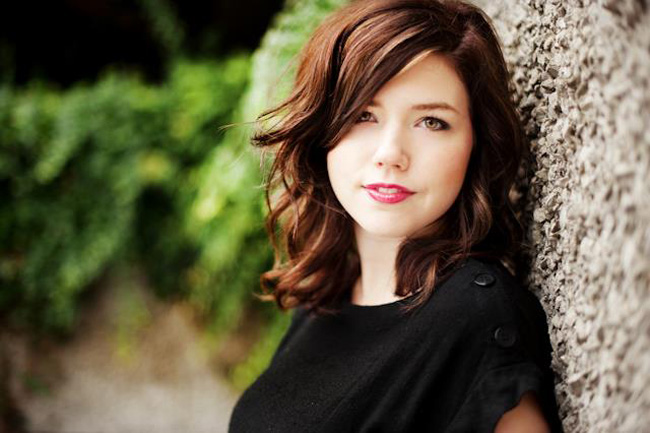 On Feb. 7, Chelsea Rus was named the winner of the inaugural Wirth Vocal Prize. According to the Schulich School of Music's website, the $25,000 prize is given to "an exceptional voice student… in recognition of outstanding accomplishment as a singer and significant promise for an international career." Pretty heady stuff for any young singer – but especially so for Rus, who had never even heard an opera until her first year of college in 2009 back home in Abbotsford, B.C.
"I had been playing piano since I was four and singing since I was 12, but it was mostly jazz and folk music," says Rus, who will finish her Masters in Voice and Opera Performance this spring. "But I had never listened to classical music, let along opera when I started [studying voice] at community college. I felt very behind the game."
When she finally did see her first opera – La Traviata performed by the Vancouver Symphony Orchestra – she was mesmerized. "I was with my dad and I was so blown away by the voices that I basically cried the whole time," she says with a laugh. "The college got a great discount on tickets so my classmates and I were always in the front row. I remember sitting there in awe of the singers, the orchestra and the power of the story. I was overwhelmed."
But Rus soon found out that falling in love with opera doesn't necessarily mean you can sing it right away. "I was not a natural at all and it took me a long time to get even remotely good. It was very humbling," says the soprano. "My teachers were all very patient with me. They always reminded me to love the process and not worry so much the product."
Rus – who had no problem belting out Sarah Vaughan and Ella Fitzgerald with gusto at local restaurants and cafés as a teen – had to relearn how to use her voice.
"In the beginning I really had no high notes at all and I could not access my upper register because there was too much tension," she says. "Over time – and it was as slow process – I learned how to access deeper sources of breathing as a form of relaxation that really helped me release all that tension. That's when I really began to sing.
"Even today, this is something I emphasize every day when I practice," continues Rus. "I'm always trying to find and eliminate the sources of tension in order to free my instrument."
Surprisingly, tension was something Rus did not feel during the competition for the Wirth Vocal Prize.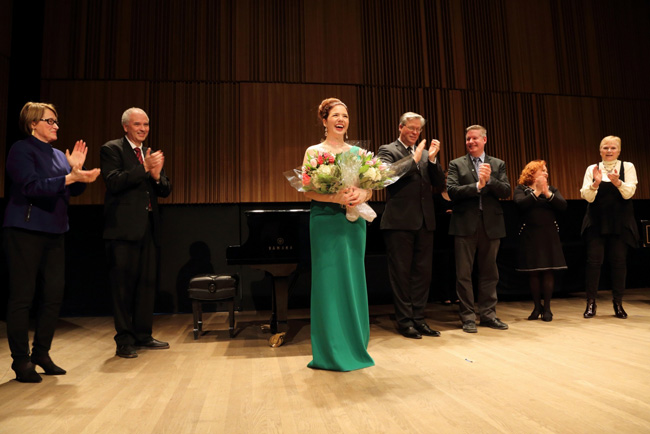 The four finalists presented a 30-minute program in the Tanna Schulich Hall in front of an audience and the jury in order to determine a winner. Despite the high stakes, Rus felt entirely at ease. "I've done a few other competitions, including one in Amsterdam that was a whole different experience. You stand in a long line and you are singer number 87," says Rus. "It's very different than singing with three of my closest friends [the other Wirth Prize finalists] in front of an audience that was mostly our friends. There was great energy that night because everyone wanted us all to do well."
Rus says while it was tempting to cram her 30-minute program with showstoppers, it was important to showcase more than just her power. "I had to take stamina into consideration because I had to sing for 30 minutes and some of the pieces were very fireworky," she says. "I needed to include other pieces that would allow me to catch my breath. My teacher Joanne Kolomyjec and I took a lot of time to choose just the right pieces." Rus impressed the jury with a performance of music by Puccini, Massenet, Gounod and Richard Strauss.
Still "in shock," a week after her win, Rus has had time to reflect upon what the Prize means for her. "This is really the first time I've started to see myself as a young professional heading into my career. Having this financial foundation is like Kickstarter for a company," she says. "I am so grateful to Elizabeth Wirth for this opportunity."
And while Rus can't wait to begin the artist-in-residence program at the Opéra de Montréal later this year, she knows it will be difficult to leave McGill and the Schulich School of Music. "I will leave McGill having done a Baroque opera, a classical opera, a Bel Canto opera and a modern opera –and that varied experience is invaluable," she says. "Mostly I feel grateful for having had the chance to work with so many wonderful teachers, directors and colleagues. I feel like they have shaped the artist who I am today and the artist I will be as I continue growing."
But what about jazz? Does Rus miss singing Sarah, Dinah and Ella? "I still think about Ella Fitzgerald and the improvisational aspects of her music when I sing some opera," she says.
"Classical music isn't nearly as regimented as people think. In Bel Canto opera it's entirely acceptable to be behind the beat, in front of the beat or to add ornaments. It's the same in Baroque music as well," says Rus. "Sometimes those moments of improvisation are what elevate a good performance to a great one – that's what I learned from jazz."