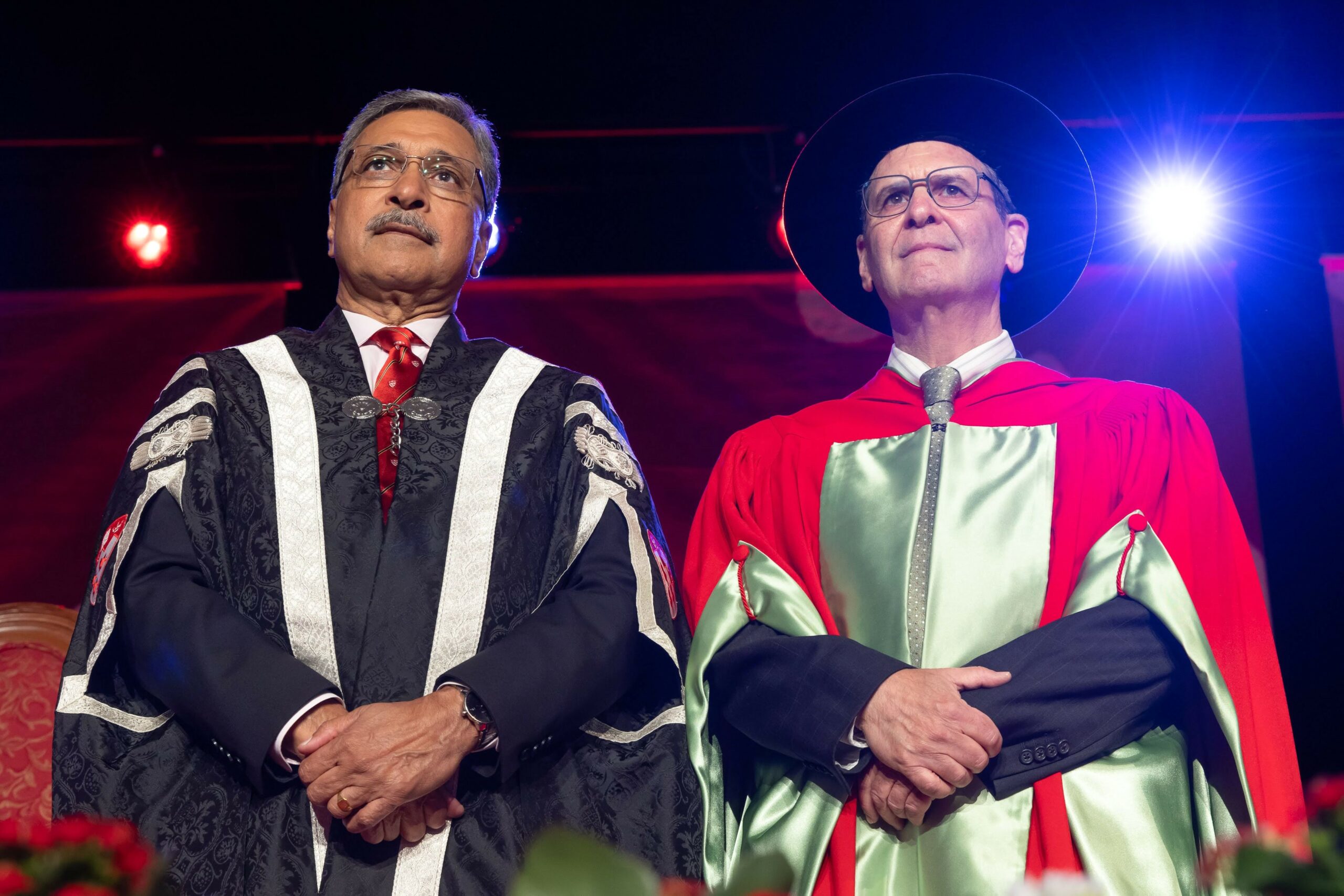 It's not every researcher, said Sean Ferguson, Dean of the Schulich School of Music, who can boast of having done work so important that an era is named for them.
Presenting the McGill University Medal for Exceptional Academic Achievement to William Caplin, who retired last fall after 44 years as a Professor of Music Theory in the Faculty of Music and then the Schulich School, Ferguson noted that Caplin had produced such impactful and innovative theories of form and cadence in the music of three composing giants that recent decades of work in music theory can be said to have been divided into pre- and post-Caplin Eras.
An internationally acclaimed researcher, Caplin's innovative theories of form and cadence offer unrivaled precision and explanatory power in the analysis of musical form at every level in the structure of a composition, Ferguson said in presenting the prestigious award on Wednesday, June 7. Caplin has, in other words, explained better than anyone else how three of the greatest composers of the late 18th and early 19th centuries – Haydn, Mozart and Beethoven – did what they did and why.
"My work is more how they structured the compositions they wrote, how they put the pieces together … and how things happen from moment to moment and what the logic of that actually is," Caplin says in an interview from Italy, where he was vacationing recently. "And I think I've made a contribution to those questions."
The medal serves to acknowledge retired members of the University's academic staff who are "uniquely deserving in light of their exceptional contributions to their discipline, to the University and to society at large." It is a rare honour, not bestowed every year.
Early assignment becomes life's work
But why those three composers? Caplin says he has McGill to thank. "When I came to McGill, I was asked to teach a fourth-semester course in the theory curriculum, I was simply told to do it. I was told to analyze musical form focusing on the high classical style with works taken from Haydn, Mozart and Beethoven. I basically was assigned to do this."
Fresh from a summer in Berlin studying musical form with Carl Dahlhaus, one of the 20th Century's leading musicologists, Caplin was ready to take up the challenge of teaching in this brand new field derived from the work of notable Austrian-American composer, music theorist, teacher, writer, and painter Arnold Schoenberg.
"It just all came together," Caplin says. "I had the composers, I had the basics of the theory, and I just ran with it and kind of developed it from there."
In 1978, when Caplin began teaching music theory at McGill, he was then only the second full-time music theorist in the Faculty, Ferguson noted. In 2005, he was named a James McGill Professor and was later promoted to Distinguished James McGill Professor in 2019. In 2011, he was awarded a two-year Killam Research Fellowship from the Canada Council for the Arts for the project, "Cadence: A Study of Closure in Tonal Music," to be published by Oxford University Press. That work would expand Caplin's scope to include the likes of Bach and Brahms. In 2015, Caplin was elected a Fellow in the Royal Society of Canada.
Abbey Road: "a revelation"
So how does a kid from Highland Park, Illinois, who was 15 when The Beatles hit The Ed Sullivan Show stage in 1963, follow Beethoven, Haydn, Brahms and Mozart instead of John, Paul, George and Ringo?
Caplin joined two musical groups in school: the concert band, where he played French horn, and the jazz combo, where he played piano and ended up leading the group in his senior year.
Though he followed Top 40 music in the late 1950s and early '60s, his musical interest had turned to jazz. And then, in 1969, he heard the Beatles album Abbey Road. "That was a revelation," he recalls. "I had no idea they were so great."
Nonetheless, his university studies in music, at the University of Southern California and the University of Chicago, with time in Berlin to study German and work with Dahlhaus, focused on classical music. He was hired on at McGill without having completed his PhD ("McGill and the Faculty were willing to give people a chance," he says.) and he settled into Montreal and stayed.
All in the family
Caplin is now part of a very McGill family. His wife, Marsha Heyman, daughter of former McGill administrator Paul Heyman, who was in the office of development, teaches child psychiatry at the University and works at the Jewish General Hospital. His son is following in his mother's footsteps and studying psychiatry here, while his daughter is about to pursue a Master's in social work at McGill.
"It's been an absolutely wonderful experience," he says. "I have been well supported by the University, I've had absolutely wonderful colleagues, particularly in the music theory area. I can't imagine much of a better job than this one."