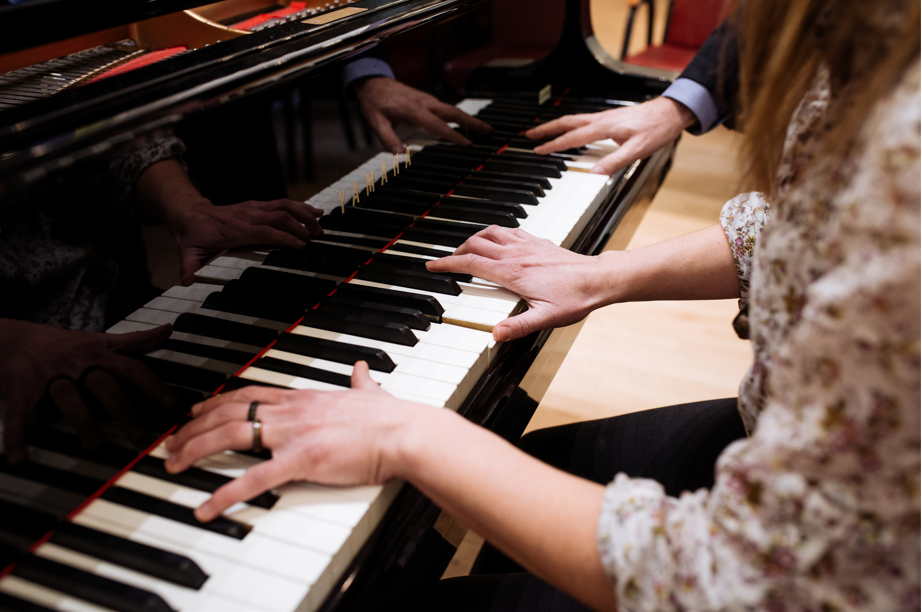 La version française suit
After two years of health restrictions that have often left concert halls empty and musicians struggling, a generous donation from the Azrieli Foundation is helping to breathe new life into the world of elite music performance.
The Foundation's $2-million gift to McGill University and Université de Montreal (UdeM) has established a joint residency for high-level pianists who specialize in accompanying and coaching singers. Dubbed the McGill-UdeM Piano-Vocal Accompaniment Residency, this intensive nine-month program will give six emerging artists per year the opportunity to deepen their skills as collaborative pianists and vocal coaches.
Shared by UdeM's Faculté de musique and McGill's Schulich School of Music, this gift is believed to be the largest joint donation to two music faculties in Canada, giving musicians a rare opportunity to benefit from the expertise, resources and facilities at both universities.
"On behalf of McGill, I would like to thank the Azrieli Foundation for its generous support of this unique cross-institutional residency, which will give promising artists the opportunity to truly become masters of their craft," says McGill Principal Suzanne Fortier. "This inspiring investment in support of musical excellence will help revitalize a field deeply affected by the pandemic."
"Thanks to the generosity of the Azrieli Foundation, two high-calibre institutions for musical training are joining forces in service of the next generation," says Daniel Jutras, Rector of Université de Montréal. "The dreams of young pianists will be realized, and international careers will be born, but the primary beneficiary of this gift is the public, who will get to enjoy artists of even greater talent."
Residency inspired by passion for music
The vision for this project came from Dr. Sharon Azrieli, an award-winning soprano and member of the Azrieli Foundation's Board of Directors. Dr. Azrieli, who has performed at prestigious venues like Carnegie Hall, the Metropolitan Opera House, and the Opéra Bastille in Paris, noticed that there was a shortage of collaborative pianists with the skills necessary to work with the highest level of singer.
"In Canada, we produce some of the world's best singers," says Dr. Azrieli. "Imagine how far they could excel if they had the best partners at the piano! In contemplating how to meet this need, I had a spark of inspiration. Why not invite two of Canada's top universities to unite their strengths in offering elite training to collaborative pianists of exceptional potential?
"I'm thrilled to say, with the foundational support of the Azrieli Foundation, that spark has grown into the McGill-UdeM Piano-Vocal Accompaniment Residency."
Intensive training with renowned artists
The residency, which focuses on art song and operatic repertoire, will be co-led by two renowned pianists and vocal coaches – Professor Francis Perron (UdeM) and Professor Michael McMahon (McGill). Collaborative pianist Marie-Michelle Raby will serve as the cross-institutional coordinator of the program.
The six members of the inaugural cohort, hailing from France, Brazil, Canada and the United States, were selected this spring and will begin their residencies in fall 2022. All the artists will receive a full scholarship, and, thanks to the Azrieli Foundation's philanthropic commitment, they will also receive a living allowance and a career grant at the end of the program.
The program also includes opportunities to work with some of the world's most renowned artists and experts in a wide range of specialities, including conducting, lyric diction, opera, and lieder.
"I believe this residency will provide the skills necessary to work with a graduate or professional level of singers," says Erin Palmer, one of the exceptional pianists selected for the first cohort. "This will enable me to make the leap from Staff Accompanist to either a collegiate coaching position or working with an opera house."
"The opportunity for intensive language study is also thrilling," adds Palmer, who is currently based in North Carolina and is eager to improve her French and experience life in Montreal.
Montreal music scene will reap the benefits
The impact of this program extends far beyond the artists chosen each year. Public concerts and masterclasses offered by a number of prominent visiting artists will enrich Montreal's music scene. The Canadian music community will also benefit from an influx of specialized artists who will be highly sought-after for artistic collaborations and will help elevate Canada as a major player in opera and music performance.
UdeM and McGill are no strangers to collaboration when it comes to performance research and education. In 2015, funding from the Canada Foundation for Innovation and the Quebec government allowed the two universities to create a research hub for the study of live performance by virtually linking McGill's Multimedia Room and UdeM's Salle Claude Champagne.
Soon the two universities will also be physically linked by the Réseau express métropolitain (REM) light-rail system, which will make it easier to travel between the two campuses.
******
En avant la musique: un don à McGill et à l'UdeM donne naissance à un carrefour du piano collaboratif à Montréal
Grâce à un don de 2 M$ de la Fondation Azrieli, l'Université McGill et l'Université de Montréal lancent un programme commun unique pour les pianistes se spécialisant dans le domaine de l'art vocal
Après deux ans de restrictions sanitaires qui ont souvent vidé les salles de concert et mis les artistes en difficulté, un don généreux de la Fondation Azrieli contribue à donner un nouveau souffle au monde de la prestation musicale de haut niveau.
Ce don de deux millions de dollars à l'Université McGill et à l'Université de Montréal a permis la création d'une résidence commune pour pianistes accomplis qui se spécialisent dans l'accompagnement de chanteurs et chanteuses lyriques. Baptisé Résidence UdeM-McGill en piano-art vocal, ce programme intensif de neuf mois donnera l'occasion à six artistes émergents par année d'approfondir leurs compétences en accompagnement et à titre de chefs de chant.
Partagé entre la Faculté de musique de l'UdeM et l'École de musique Schulich de l'Université McGill, ce don est considéré comme le plus important don conjoint en musique au Canada, offrant aux musiciens une occasion rare de bénéficier de l'expertise, des ressources et des installations des deux universités.
«Au nom de l'Université McGill, je tiens à remercier la Fondation pour son généreux soutien à cette résidence interinstitutionnelle unique qui donnera aux artistes prometteurs l'occasion de devenir véritablement maîtres de leur art, a mentionné la principale de l'établissement, Suzanne Fortier. Cet investissement en faveur de l'excellence musicale est une véritable source d'inspiration qui contribuera à revitaliser un domaine profondément perturbé par la pandémie.»
«Grâce à la générosité de la Fondation Azrieli, deux établissements de très haut calibre pour la formation musicale unissent leurs forces au service de la relève. Des rêves de jeunes pianistes se réaliseront, des carrières internationales verront le jour, mais le premier bénéficiaire de ce don est le public, qui pourra voir et entendre des artistes encore plus talentueux», a déclaré Daniel Jutras, recteur de l'Université de Montréal.
Une résidence inspirée par la passion de la musique
Toute la vision de ce projet revient à Sharon Azrieli, soprano primée et membre du conseil d'administration de la Fondation Azrieli. Celle qui s'est produite dans des salles prestigieuses comme le Carnegie Hall, le Metropolitan Opera et l'opéra Bastille à Paris a remarqué qu'il y avait un manque de pianistes accompagnateurs aux compétences nécessaires pour travailler avec les chanteurs d'expérience.
«Au Canada, nous produisons certains des meilleurs chanteurs du monde, a expliqué Sharon Azrieli. Imaginez à quel point ils pourraient exceller s'ils avaient les meilleurs partenaires au piano! En réfléchissant à la manière de répondre à ce besoin, j'ai eu une étincelle: pourquoi ne pas inviter deux des meilleures universités canadiennes à unir leurs forces pour offrir une formation de haut calibre à des pianistes au potentiel exceptionnel? Avec le soutien essentiel de la Fondation Azrieli, cette étincelle a donné naissance à la Résidence UdeM-McGill en piano-art vocal.»
Une formation intensive avec des artistes de renom
La résidence, axée surle répertoire du récital et de l'opéra, sera codirigée par deux pianistes et chefs de chant de renom, les professeurs Francis Perron (UdeM) et Michael McMahon (Université McGill). Marie-Michelle Raby, elle-même pianiste accompagnatrice, agira à titre de coordonnatrice interinstitutionnelle du programme.
Les six membres de la cohorte inaugurale, originaires de France, du Brésil, du Canada et des États-Unis, ont été sélectionnés ce printemps et commenceront leur résidence cet automne. Tous les artistes recevront une bourse d'études et, grâce à l'engagement philanthropique de la Fondation Azrieli, ils recevront également une allocation de subsistance et une bourse de développement de carrière à la fin de leur année d'étude.
Le programme comprend aussi des occasions de collaboration avec certains des artistes et des experts les plus renommés mondialement dans un grand éventail de spécialités, notamment la direction d'orchestre, la diction lyrique, l'opéra et les lieder.
«Je crois que cette résidence me fournira les compétences nécessaires pour travailler avec des chanteurs diplômés ou professionnels, a indiqué Erin Palmer, pianiste sélectionnée de la première cohorte. Cela me permettra de passer à l'étape supérieure en devenant chef de chant ou encore de travailler avec une compagnie d'opéra.»
«L'occasion d'étudier une langue de manière intensive m'enchante également», a-t-elle ajouté. Elle habite actuellement en Caroline du Nord et désire améliorer son français et expérimenter la vie à Montréal.
La scène musicale montréalaise en récoltera les fruits
La portée de ce programme dépasse largement les effets sur les artistes choisis chaque année. Des concerts publics et des classes de maître offerts par plusieurs artistes invités reconnus viendront enrichir la scène musicale montréalaise. La communauté musicale canadienne bénéficiera également d'un afflux d'artistes spécialisés qui seront très recherchés pour des collaborations artistiques et contribueront à faire du Canada un acteur majeur en matière de spectacles lyriques et musicaux.
L'UdeM et l'Université McGill n'en sont pas à leur première collaboration sur les plans de la recherche et de l'enseignement au chapitre des prestations artistiques. En 2015, une subvention accordée par la Fondation canadienne pour l'innovation et par le gouvernement du Québec avait permis aux deux établissements de créer un carrefour de recherche pour l'étude des spectacles en direct en reliant virtuellement la Salle multimédia de musique de l'Université McGill et la salle Claude-Champagne de l'UdeM.
Bientôt, les deux universités seront également reliées physiquement par le système de train léger sur rail du Réseau express métropolitain, ce qui facilitera les déplacements entre les deux campus.