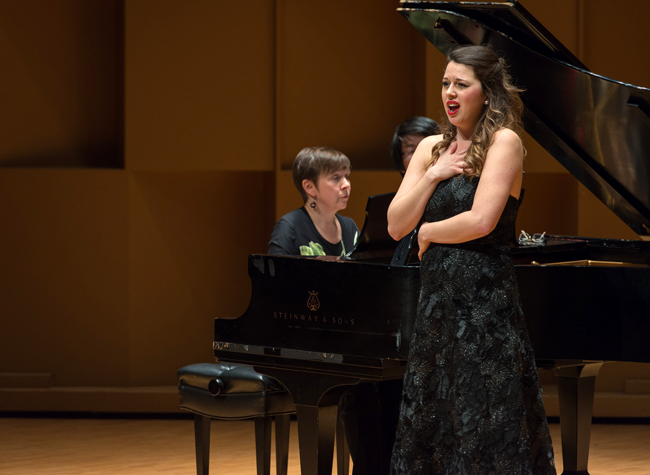 On Dec. 2, McGill's Anna-Sophie Neher capped a very busy and successful fall by winning the 2017 Wirth Vocal Prize at Pollack Hall. On top of the Wirth win, the soprano has recently won the Prix Étoiles Stingray from l'Opéra de Montréal, third prize at the Canadian Opera Centre Stage Competition and first prize in the voice category at the OSM Manulife Competition. Not bad for a singer who has spent a large part of her music career as a pianist.
There is a definite soundtrack to Neher's childhood, one that, not surprisingly, is rooted in both song and piano. "Our Christmases were full of music and songs – but never classical music," she says. "It was always folk songs and music from Quebec.
"My father learned piano when he was a kid in Germany and we had a piano at home. So it was always there and he would play for us at Christmas and other occasions."
When her older brother, Carl Matthieu, started taking piano lessons, Neher insisted to her parents that she get lessons too. "I'm a typical younger sister," she says with a laugh. "I wanted to do whatever my big brother was doing."
Soon into her lessons, seven-year-old Neher "discovered a whole new world in music. I fell in love with it."
So much so that, while she admits there were moments when she would have preferred playing outside with her friends, most of the time she was happiest at the piano.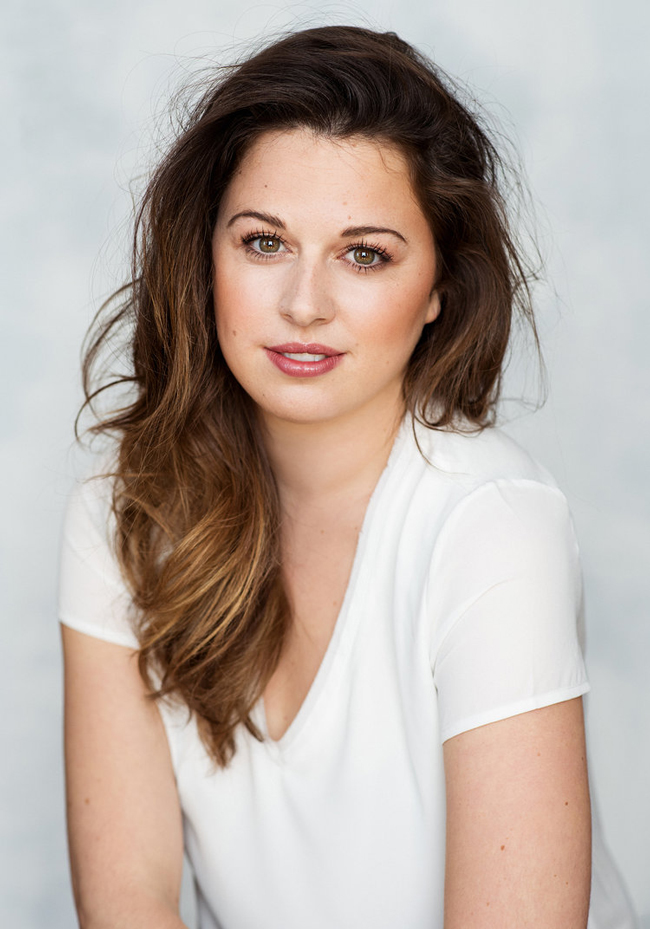 At the age of nine, Neher was accepted at the Gatineau Music Conservatory, where she studied piano for more than 10 years, distinguishing herself in many competitions. Throughout elementary and high school, the routine was the same; regular school during the day and off to the Conservatoire afterward. It was a routine in which Neher thrived. "I just really loved the music and all the friends I had in the world of music."
Despite her talent at piano, however, Neher admits she felt like something wasn't quite right. "I loved piano but it never felt like it was meant to be for me when I was on stage," she says. "On stage I always felt like there was something missing, that I was too nervous and I could never perform like I wanted.
"But when I started singing, it just fit," says Neher, "and I knew that's where I belong."
Neher had been singing in the Gatineau Music Conservatory for many years, but it wasn't until a music theory teacher asked the 17-year-old to sing some notes that things really started to take shape.
"He said 'you have such a beautiful voice, you should take voice lessons,' and that's when I kind of realized that I could be a singer," she says. At 19, Neher decided to take the plunge and become a classical singer. "I wasn't too nervous about making the transition. It was time I didn't want to spend another year practicing piano five hours a day," she says with a laugh.
Instead, Neher follows a very different routine, singing in multiple 30-minute intervals with breaks in between to preserve her voice. "For me, I find being a singer is harder [than being a pianist] because there's more sacrifice," she says. "Your instrument is not something exterior. It's your body and it's your voice so everything you do is in support of it. It means you can't go out partying and staying up late at night because the next day you need your voice to be at its best.
"It took me several years to really get to know my voice enough to say 'OK, tonight I feel a certain way, so I'm not going to talk very much. I need some silent time.'"
During those breaks between singing, Neher says "there's a lot of work that you can do sitting at a desk" studying the songs she is preparing, translating them and learning the stories they tell. "We have to understand what we're singing so that we can better convey all the emotions underneath."
Those emotions were running high at the finals of the Wirth Vocal Prize last Saturday. "It was such a lovely event. You get to perform for all your friends because most of the Voice Department is there supporting you. They know how stressful it is. So you're performing for your friends," says Neher. Then there is the live feed which is cool because friends and family can listen to you from around the world.
"You have so much love coming from all over the place and people just want you to sing well. It was just a great experience." Channeling those emotions, Neher performed works by Mozart, Morlock, Poulenc, Wolf and Rossini to secure the title, which comes with $25,000 in prize money, performance opportunities in Montreal and Toronto and career coaching sessions with Marie-Catherine Lapointe of Boulevart Artists' Management in Montreal.
Neher is finishing her Masters here and will graduate in this spring. While she says she has plans in the works, she is not at liberty to say what they are just yet. "I will definitely be singing next year," she says with a smile.
"My time at McGill has been really great. Everybody is so wonderful and I've made so many great friends," she says. Sometimes, at schools like this, there is a real sense that you are competing against each other for roles and concerts. But at McGill I never felt this kind of competition with my friends and colleagues. Everybody's always looking out for each other and is really supportive. It's been really wonderful."
And Neher's borther, Carl Matthieu? The pianist is considered a rising star as a recitalist, chamber musician and soloist. As in their childhood back in Gatineau, the siblings often perform together. "It's really nice because since I started singing he has always been the one accompanying me," says Neher. "I don't need to say a lot, he just starts playing and everything falls into place."