Among the many amazing things to look at in the Redpath Museum is the colourful shell collection at the top of the stairs on the second floor. Ingrid Birker, Science Outreach Administrator at the Redpath, says visitors make a bee line straight up the stairs to see it.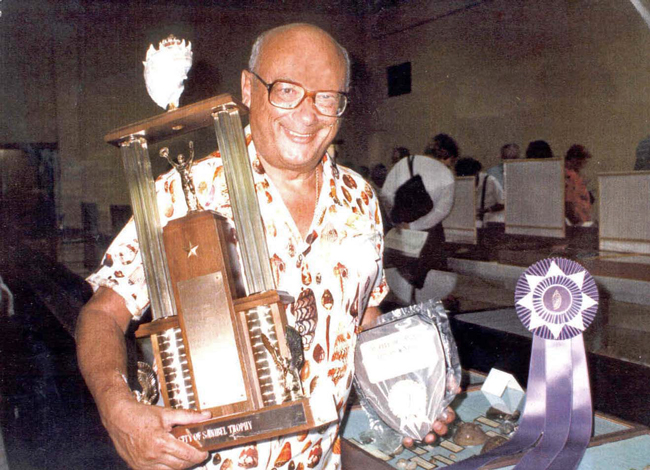 "I have seen repeat visitors on Sunday afternoons who come specifically to see the shells. And they tell me that," she says. "They spend a lot of time looking at the different shapes and colours, and talk to each other about what interests them."
But what many visitors do not know is that the story behind this fabulous cache of shells is as remarkable as the shells themselves.
The collection is a gift from Montrealer Abe  Levine, who died July 30, 2017, at the age of 93.
World renowned collection
The Redpath exhibition showcases over 2,000 shells donated by Levine, known as Quebec's première shell collector. They range from a tiny pea sized green shell called Neritina to the soccer ball-sized Triton. According to Tony Ricciardi, the Curator of Invertebrate Zoology at the Redpath Museum, the Levine collection is one of the finest in the world.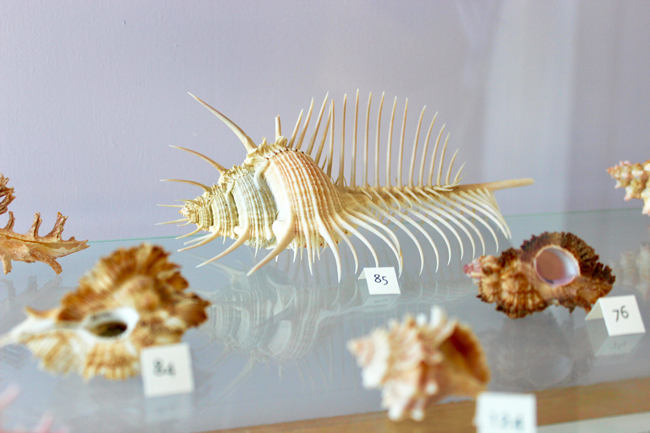 "About 20 per cent of the collection (which, in total, comprises over 7,000 specimens) is on display.  There are specimens here that have no equivalent in any other museum in the world," says Ricciardi. "Some of them are unusual in colour or shape, or have attained world-record sizes. Some were collected by ocean trawlers from depths of over a thousand feet. Some were retrieved from the stomachs of fish. One (a thorny oyster of record size) was found attached to an old German submarine."
Birker says the shells were "treasures" to Levine. "He collected only gem-quality material so the specimens are as close to perfect as you can get. And he was meticulous about the scientific data accompanying each item," she says. "We know exactly where the shells come from, what depth and what geographical locality."
What started with a small donation of about 200 shells in 1994, grew into a permanent exhibition entitled Conchologycitus – the Abe Levine Shells. It commemorates Abe Levine's lifelong passion and admiration for what Levine called "the home wherein the Mollusc dwells."
Levine's widow Anita Goldman Levine, to whom he was married for 63 years, says Levine had an encyclopedic knowledge when it came to shells. "Abe knew the Latin and common names of every one of his shells. Each shell has the name inside it on a piece of paper," she says. "My favourite is the golden cowrie which Abe received as a gift from his contacts in the Philippines. It is supposed to bring good luck to anyone who owns it.
'And it also symbolizes authority" she says smiling. "Abe had it made into a pendant for me so that I can wear it."
Levine's daughter, Fern Trevor-Deutsch, says that because of her interest in biology, she shared in the excitement when her father received his first shell orders in 1972, and carefully helped unwrap each precious specimen. Trevor-Deutsch says the shells were like a bridge to other people and places. "My father became good friends with some of the people he met while collecting the rare shells of the Philippines," she says.
"When one of the shell dealers found out he worked in the clothing business he asked my father for help procuring used industrial sewing machines, and so he packaged up enough machines to supply a full workshop in Manila," says Trevor-Deutsch. "He was paid through an honour system, receiving cheques from the shell dealer's customers located around the world because of the financial roadblocks in place during the Marcos regime."
Veteran of WWII
Abe Levine was one of a family of eight children born in the Mile End. He went to the work in the textile business at the age of 16 and then joined the Air Force as a Navigator-Bombardier in Number 214 Squadron of the Royal Canadian Air Force. Levine was one of a tiny number who survived 29 bombing raids over Germany and Norway on the B-17, known as the Flying Fortress. One of his jobs was to lie on the bottom of the plane and match bombing targets with the maps he was given.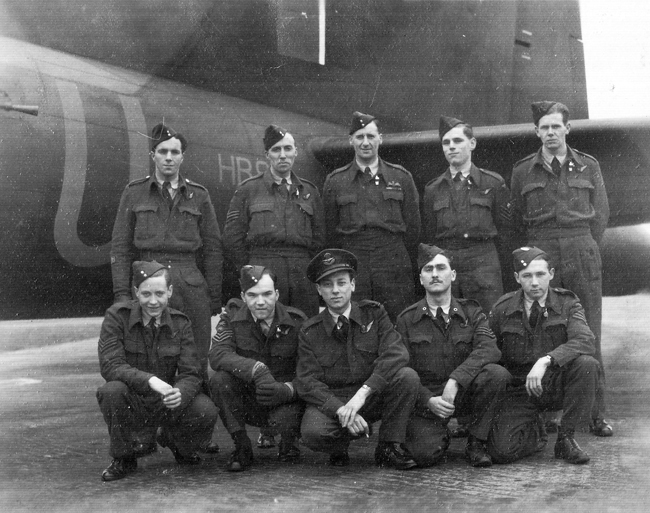 Levine flew any number of harrowing missions, including several crash landings. You can hear him talk about his wartime experiences on The Memory Project website.
After the war, Levine came home to Montreal, and returned to the company which had held a position for him while he was in the Air Force. He became the General Manager of the Howick  Manufacturing Company, a Quebec jean company that gave Levis a run for its money.
Levine became interested in shells through his brother Nat, an avid bird-watcher and naturalist.  He asked Nat for a few shells and a catalogue to take home and that was that was the start of it all. Anita Goldman Levine says her husband loved the bright colours and beautiful shapes of the shells.
Levine wrote poems about some of the more unusual shells – he saw the personality in a shell, and sought to highlight it through a poem or a story. He also used shells as educational tools, as gifts to friends and family, and as the fuel for conversation – one of the tools of a great raconteur.
Abe Levine wrote this poem about his shell collection donation on his 80th birthday in 2004:
"In nineteen hundred and seventy two, a shell collector I became. And since that time my life and home have never been the same. Many moments of my leisure time, I spend among my shells. As I study and admire the gorgeous homes, wherein the Mollusc dwells. Ever since I was a youngster, Redpath visits gave me pleasure, making them the logical recipients of my conchological treasure. In nineteen hundred and ninety four, I had to face the truth: That I had just turned seventy, and getting a little long in the tooth. Your shells you can't take with you and although it will break your heart. The logical conclusion is with your shells you must start to depart.
Since then I have made donations with pleasure as the number swells. The total of these donations are over seven thousand shells. McGill and Redpath have honoured me declaring this exhibit permanent. Therefore, my shell collecting hobby represents time and money well spent. As this exhibit will be permanent my shells will no longer roam. They are resting in the shelter of their final Redpath home."
The Conchologycitus – The Abe Levine Shells collection is on permanent display at the Redpath Museum. The collection can be viewed during Museum hours; Monday to Friday, 9 a.m.–5 p.m., Sundays, 11 a.m.–5 p.m. The Museum is closed on Saturdays and public holidays.