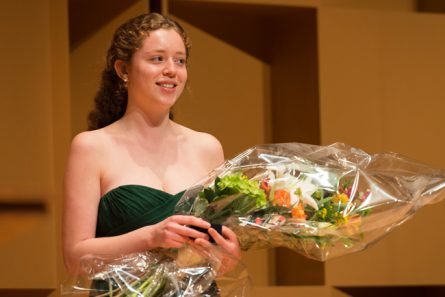 By Neale McDevitt, with files from the Schulich School of Music
When Maïthéna Girault was announced as winner of the 2017-2018 Golden Violin Award on Oct. 29, it marked the end of one journey for her and the beginning of another.
The Golden Violin is awarded every year to an outstanding string player enrolled in the Schulich School of Music and Girault had been a semi-finalist on two other occasions. Not only did Girault make it through to the finals this year, she won, making for an emotional moment for the musician whose mother used to bribe her with pistachios to keep practicing when she was a six-year-old novice.
"It gives my confidence a nudge – which I needed it because I don't always believe in myself," says Girault. "After a long, emotional journey a lot of my dreams are finally coming true."
Ironically, for someone who has just won one of the most prestigious individual music prizes in Canada, Girault says her greatest pleasure comes from collaborating with other musicians.
Girault's interest in violin was piqued when she was six, watching one of her cousins playing at a family get-together. "I thought it would be so cool to learn violin so we could play together," she says.
Carrot on a stick method
Girault's plea for a violin was rejected by her mother who was wary that it was just another whim that would result in a perfectly good violin collecting dust in a closet.
But Girault's persistence, coupled with a global tragedy, finally got her mother to relent.
"Right after 9/11 my mom realized that you never know how long we have, so she decided to spoil us a bit. For Christmas, she got a violin for me and a cello for my younger brother. She bought herself an ice cream maker," says Girault with a chuckle.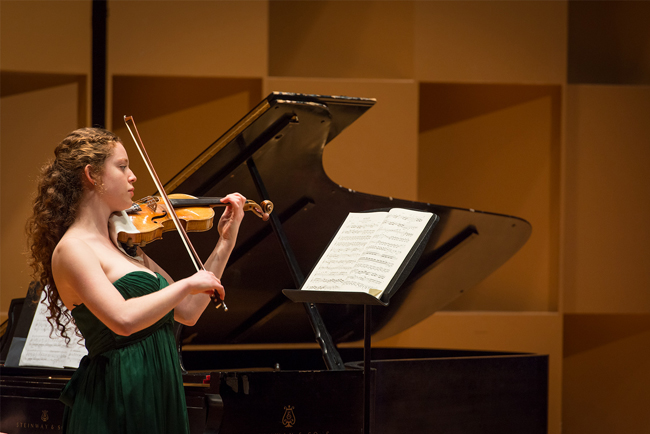 The only stipulation was Girault had to promise to practice every day. "The six-year-old me did not mind in the slightest," she says.
Of course, as any parent waiting on a child to help take care of a family pet will tell you, getting a child to agree to certain responsibilities and getting them to live up to them are two entirely different things. "I practiced, but sometimes I needed extra encouragement," said Girault with a laugh. "My mom came up with a bunch of systems to keep me going when I didn't want to."
One such system was the age-old carrot-on-a-stick method. Extra practice time was rewarded with tasty snacks, including pistachio nuts. The more Girault practiced, the greater the bounty.
Girault's Suzuki Method violin teachers also employed a similar system. "Every time I completed [a new level] I'd get a sticker, and that was very rewarding for me," she says. "I remember going through each level very quickly because I really wanted those stickers."
But it didn't take long for Girault to see the music as a reward in and of itself. "I started looking very forward to playing real pieces and real composers," she says. "When I finally played this little, tiny piece by Beethoven I was so excited. It felt like I was touching the minds of geniuses."
Several years, and countless pistachios and stickers later, Girault was admitted to the Conservatoire de musique de Montréal at age eight. There, she spent 10 years under the tutelage of Helmut Lipsky.
The need to destabilize
While at the Orford Music Academy one summer, Girault got to work with Andrew Wan, a professor of Violin at the Schulich School of Music. Girault was so inspired she decided to take the plunge and enroll at McGill, leaving her long-time musical home at the Conservatoire.
"I thought I needed a change of environment, to push myself out of my comfort zone and to work with people that I didn't know very well. I wanted things to be a little destabilized," says Girault. "Changing schools brought all those elements."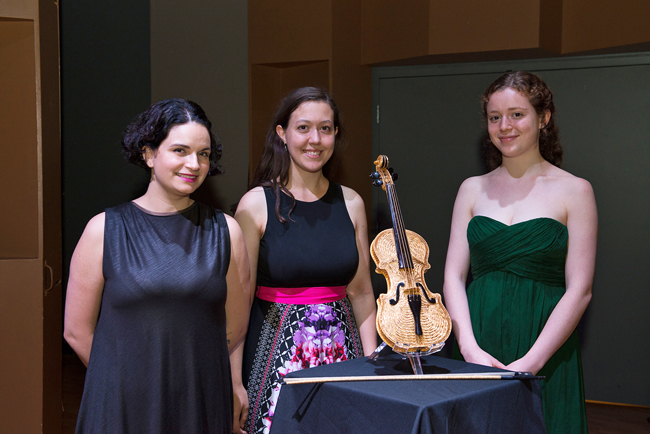 In September 2014, she entered the Schulich School of Music where she began studies with Andrew Wan and Alexander Read. Since September 2016, she has been studying with Axel Strauss. Recipient of the 2016-17 Lloyd-Carr Harris Scholarship, Girault obtained a Licentiate in Music and is currently completing a Graduate Diploma in Performance.
Girault has won a number of competitions, including the Concours de musique du Canada, the Festival de musique du Royaume and the Concours de musique classique de Pierre-De Laurel. In 2013 and 2014, she was the grand prize winner of the MSYO Concerto Competition and Sandra Wilson prize.
Despite her success as a soloist, Girault had dreamt of more collaborative projects since she was 14. "I realized how much I really enjoyed chamber music and that aspect of sharing," she says. In 2015, Girault founded the Milton String Quartet, with fellow Schulich students Roman Fraser, Evan Robinson and Joshua Morris.
Each member knew that in the competitive word of chamber music, the only way to differentiate themselves from a supremely talented pool was to put in the tough hours.
"If we wanted to get to a very high level we knew that we had to put in all the hard work," she says. "We ended up rehearsing about 20 hours a week (on top of our other school responsibilities) in order to feed the process of getting better – and to make it happen as quickly as possible."
And success did come quickly, with the Milton Street Quartet winning the 2016 McGill Chamber Music Competition and the prestigious 2017 Fischoff National Chamber Music Competition Grand Prize. The ensemble recently appeared on CBC Music's lists of 30 Canadian classical musicians under 30, and Montreal's 10 emerging acts to watch.
Making dreams come true
Asked what she appreciates most about working within a quartet and Girault pauses – not because she's without and answer, rather that she has so many.
"I enjoy the entire process," she says. "Everybody has different ideas when we come into rehearsal but somehow, eventually, we are able to convince each other of a single vision. Having all those different ideas on the same material is a very interesting experience because you learn about yourself, you learn about others and you learn to appreciate a new way of seeing things.
"During this process, we carve out this really clear emotion to make each moment in our pieces have the strongest possible character. Instead of a single voice, we have four people saying the exact same thing," continues Girault. "We create and polish jewels in our music because things have been so finely thought through and carved out."
With the Golden Violin win, which comes with a $25,000 scholarship, Girault is hoping to write a new chapter on her career – a chapter she was beginning to think might never be opened.
"I've been in Montreal most of my life and I've always wanted to study music abroad, but I really didn't know how I was going to make it happen – until last Sunday. Suddenly I have a way," she says. "My ultimate dream is to be part of a professional touring quartet, and this is a steppingstone toward realizing that dream."