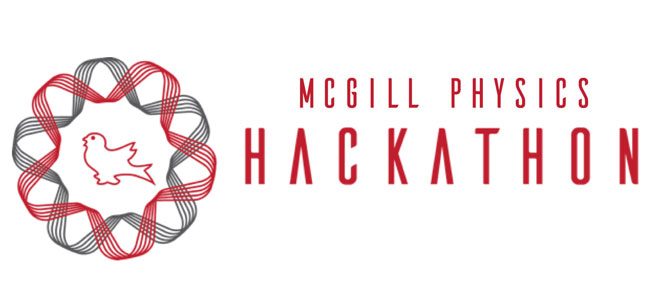 By Anita Parmar
I went into the McGill Physics Hackathon expecting a 24-hour sleepless haze of energy drinks, computer-science jargon, and incomprehensible humour. Instead, I found myself in the midst of a revolution of collaborative thinking, team-building and creative problem solving.
Hackathons are common in the world of computer science, but this event – held July 9-10 on the incredibly cool third floor of the Société des Arts Technologiques (SAT) in downtown Montreal – was, as far as we know, the world's first physics hackathon. The crowd was as diverse as it was talented, drawing in 75 student participants from Toronto, Montreal and the United States to tackle the challenge of creating an artistic and interactive virtual tool to teach a concept in physics. Students ambitiously worked to explain topics ranging from fireworks to the Big Bang, as well as the dynamics of many body systems, the "Butterfly Effect", the classical-quantum divide, and many others. It's no easy feat: complicated mathematics, and the erroneous perception that modern physics is spooky, renders many exciting new scientific ideas elusive and difficult to grasp for most people.
What better way to change this than by challenging future scientists to "hack" the problem of conveying science to the public? After breakfast and a brief welcome, the students formed teams and jumped straight into collaborating. I was on hand as a judge and mentor, along with a team of other academic, industry, and professional colleagues, to help student teams solve equations, write code, and fine-tune their ideas. There were tutorials from subject experts in the SAT's planetary dome (and the opportunity to take a quick nap on the comfy beanbags), and of course a constant supply of fresh food and coffee from some of Montreal's most famous culinary gems.
The enthusiasm, ingenuity, and focus in the room was electro-magnetic. (Physics puns never go out of style, right?) One student, a recent undergraduate in Physics at McGill, has plans to complete a Master of Fine Arts as her next step. She is interested in exploring digital arts from a a computational perspective using mathematics. There was a brilliant group of recent CEGEP graduates who, huddled over their laptops, worked with an infectious sense of humour that inspired and energized us all. (As it turns out, they carried their smiles all the way to the podium, with an impressive third place finish.) Another participant took a red-eye flight from Harvard to attend as a "mentor-slash-participant." Instead of competing, he spent most of the weekend sharing his expertise with a group of neuroscientists from McGill, looking for a computational solution to their research problem.
It felt like science education at its best: experiential and passionate. Science is an exploration, and the use of scientific computing in immersive environments like hackathons promises to revolutionize learning by equipping students with a safe environment whereby they can develop their confidence and create new tools. Accomplishing this within the confines of a classroom, where the primary goal is to instill centuries of scientific laws, remains an evolving challenge. I vividly recall the image of Ivan Savov, the founder of a Minireference Publishing Co., circulating around the room, spending more hours than I did at the event, interacting with students, passing his knowledge and experience as a master would with an apprentice. This is what top-tier education looks like: a level playing field where expertise is shared not preached.
Give a motivated and talented group of students complete freedom to solve a challenging problem while immersed in an inspiring, collaborative environment, and something truly magical happens. They learn a tremendous amount, and they love doing it. By the end of the weekend, the judging team decided that all of the projects and participants deserved a prize; one of the larger software sponsorships was divided into smaller prizes for everyone. Nikolas Provatas, a professor of physics who helped organize the event, said that he would accept any of the students in the room into his research group, without hesitation. Ollivier Dyens, the Deputy Provost for Student Life and Learning, was so impressed that he spontaneously created a McGill scholarship prize for each member of the top three teams.
To learn more about this great event, check out the excellent blog post written by Concordia student Justin Léger, one of the members of the first prize team.
The McGill Physics Hackathon 2016 was a collaboration between the McGill Physics Outreach Group and the Office of Student Life and Learning – with the generous sponsorship of Lenovo, the Tomlinson Project in University-Level Science Education, Nexalogy, the McGill Physics Department, the McGill Faculty of Science, the McGill Office for Science & Society, Wolfram, McGill University's Centre for High Performance Computing (HPC), Intel, Microsoft, Calcul Quebec, Plotly, Shake, SAT, RTech, Macromeasures, LEADS, and atlas.