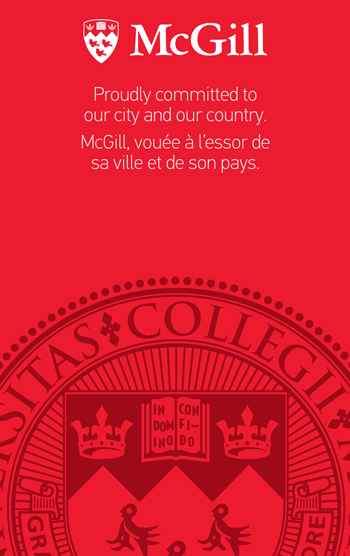 By McGill Reporter Staff
For more than half of Montreal's 375 years — and all of Canada's 150 — the McGill community has proudly contributed to building our city and our country. As part of McGill's ongoing celebration of Montreal's and Canada's anniversaries, a new display in the James Administration Building lobby highlights some of the ways McGillians have made a difference.
As the introduction explains, "McGill's commitment to making a positive impact in the world has roots older than the University itself. Our founder, James McGill, was an active citizen in his adopted home of Montreal, serving for many years as an elected member of the Legislative Assembly of Lower Canada and driving important grassroots initiatives, such as a volunteer fire brigade. He prepared the Montreal Militia for combat during the War of 1812; the victory over the U.S. was an important moment in establishing Canada as more than a British colony, and would set the stage for Confederation."
The display highlights scientific, artistic, athletic and societal achievements by members of the McGill community — from pioneering union organizer Madeleine Parent (BA1940) and multi-Olympiad medalist Phil Edwards (MDCM1936), to current-day community outreach programs that improve the lives of in-need Montrealers, to John Abbott (BCL1847), who served as both Mayor of Montreal and Prime Minister of Canada.
Lisa Kisiel of McGill Graphic Design designed the display, which was researched by Gisele Dubeau, a work-study student in McGill University Archives. The display is an initiative of the Office of the Vice-Principal (Communications and External Relations).
"McGill has always helped shape the world around us in ways that range from sublime to almost unseen," says Louis Arseneault, Vice-Principal (Communications and External Relations). "And, in return, we are shaped by the people who come here from around the globe – as students, as staff and as faculty."
The display will be in the James Administration lobby through to 2018. To read even more stories about McGill's impact on Montreal and Canada, and to explore the many activities marking this double-anniversary year, go to www.mcgill.ca/can150-mtl375/