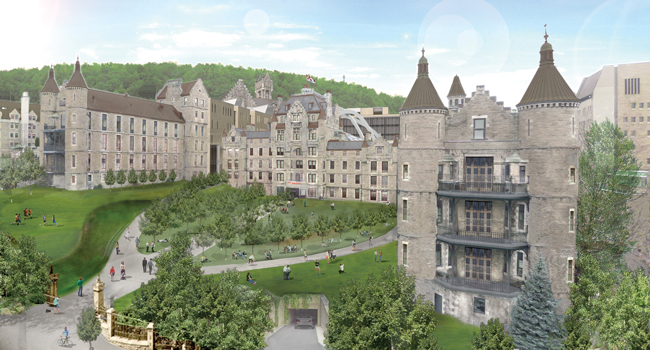 By McGill Reporter Staff
Another step has been taken toward determining if McGill should acquire the former Royal Victoria Hospital property on Pine Ave. for a major expansion of the downtown campus.
The University announced Thursday that it has launched a call for tenders to conduct feasibility studies assessing the technical, financial and heritage-related challenges entailed in the conversion of the iconic Montreal landmark.
The studies will cost an estimated $8 million, to be financed jointly by the University and the government of Quebec.
"We need to determine if the site's conversion advances the University's mission," Principal Suzanne Fortier told Senate Thursday afternoon at its first meeting of the new academic year. She also told Senate she has put together a Principal's Task Force that will discuss how the Royal Vic (now part of the MUHC's Glen Campus) could be best put to use.
In an earlier McGill news release, Prof. Fortier said she is elated to see McGill moving forward with "a project that will bring all Montrealers together. For us, this initiative is about building upon McGill's academic strengths and identity as a world-class institution, as well as adding functionality, now and for the future."
Robert Poëti, Quebec's Minister of Transport and Minister responsible for the Montreal region, said, "This is good news for Montrealers, especially in light of the value of this landmark building in terms of heritage, architecture and identity in the heart of the city. Our government feels that converting the Royal Victoria Hospital is sure to help re-energize the urban fabric for the greater benefit of Montreal's entire population."
Completing the feasibility studies and compiling a report on the project's advisability is expected to take about 18 months, once the work has been begun. Based on the results, the government and the University will then be able to decide whether it is opportune to pursue the project before developing a definitive business case, enabling construction to start at the earliest possible opportunity.
As it stands now, McGill's plan would provide Montrealers with a new access to Mount Royal, would convert parking lots to green space and would give the University some much needed extra space and types of facilities it does not now enjoy. As for a time frame, McGill is hoping to have the project's sod-turning ceremony coincide with its 200th anniversary celebrations in 2021.
In the meantime, Prof. Fortier told Senate, the provincial government will ensure that the now nearly vacant property will be maintained and kept secure. That's important, she said, because "the site doesn't belong to us."