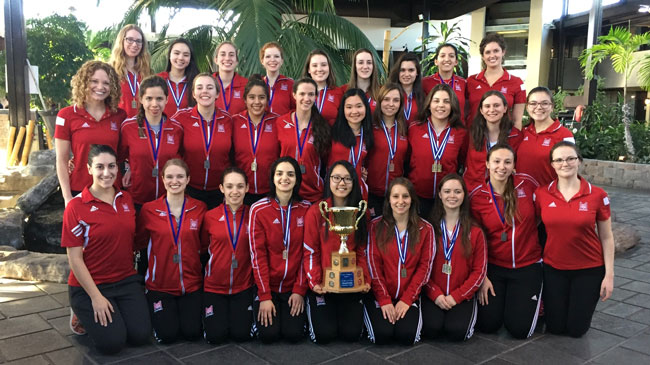 McGill rallied from a sub-par showing in the preliminary round to capture the Geraldine Dubrule Trophy as champions of the Canadian University Synchronized Swim League (CUSSL), Sunday, in the Cote St. Luc Community Centre. It marked McGill's fourth consecutive CUSSL title and 14th overall in 16 years since the league was formed in 2001-02.
The Martlets won the title by the slimmest of margins, finishing first of 15 teams to capture the two-day competition with 50 points and edge out second-place Ottawa, which registered 48. It was the second closest margin of victory in CUSSL history, behind a one-point win for UPEI over McGill in 2012.
"We placed fifth in the preliminary round on Saturday and at that point, it looked like the overall championship would be out of reach," said head coach Lindsay Duncan, an assistant professor in the McGill department of kinesiology and physical education. "But then we had an incredible swim on Sunday that moved us up in the standings."
The veterans held the fort with solid silver medal performances in the team and solo routines but depth was the key to victory as the McGill women dominated the novice routines, winning gold and bronze in the team category, gold and silver in the duets, and silver in the solo.
Leading the youth movement was a double gold performance from Alyssa Malli an arts freshman out of Vancouver, B.C., and Marion Burnichon, a physics sophomore and native of France. The pair teamed up to win the novice duet – coached by Alicia Renaud – then helped guide the novice team routine to victory.
Other members of that gold medal winning group included Jessica Insogna, a master's student from Montreal, senior Michelle Moore of Barrie, Ont., sophomore Flordespina Dodds of Ste. Anne de Bellevue, Que., neuroscience senior Regan Hamel of Shellbrook, Sask., and Julia Barreau, a first-year international management student from Switzerland. The team routine was coached by the aforementioned Renaud and Megan Smallwood.
McMaster finished a distant third with 27, followed by Toronto (24), Regina (18), Queen's (16), UBC (13), Waterloo (12), the London Synchro university team (12), Calgary (11), Sherbrooke (10), Carleton (9), Guelph (9), Victoria (6) and Lakehead (3).