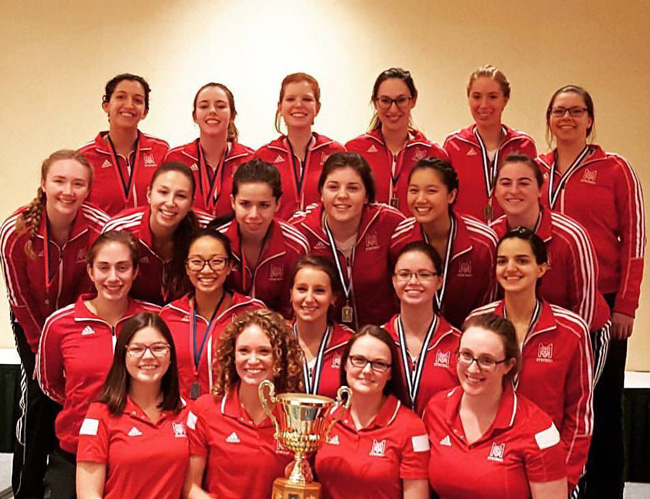 By Earl Zukerman
Once again, it was a question of synchro-WIN-city.
McGill captured the Geraldine Dubrule trophy as champions of the Canadian University Synchronized Swim League(CUSSL)  at UBC on Sunday. It marked McGill's third consecutive CUSSL title and 13th overall since the league was formed in 2001-02.
The Martlets struck gold in both the novice duet routine with Montrealer Marilou Lachance and Marion Burnichon, a native of Spain.
Lachance and Burnichon also led the novice team routine to a first-place finish along with Montrealers Jessica Insogna and Dana Unninayar, plus Flordespina Dodds of Ste. Anne de Bellevue, Que., Madeline Perrin of St. Williams, Ont., Minnie Fu of Richmond Hill, Ont., and Michelle Moore of Barrie, Ont.
In novice solos, Perrin was third and Fu was sixth.
On the senior side of the competition, McGill was second in the team routine. The group was composed of Montrealers Tamar Banon and Helen Chan, plus Mara Bender from Waterloo, Ont., Vickie Leuenberger of St. Hyacinthe, Que., Mathilde Warren of Albany, N.Y., Rachel Nixon of Vancouver, B.C., and Sara Renaud of Toronto, in addition to Manon Chiorri and Isaline Nguyen-Nqoc both natives of France.
In duets, the pair of Bender and Warren finished sixth, while the duo of Leuenberger and Banon was 11th.
In the solo routine, Renaud was third and Nguyen finished sixth.
Breakfast Television, the morning show on CITY-TV, will air a feature about the team on March 7, between 6 and 9 a.m.
The Martlets, who are guided by head coach Lindsay Duncan, along with assistant coaches Carrie Mouck, Hannah Ungar, Alexandra Dimmer and Alicia Renaud will close out their great season with the annual McGill Water Show at the Memorial Pool inside the Currie Gym on March 8.