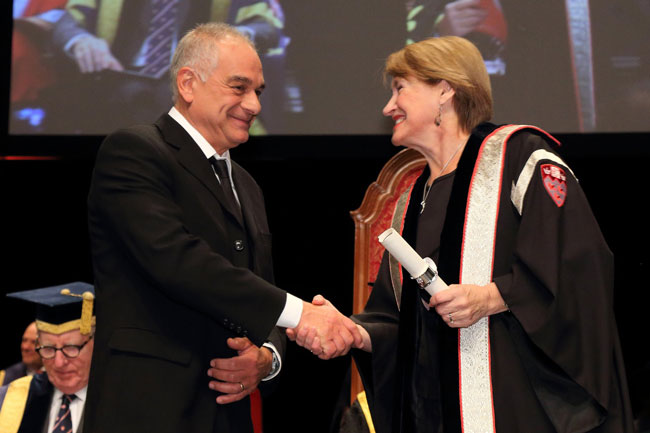 By James Martin
Last week, when Principal Suzanne Fortier addressed the audience gathered in Salle Wilfrid Pelletier at Place des Arts, she described convocation as a "sign of loyalty" – loyalty to classmates and family, of course, but also to University staff. "They, too, have been rooting for you from your very first day," she told McGill's newest graduating class.
Each year, the Principal's Awards for Administrative and Support Staff pays tribute to that behind-the-scenes cheering section by recognizing four individuals, and one team, for their outstanding performance in support of McGill's teaching, research and service missions. Professor Morty Yalovsky, Interim Vice-Principal (Administration and Finance), introduced each of this year's winners at the November 2, 2016, morning ceremonies:
Frank Caporuscio (Technical and Libraries)
Frank Caporuscio (pictured above) has twin passions: cycling and work. "If I'm not at work, all I think about is cycling," says the 38-year McGill veteran.
Caporuscio was a civil engineering student at Dawson College when he landed a co-op placement at McGill's Geotechnical Research Centre. That was 1979, and he never left McGill. "I've always been interested in lab work and putting things together," he says, "so it was a good match." In 1996, Caporuscio transferred to the Department of Chemical Engineering, where he's responsible for setting up and maintaining laboratories for generations of undergraduate and graduate students.
"Everyone knows there is nothing he can't build or fix," said Professor Yalovsky. Whether he's bending stainless steel tubing to properly conduct gases, or giving a new lease on life to some 30-year-old piece of equipment, Caporuscio is known for his keen attention to safety, environmental impact and sustainability factors. "Over the years," added Yalovsky, "he has demonstrated the highest standards, ethics, and camaraderie."
Caporuscio is also an avid cyclist; last year alone, he rode 9,300 kilometres. He usually rides solo, so he talks to himself "to keep myself company." But, in a way, Caporuscio brings a few hundred chemical engineering students along for every ride – and he says that pedaling often prompts a eureka moment about some particularly tricky lab build. "Oh, you dummy! That's the way to do it!" he exclaims in mock exasperation, then adds. "I do a lot of my best thinking about work when I'm cycling."
Rafat Noor Khan (clerical)
For 30 years, senior accounting clerk Rafat Noor Khan has provided what Professor Yalovsky called "the highest level of service" to departments across both campuses, ensuring vendors are paid in a timely fashion. "He goes out of his way to ensure his clients have all the necessary information, and patiently answers each and every one of their questions."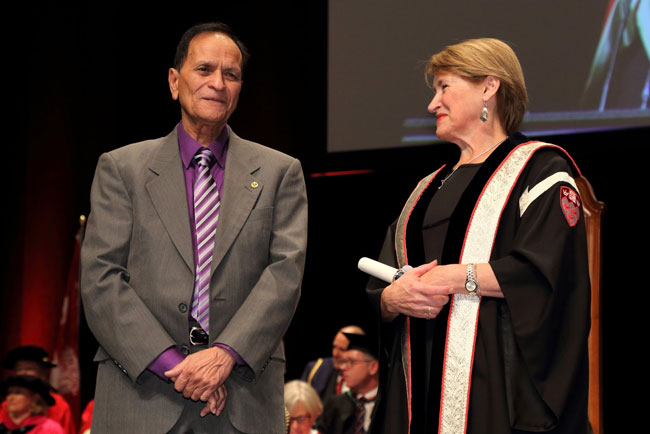 But there's more to Khan than just his encyclopedic accounts payable knowledge and careful attention to detail. He is also highly respected for his extensive community service, and his unwavering drive to "positively influence the McGill workplace" and the community at large – efforts that earned him the Queen Elizabeth II Diamond Jubilee Medal in 2012.
Khan is a tireless fundraiser, whether it's for the McGill Centraide campaign, or for Red Cross relief efforts in Haiti. When Quebec welcomed thousands of Syrian immigrants last year, he was on hand to help them integrate into their new lives. A passionate advocate for increased funding for universities, Khan volunteers with many educational institutions across the city, including the parents' committee of the Lester B. Pearson School Board and the board of directors of John Abbott College. He even donned an apron and manned a cutting-board on the front lines of McGill's Guinness-record fruit salad in 2012. "It was a great way to show how a team can produce results," he remembers. "When people are working together on a mission, they can achieve anything."
Pascal Pilotte (Trades & Services)
Some people live and breathe McGill – and perhaps no one more than Pascal Pilotte. Literally.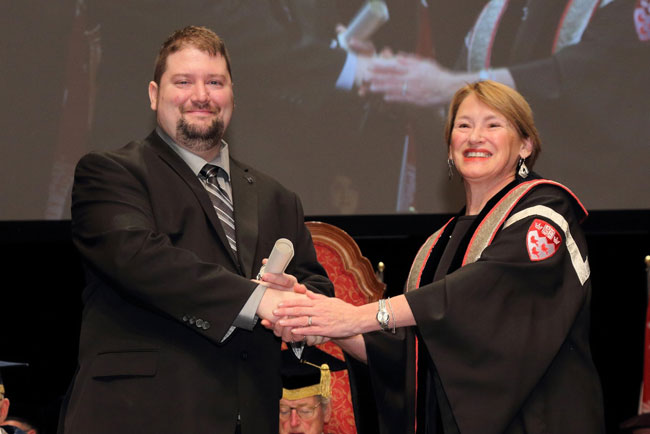 As a building operator with Facilities Management & Ancillary Services since 2004, Pilotte is one of the people responsible for making sure that McGill's heating, ventilation and air conditioning (HVAC) system is in top form. It's hard to concentrate on work or studies when you're sweltering (or freezing) – and careful environmental control is essential for many research labs – so Pilotte strives to ensure that the air inside McGill's buildings is clean, and the right temperature and humidity. Building directors love working with him because of his great care for their needs, and those of their occupants, and the flexibility he shows when dealing with the specific characteristics of each building.
"He works diligently to provide the most comfortable physical environment for staff and students," said Professor Yalovsky. He also praised Pilotte's leadership abilities, and ability to motivate a team – qualities most recently seen when Pilotte stepped up to fill in after his supervisor fell ill.
"I like helping people," says Pilotte, "and I like the variety of this job. Right now I'm working in the southwest sector, but I've worked in every sector of campus, so it's necessary to have knowledge in many different areas in order to resolve the various problems."
"Not only is he extremely meticulous and careful in his work," added Yalovsky, "he continuously tries to improve McGill's facilities by proposing new solutions to old problems."
Catherine Stace (M and excluded category)
During her 16 years as a career advisor at McGill, Catherine Stace has asked thousands of students to fill in the blank: "I'm at my best when __________."
"Students need to know themselves so they can make decisions for the future," she says. "What are my strengths? What are my weaknesses? What are my values?" She knows those are tough questions, because she's had to ask them of herself.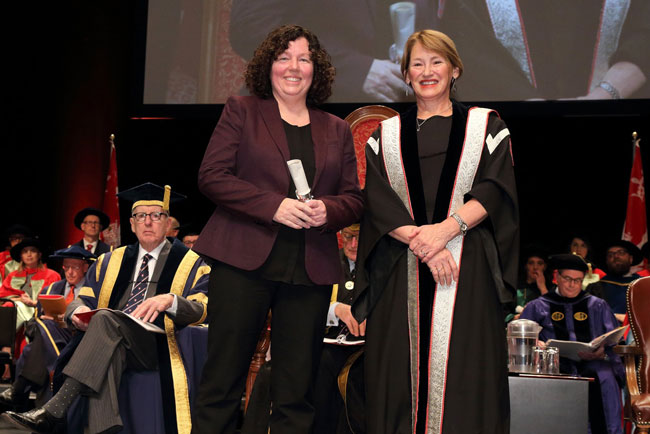 In the late '90s, Stace was excelling at a job that she didn't like. At a friend's suggestion, Stace took a leave of absence so she could test-drive a position in McGill Career Planning Service (CaPS). After a week, she resigned from her old job.
"It's not easy to do, but it's important to drill down into what you like," she says. "I know that I like meeting people and talking to them and hearing their stories; I wouldn't enjoy my day if that wasn't a big part of it. At CaPS, I get to meet these students who are mind-blowingly smart, and dedicated, and on the cusp of taking over the world. On the other side, I have the opportunity to meet with employers who want to recruit our students. So it's the best of both worlds; meeting people and bringing them together."
"Whether she's helping the Faculty of Arts expand its alumni lecture series," said Professor Yalovsky, "or finding internships exchange opportunities for international management students at Desautels, her commitment and dedication to students is unwavering."
But perhaps the biggest compliment comes from Stace's own children. "When I talk with them about what they want to do with their futures, they say, 'I just want to be as happy in my career as you are in yours.'"
Amele Djeridi, Karen Rasinger, Sharron Smith, Charles Wan (Team Projects)
In early 2015, three employees in the Pensions and Benefits unit of Human Resources– Amele Djeridi, Karen Rasinger and Sharron Smith – attended a LEAN workshop. LEAN is a process for streamlining and improving efficiency of work processes. There, they met Charles Wan, a programmer from Financial Services. The four began to talk about how each employee group has different rules and regulations for leaves of absence – and how those differences made requests cumbersome to process. They brainstormed ways to make the process more accurate and efficient.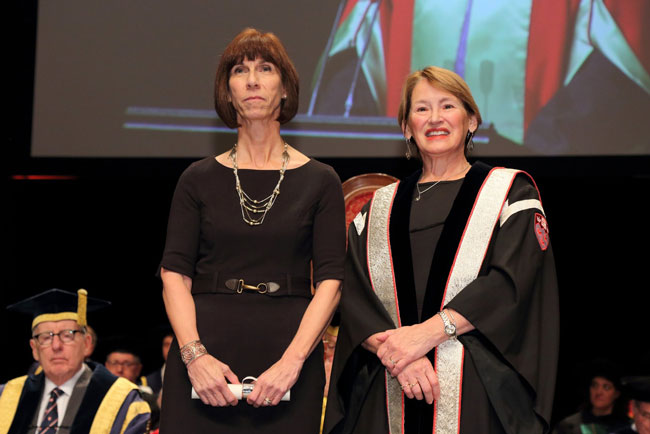 By early spring, they'd begun an extensive process of review, analysis, consultation and testing for a new application that uses employee information to automatically produce all the required correspondence for a leave – dramatically reducing the amount of manual data entry – and also provides tracking and monitoring functions.
"We worked really well together, each with our own areas of expertise" says Karen Rasinger. "I was the communications side. Sharron was the subject matter expert. Amele brought her proficiency in process mapping and Charles his expert programming skills."
The new leave application went live in April 2016 and has enabled Human Resources Service Centre representatives to process leave requests much more quickly, and accurately, than ever before. The team is now working on version 2.0, with the goal to automate even more of the process. "This automation has not only reduced the risk of errors," said Professor Yalovsky before presenting the award to Smith, who accepted it on behalf of the team, "it delivers the information to the employee quickly and efficiently."
"It's satisfying to know you've created something that has a tangible effect," says Smith, "and is actually making a difference."
The annual Principal's Awards for Administrative and Support Staff is a university-wide program that recognizes outstanding contributions to the McGill community. The individual recipients, or team, each receive $5,000. Nominations for the 2017 awards, to be handed out at next fall's convocation, will open in June. If you would like to acknowledge the exceptional performance of a peer by nominating them for a 2017 Principal's Award, the application guidelines will soon be available here.