The Principal's Awards for Administrative and Support Staff are a university-wide program that recognizes the outstanding contributions of McGill staff members who, in some cases, rarely get the recognition they deserve for their contributions to the McGill Community. The annual program provides staff members the opportunity to recognize and promote those staff members who go above and beyond.
The winners' accomplishments must be in line with the strategic direction and mission of the University, with particular emphasis on criteria such as quality of work, customer service and service excellence, initiative and innovation, teamwork, service to the community, and sustainability.
Frédéric Ducas, Cabinet Maker, FMAS Sector Operations – Southwest, is this year's Principal's Award recipient in the Trades and Services category.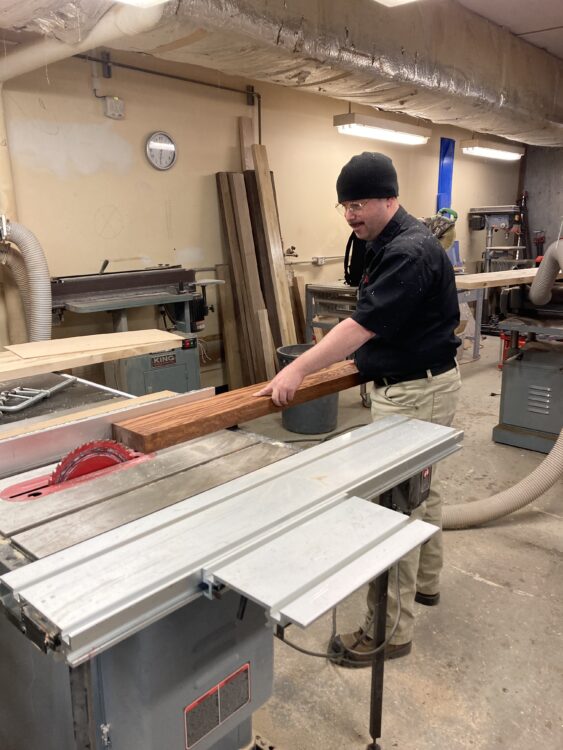 A large, well-established institution such as McGill University requires all kinds of people to keep it running – including many that we seldom think of, let alone recognize for their important work. Frédéric Ducas is a woodworker and cabinet maker who was singled out by his peers for his dedication to the job and his attention to detail, particularly while the COVID-19 pandemic raged.
Ducas came to McGill 13 years ago, after an uncle tipped him off to a job opening for a carpenter and cabinet maker. Since then, his daily routine has involved him building and fixing doors and other structures around the downtown campus.
"McGill has lots of old, Victorian-style buildings, and I really enjoy doing the kind of work that I do here," Ducas said. "It's an honour."
Ducas says he learned of his winning the Principal's Award via email – an email sent on a Friday afternoon, which he didn't find out about until he returned to work the following Monday morning.
"On the Friday, when I left work, I didn't check my emails," Ducas said. "And when I got back in on Monday, my boss urged me to check my emails, and that's how I found out I won the Principal's Award. I was very happy."
Ducas says he's touched that McGill chose to recognize the work that he does.
"It means recognition for all the work that I do here," Ducas said. "I appreciate very much that at a place as big as McGill, that workers who do what I do are recognized like that. As a cabinet maker, my work doesn't often get seen. I appreciate it very much."