By Neale McDevitt
It's been more than three weeks since Halloween and you're still raiding your kids' candy collection when they've gone to bed. But your guilty pleasure seems to have had an adverse effect on your mouth, as you feel a nagging pain in a molar every time you bite down on another Kit Kat.
Maybe it's time for a visit to McGill's Student and Staff Dental Clinic (MSSDC). Located just across the street from the Roddick Gates at 752 Sherbrooke Street West, the clinic offers a full range of dental services to University students, staff and faculty, and members of the community. All services are provided by faculty members.
As part of last year's ambitious initiative, the Faculty of Dentistry – including the MSSDC and other satellite clinics – moved into spacious, new state-of-the-art facilities. With most of the Faculty under one roof, the synergy among units enable the Faculty to serve the McGill and Montreal community more efficiently.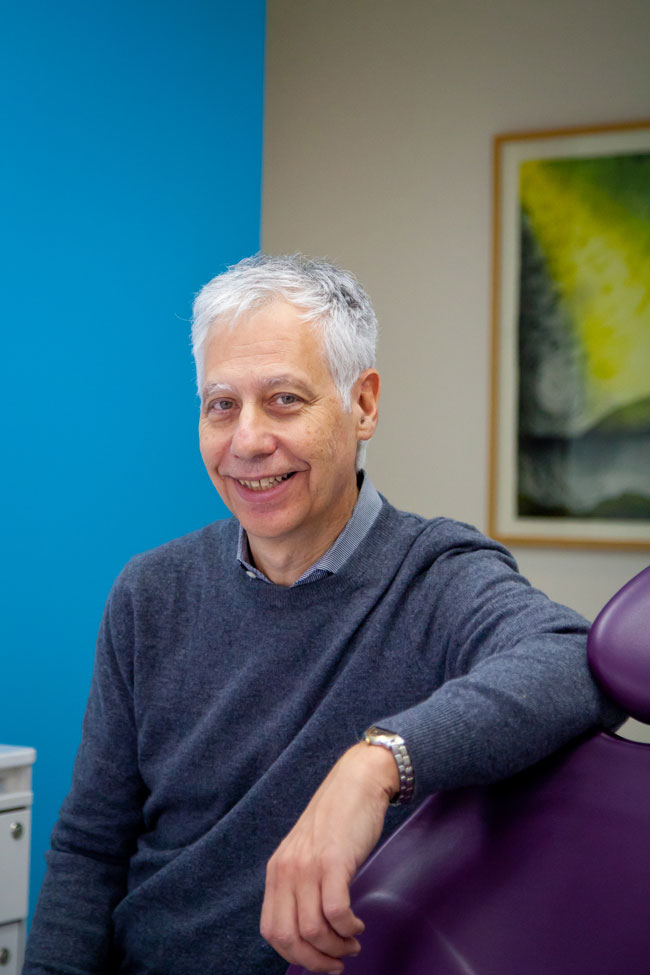 The whole Faculty benefitted immensely from the move, especially the MSSDC. "The Clinic used to be located in the Brown Building and it was pretty small – just 250-square feet, two chairs and very low ceiling," says Jeffrey Myers, the Faculty's Associate Dean Clinical Affairs, and one of the attending dentists at the Clinic, with a chuckle. "The reception area was a converted closet, so that gives you an idea of what I'm talking about. Still, we made it work."
Today, patients are treated in a spacious 1500 square foot clinic, equipped with 4 well-lit examination rooms and cutting edge equipment that reflects the high-quality care they receive.
"Our Clinic is more high tech than many dental practices, as part of our mandate is teaching students how to use the latest dental technologies," says Myers. ""Since the move has brought the MSSDC and the teaching clinic under one roof our patients now have access to this equipment.
But even the most fancy equipment means very little if it isn't in the hands of skilled professionals. The MSSDC is staffed entirely by dentists who also teach in the Faculty of Dentistry. "Because we all teach as well, we are current with the most up-to-date dentistry techniques," says Myers. "Often people come to us because of an emergency, but they stay on as regular patients because of the quality of the care they receive."
Many students, faculty and staff – including a number of McGill's upper administrators – are already patients. The clinic deals directly with most insurance companies, including the SSMU dental plan and the McGill staff dental plan so there are minimal up-front or out of pocket expenses. "We know how to work with the McGill dental plans so students and staff get the best deal for their money," says Myers.
The convenient location just seconds from the downtown campus means the Clinic is a very busy place – but never too busy to accept new patients, or someone who needs immediate attention. "The way we're set up means we can see people fairly quickly for emergencies," says Myers. "In most cases we get people in on the same or next day."
The McGill Student and Staff Dental Clinic is located at 752 Sherbrooke Street West. Hours of operation: Monday – Friday from 9 a.m. – 4:30 p.m. (closed daily between 1 p.m. – 2 p.m.). To make an appointment call 514-398-3155 or email clinic.dentistry@mcgill.ca. Visit the website for more information.