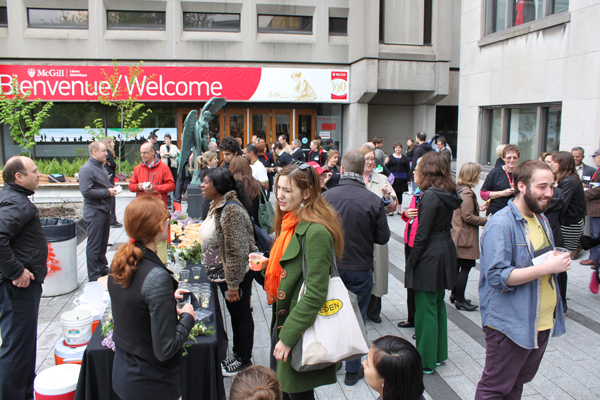 By Merika Ramundo and Malika Tamim
The first day of Convocation ceremonies is always a buzz of activity but this year, students, faculty and staff had more than one reason to celebrate. On Wednesday, May 28, the McGill Library in conjunction with several other units on campus, including the Students Society of McGill University (SSMU), Post Graduate Students' Society of McGill University (PGSS), Office of University Services and the Office of Sustainability, formally launched the newly renovated McLennan-Redpath Terrace as a smoke-free environment.
"It took three years for the renovation work on terrace to be complete but I think it was worth it! Hundreds of students use this terrace every day and in different ways. It really is the best and most breathtaking way to get through campus, and I am glad campus units and student groups came together to make it even more accessible by making it smoke-free," said Colleen Cook, Trenholme Dean of Libraries.
Over the last few months, several units on campus participated in voicing ideas on how to create and maintain campus spaces in ways that support a cleaner living, learning and working environment. Adam Bouchard, Academic Affairs Officer of PGSS explained, "As the construction finished, there was a growing number of smokers and cigarette waste on the terrace…In January we had a great meeting with students, administrators and librarians to talk about the subject in general," said Bouchard. "Everyone was then responsible for getting endorsements from their different constituencies. I was responsible for PGSS and brought it to our legislative council, which easily endorsed the initiative. We are very happy that the whole community supported the project and are glad to be able to say we contributed to the process."
The launch event, the first of many awareness activities, was held to help spread the word about this newly renovated space and its designation as a smoke-free environment.
Sights and sounds on the terrace included student performances and representation by vocal a cappella group Tonal Ecstasy, McSWAY (McGill Students We are Young) performance poetry group and the McGill Street Dancers. Students, faculty and staff members also took advantage of props and the McGill Alumni photo booth on the terrace garden that overlooks the lower field and the campus sklyline. Bouchard; Cook; Joey Shea, VP University Affairs of SSMU; and Dr. Pierre-Paul Tellier ("Dr. T"), Associate Professor and Director of Student Health at McGill, were also on hand to provide some thoughts on the initiative. Refreshments were provided in partnership with McGill Food and Dining Services.
Victoria Blais, a second year Masters student in Occupational Therapy, participated in the launch and echoed the positive spirit of the event. "I appreciate McGill's efforts to make the campus "greener, and to ensure that the McLennan terrace is a space that all students can enjoy," she said. "The festivities certainly gave the initiative a memorable kick-off!"
For more information about the smoke-free terrace visit the dedicated website.
Merika Ramundo is the Communications Officer for the McGill Library. Malika Tamim is a Work Study Project Assistant at the McGill Library.