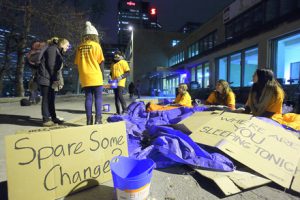 By Jim Hynes
A group of McGill students slept out in the rain last night, and more will be sleeping in the great outdoors every night this week. No, it's not a case of shortages in Rez. These urban campers are roughing it by choice.
The students are participating in the nationwide 5 Days for the Homeless campaign from March 10-15 to raise money for Montreal's Dans la rue, a grassroots, community-based organization that works with street kids and at-risk youth aged 12 to 25.
The campaign started at 5 p.m. Sunday and concludes at the same time Friday, March 15.
The 5 Days campaign's goals are to increase awareness of the issue of homelessness and to raise donations for charitable organizations supporting homeless and at-risk youth across the country. University of Alberta School of Business students founded 5 Days for The Homeless as a local initiative in 2005. The campaign went national in 2008, with a McGill team joining the effort. To date, the campaign has raised over $950,000 and has spread its message from coast to coast, with students from 26 Canadian Universities and colleges are taking part in this year's edition.
Over the course of the week, participants are required to remain on campus for five days with no income, personal communication devices or access to showers. They have to sleep outside with only a pillow and a sleeping bag and can only eat food donated directly from passersby. They also must attend all their regular classes and keep up with their schoolwork, and are expected to write about their experiences at the end of the campaign.
The McGill group consists of five committee members – all returnees from last year's campaign, and 30 volunteers. After a dry and mild first night spent in their base camp outside the Redpath Library, Monday night's group of sleepers couldn't quite manage 40 winks, a steady rain soaking their sleeping bags and rousing them in the early morning hours.
"We've looked at the weather forecast and unfortunately it does not look good," says Madeleine Coste, a U2 Management student from France and one of the McGill campaign's two coordinators. "Monday night was pouring rain all night. It seems it will continue to rain all Tuesday and we hope it will be a clear night. We are not worried about the cold, simply the rain that makes sleeping difficult."
The McGill team collected over $1,250 in the campaign's first 24 hours on its way to a goal of $15,000.
"Of course, the cause is the main reason I do this," Coste says "Dans La Rue provides extremely important services to homeless youth in Montreal such as shelter and food but also counselling, and education programs, everything they need to get off the streets and back on their feet. Last year, I signed up because I wanted to get involved at McGill in some sort of charity association and thought this was an incredibly original event to participate in during my student life. The experience I had went far beyond simply sleeping outside for a good cause as I had imagined. What made me do it again this year was the urge to make it bigger, and better."
For more on the 5 Days initiative, and to make a donation, click here.