Every summer, the Institute of Food Technologists (IFT) attracts the cream of the global food science crop to Chicago for four days of exhibitions, presentations and competitions. At IFT18, held July 15-18, two undergraduate teams from McGill's Faculty of Agricultural and Environmental Sciences will put their food creations to the test in student competitions.
The students met in Prof. Salwa Karboune's Food Product Development course (FDSC 405) during the Fall 2017 semester. After the course finished, they formed extracurricular teams – named MacFoodies and UglyHarvest – to develop products for consideration at this year's IFT. Prof. Karboune mentored both teams through the design, manufacturing and testing processes.
The MacFoodies are one of six teams, chosen from 70 applicants, competing in the IFTSA Developing Solutions for Developing Countries Competition. The teams were tasked with developing a product, primarily created using drought-tolerant crops, for people living in South and East Africa.
The MacFoodies students – Frédéric Ah-Kane, Décile Chamlian, Ada Du, Anthony Giannetti, Ashley Marzouca, Punyanit Siripun and Yanlin Wang created Morinmiro, a multi-purpose grain mix designed to improve the state of food security and nutrition in Somalia. The name combines the moringa plant, one of the main ingredients, and "miro," the Somali word for grains.
"We chose to address a nutritional issue in Somalia because it's ranked as one of the lowest on the Food Security Index, and it is located in the Horn of Africa, which is currently severely affected by a drought," says Ashley Marzouca, who completed her undergrad degree in Food Science and Nutrition this past spring.
"We learned that over a million children [in Somalia] are currently suffering from acute malnutrition. This is why one of our main ingredients is moringa powder, which comes from a plant native to Somalia and is rich in nutrients such as vitamin A and C, iron, calcium and protein."
In December 2017, the students began designing and testing a highly nutritious product consistent in look and taste with traditional Somali cuisine. After trial and error, they chose sorghum and millet, hearty crops that are high in protein and iron, and calcium-rich cowpea. Morinmiro can be used in three traditional Somali dishes: garow (a breakfast cereal), anjero (a flatbread usually served at lunch), and fuud (a grits dish often combined with meat stew for dinner).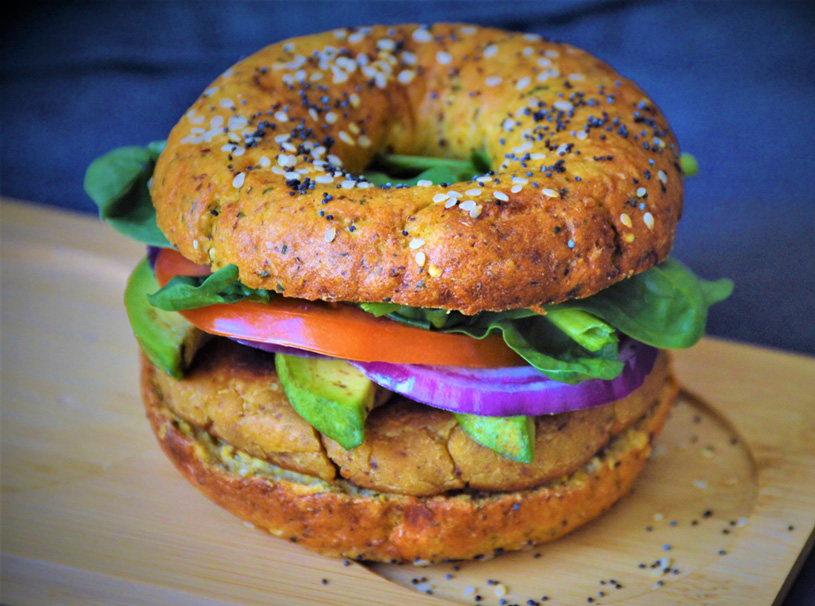 The IFTSA & MARS Product Development Competition challenges students to invent a new food product, taking it from initial idea to testing to production to marketing campaign. The students of UglyHarvest – Rami Bahlawan, Jenna Chow, Cameron Corinaldi, Li-Syuen Hing, Mandy Jian and Laura Lee Slew – designed and produced Bagelution, a plant-based and gluten-free sandwich made from a savoury bagel and a patty. As the UglyHarvest name suggests, the product is largely made from misshapen vegetables (plus pulses and grains).
"'Ugly' produce isn't nutritionally inferior," says Mandy Jian, a Food Science/Nutrition double major entering U4 in September. An estimated one in five fruits and vegetables – some 2.7 billion kilograms annually – are thrown away in Canada simply because they don't meet traditional cosmetic standards of symmetry and colour. "Bagelution is a proactive measure to decrease that food waste and to help people increase their vegetable consumption."
The product, which bills itself as "The revolution, the evolution, the solution," is made with butternut squash, cauliflower, carrots and rutabaga, but Jian says the team developed a flexible recipe that would work with many other types of cast-off vegetables.
UglyHarvest developed Bagelution for consumers 19 to 30 years old. "Millennials are looking for something new and creative," says Li-Syuen Hing, who graduated this past spring. "They're also always on the go, so we're catering to that with a product that is fast: you just toast the bagel and fry the patty. But it's also wholesome because it's plant-based, vegan and gluten-free."
The Developing Solutions for Developing Countries and IFTSA & MARS Product Development competitions will take place on Monday, July 16.