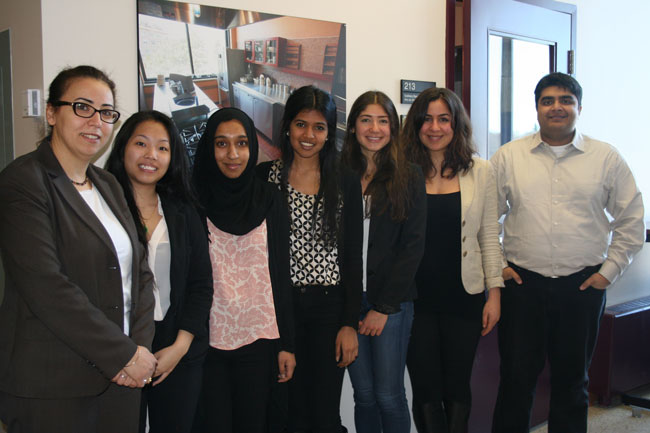 By McGill Reporter Staff
Two teams of students from McGill's Food Sciences program captured first prizes Monday night at the prestigious International Food Technologists annual competition, held this year in Chicago.
The IFT conference, the world's largest gathering of food science professionals, has long been considered the premiere event for Food Product Developers.
The Food Sciences team competing in the IFTSA & Mars Product Competition, developed TiraVerde, a healthy indulgent snack, inspired by the Italian dessert tiramisu. The all-natural avocado-based dessert, made with natural ingredients, is gluten-free, low in fat and cholesterol and delivers loads of fiber and protein. Creamy layers of avocado- based cream are layered with a ladyfinger-inspired cake to create the completed dessert.
As a result of the first-place win, the TiraVerde team has been invited to participate in the Chinese Institute of Food Science and Technology/IFT Global Product Development Competition, taking place in Dalian, China in mid-October.
Trying to find a way to help the burgeoning Syrian refugee population, a second McGill team developed a product called Falamus Instant Mix and won the Developing Solutions for Developing Countries competition in the process. Their product is a dry blend that includes insects and when mixed with water will allow refugees to transform the high-protein mix into traditional comfort foods, such as falafel or hummus. The group has been working with Aspire (recent winners of the Hult Prize) to source locusts that are part of their formulations (and that meet dietary restrictions).
"Being a food scientist is not simply for developing better tasting, more innovative and more creative products that can sell, but about finding new methods and answers to address basic needs and concerns in the most effective and efficient way possible," said Loloah Chamoun, spokesperson for the team competing in the Developing Solutions for Developing Countries competition. "This opportunity made us realize the importance of food science in feeding the world, and finding solutions to worldwide health problems. By picking a Muslim population, we challenged ourselves due to dietary restrictions in the Islamic religion."
Chamoun said all members of the six-member student team contributed equally and the members' various strengths and weaknesses complemented each other throughout the process.
"Given the chance to develop a product that can alleviate malnutrition in developing countries has not only made us appreciate how significant a food scientist's role is in today's world, but also evolve our perspective in problem-solving," Chamoun said.
"We would like to acknowledge the Food Science Department at McGill for providing us with the resources that we needed and we would like to thank Aspire for giving us advice and supplying us the insects, and last, but not least, the professors who helped us, in particular Dr. Salwa Karboune, who was more than a mentor and the key person behind our growth and success. We are very proud and honoured to have represented McGill at this international competition and are looking forward to new adventures!"
Karbourne also found herself the target of thanks from the TiraVerde team.
The TiraVerde product actually began as a project for the undergraduate Food Product Development course Karboune leads.
"We would like to express our endless thanks to Dr. Salwa Karboune for her guidance, help, and support throughout the TiraVerde project," said team spokesperson Erin Davis. "We would also like to extend our thanks to our sponsors and the professors who helped to make TiraVerde a success.
"The development of TiraVerde has required an immense amount of teamwork and dedication. We are a large team of students; 14 in total. We have all learned valuable skills not only in leadership, teamwork, and organization, but also in the critical thinking process that is essential to the development of new food products," Davis said. "We hope that our success at the IFTSA Mars Product Development Competition will generate interest in the importance of the development in new food products and also in the Food Science program at McGill."
Related story:
Judges sweet on McGill's unique dessert