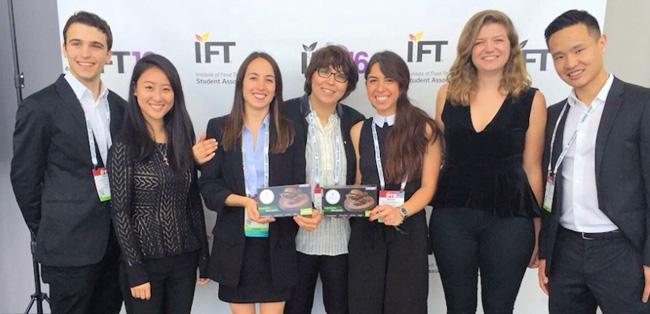 McGill food science students win top prizes for plant-based burger, nutrient-rich stew
By McGill Reporter Staff
The annual Institute of Food Technologists conference is the world's largest gathering of food science professionals, and widely considered the premiere event for food product developers. At this year's conference, held July 16-19 in Chicago, teams of students from McGill's Food Sciences program took first prize in two competitions. Their winning products were a plant-based vegan burger that cooks and tastes like meat, and a nutrient-rich ready-to-eat stew for children and pregnant women in Yemen.
Both products were initially created for Professor Salwa Karboune's hands-on Food Product Development course, in which students start with nothing more than an idea, and end up with an optimized recipe that's ready for the table.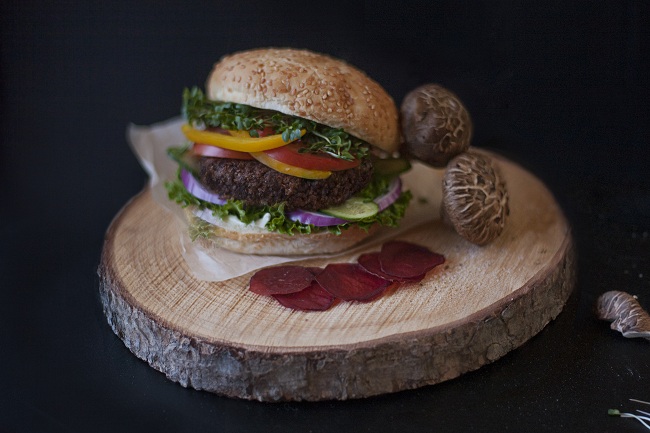 The plant-based burger, dubbed Rephyll, was created by students Anna Cavalieri, Rasha Dogmoch, Caroline Lafleur, Patrick Liu, Adam Maxwell, Qui Yi (Zoe) Sun and Christopher Zhang. The burger earned first place in the IFTSA & MARS Product Development Competition. Rephyll is primarily made of shiitake mushrooms, textured vegetable protein, and pulse ingredients like black beans and pea protein. A single quarter-pound serving packs a whopping 65% of an adult's daily veggie requirement (as per USDA recommendations). The team formulated the burger to appeal to flexitarians (people who want to eat less meat, but aren't full-on vegetarians) by not only replicating the flavour and texture of ground beef, but also the sensory cooking experience. (The patties, for example, change colour from pink to brown as they cook.)
"Some members of the team are flexitarians themselves, while others quite enjoy meat," says Patrick Liu. "As food and nutrition scientists, part of our job is to follow the latest consumer trends, one of them being the rapidly growing flexitarian market. We settled on targeting flexitarians after thorough market research and statistical analyses, just as they do in the food industry." Liu says that the next steps are to secure capital investment and finalize supplier arrangements, with an eye toward eventually "scaling-up our production to that of an industrial processing plant and talking to retailers and wholesalers to begin the commercialization process."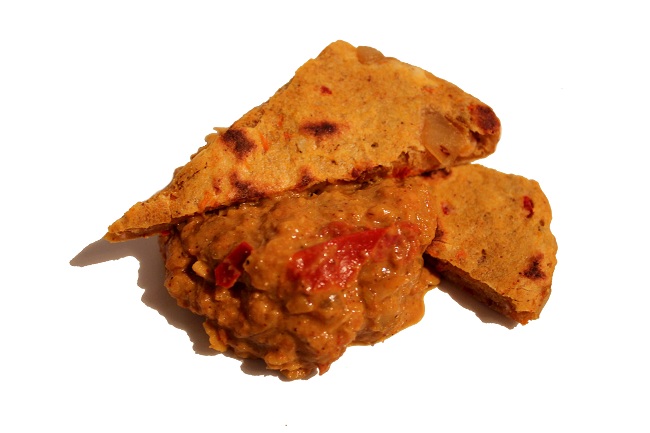 The other McGill team – Emily Mason, Anne Frazer-McKee, Mingduo Mu, Jun Xin Ong, Sonia Périllat-Amédée and Tamao Tsutsumi – earned first place in the IFTSA Developing Solutions for Developing Countries Competition. The canned multi-meal stew, which competed as "Fitamin" (Arabic for vitamin) but will be ultimately marketed under a different name, is made of lentils, tuna, skim milk powder, tahini, carrots and tomatoes; its flavour profile was inspired by saltah, a popular Yemeni dish. The team calls their product a "multi-meal" because it can be consumed in different ways: warmed and eaten as-is, served over rice or potatoes (both Yemeni staples), or mixed with flour to make flatbread.
"We chose Yemen because it's the poorest country in the Middle East and the seventh-most food insecure country in the world [according to the United Nations' Office for the Coordination of Humanitarian Affair]," says Anne Frazer-Mckee. "It was a big challenge. They have a lot of nutritional deficiencies, like vitamin A, zinc, and iodine." Calcium deficiency is also a serious problem in Yemen  –  it is the leading cause of maternal death during pregnancy, and results in nutritional rickets among 56% of Yemeni children – so the team added eggshell powder to boost the stew's calcium content. The students are currently in talks with a company in Yemen that they hope will produce and distribute the product.
"It is rewarding to see how students get enthusiastic and stimulated," says Professor Karboune. "Both teams of this year were very committed and worked hard. Their professionalism, their commitment and their mature attitude towards their work and their environment really impressed me. I am very proud of what they achieved." Karboune proudly notes that McGill teams won top honours in these same two categories last year, too. "Two consecutive years, first place at both competitions, I believe, it is the first time!"