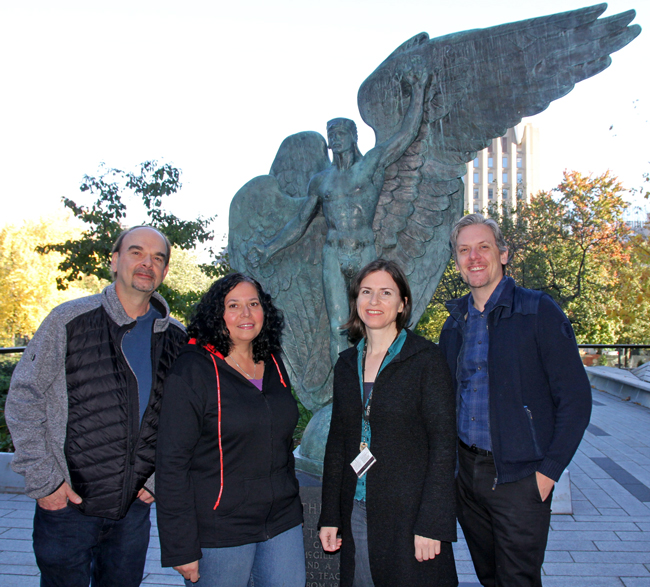 In an institution like McGill, where so many talented students, faculty members and alumni are making headlines, it is easy to forget the critical roles played by support staff. Without the dedication and professionalism of the University's tradespeople and its clerical, technical and managerial staff, McGill quite simply would not exist.
The Principal's Awards for Administrative and Support Staff recognize and honour the exceptional behind-the-scenes work of these employees.
This year, four staff members and a team were highlighted for their outstanding contributions to the University. The awards will be handed out during Fall Convocation ceremonies on Oct. 31.
Management and Excluded category
Greg Houston: Something old, something new
For Greg Houston, landing a digitization job at McGill Library in 2008 was pretty much a dream come true. "It was the perfect fit for me [because] I could digitally capture the wonder of rare books and special collections and share it with the world," says Houston, a multimedia specialist and a motion graphics artist by trade.
Nine years after digitizing his first book, Houston is still living the dream. "One of the best parts of my job is working with Rare Books and Special Collections. I feel lucky to see this material up close and be exposed to these wonderful treasures first-hand," he says. "Nothing makes me happier than when we bring a new collection to light by sharing it online for research."
Houston manages the day-to-day operation of the Digitization Lab, coordinating digitization systems, managing digital resources, and monitoring the progress of selected library digitization projects. He also participates in the design and development of new media and web-related projects.
Dream job or not, Houston's talents are tested on occasion. "I like to think that there's nothing in the world that the Digitization Lab can't digitize; however, occasionally we are put to the challenge," he says. "This may involve anything from a delicate manuscript with vellum binding to an incredibly large architectural drawing that exceeds even the biggest table at the library," he says.
"File storage and management can also be challenging when capturing thousands of high-resolution pages on a daily basis," says the man who has had a direct hand in digitizing some 500,000 pages since 2015. Largely under Houston's leadership, the Library has increased digitization by 45 per cent in each of the past two years – including the digitization of every thesis in McGill University Library collection dating back to 1881.
Houston says that success, especially when faced with a challenge, comes down to people. "I feel very fortunate to work with a great group of people at the library," he says. "It is only because we have each other`s help and support that we`re able to accomplish so many projects."
Technical, Library Assistants & Nurses
Richard Talbot: If you need it, he will build it
Downplaying the importance of his contribution to the Department of Physics, Richard Talbot says "My primary function is to give technical assistance to students and researchers."
Officially, Talbot is an Electronics Coordinator. In layperson's terms, however, he is a designer and a builder, creating everything from specialized laboratory equipment to entire labs themselves. When Talbot offers you a little 'technical assistance,' you may very well end up with a new subatomic physics lab.
Talbot came to McGill in 2005, with a wealth of experience in both academic and commercial design work, including a stint as a physics technician at the National Research Council of Canada. His vast experience and sage counsel is credited with having improved the way researchers at the Department approach design problems.
As with much of the University, space is a significant issue when designing a lab. Like a giant jigsaw puzzle, large pieces of equipment must fit into a lab – but always keeping in mind the flow of people and work so that the lab functions efficiently.
Likewise, when designing equipment, Talbot must work closely with everyone from researchers and suppliers, to the machinists who produce the parts.
Typical of his efficiency, Talbot describes the process of taking a rough sketch (which he drew) to producing a final product using remarkably few words. "I have to imagine, create, design, buy and assemble things."
Like anyone overseeing production, Talbot shoulders his share of stress. But colleagues say he is always friendly, approachable and "a great teacher," – especially to the undergraduate research students whom he helps with their electronics, optics and machining projects. "Working with students keeps me young," he says. "I'm very proud when they obtain their degree."
Trades & Services
Ida De Melo: Going about her work as inconspicuously as possible
When her youngest child began kindergarten in 2002, Ida De Melo needed something to keep her busy. "On a whim I sent an email to the supervisor of Upper Residence and, a couple of days later, she called me to say I had a job at McGill."
That whim proved fortuitous both for De Melo – and for McGill. Today, De Melo, Building Serviceperson C, is a fixture around campus, particularly at her favourite place to work, the McLennan Redpath Library. Of course, it might be hard to spot her as she tries her best to plan her work so that she doesn't inconvenience anyone – especially students who are hard at work. "I don't like to disturb them when they are studying, but whenever I ask they are very accommodating," she says.
De Melo has a soft spot for the younger generation, beginning with her own family, which includes a pair of granddaughters. "One is turning four and the other is two and a half," she says. "They keep me on my toes."
Not surprisingly for a 'people person' like De Melo, the thing she appreciates most about working at McGill is all the wonderful people she meets. "I really enjoy interacting with people, whether they are staff or students," she says. "I have gotten to know so many great people so, of course, I am always ready to help out anyway I can."
When she heard the news that she had won a Principal's Award, De Melo couldn't believe it. "My heart started beating and I quickly checked my emails. I was speechless," she says. "It was great just to be nominated and getting this recognition will be an honor I will never forget."
Clerical
Amber Saunders: From Music undergrad to Engineering accreditation guru
When Amber Saunders found out she had won a Principal's Award, her first reaction was disbelief. "I don't think I really deserve this!" she remembers thinking.
Obviously, a lot of people – including colleagues, supervisors and customers – feel differently.
A Student Affairs Coordinator in the Faculty of Engineering, Saunders has a head for policies and procedures, praised by colleagues for having mastered the complex rules and regulations that govern academic procedures at the University.
She also has extensive experience in the accreditation of McGill Engineering programs – which proved critical this past year when the accreditation of the majority of undergraduate Engineering programs were up for renewal. Accreditation is essential, as it enables graduating students to obtain licensure in any of the provincial Professional Engineering orders.
Saunders spearheaded data compilation efforts, synthesizing massive amounts of information gathered from various units and departments, and preparing the detailed accreditation dossiers for each program. In the end, each of the programs had their accreditation renewed for the maximum time frame.
Dealing with data seems a far cry from interpreting notes on sheet music, which is what Saunders was doing when she first came to McGill back in 1991 to pursue her Bachelor of Music in Performance Piano.
It was while obtaining a second Bachelor's Degree (in Education) that Saunders began working in the Admissions Office as a work study student. "I enjoyed the work and university environment, so I decided to continue working at McGill after finishing my studies, while teaching part-time. I have since worked in a few different positions: first as an Admissions Officer in Enrolment Services, then as Student Affairs Coordinator and Student Affairs Advisor/Administrator in the McGill Engineering Student Centre before moving to my current position (Student Affairs Administrator)."
Like so many of the Award winners, Saunders is quick to praise the people she works with for making her job easier. "The best part of my job is the understanding and support I have had from my colleagues and supervisors and the strong sense of teamwork in the Faculty," she says. "There is truly a sense of everyone working together to meet the challenges that arise in the course of our work."
Team Projects category
Rosa Greco-Pepe and Gianna Giardino: Team success is in their Destiny
Rosa Greco-Pepe and Gianna Giardino have been leading the implementation of the School of Continuing Studies' new IT system for registration, Destiny One.
The complex, multi-year project has required the participation of dozens of people from multiple units. Under the leadership of Greco-Pepe and Giardino, this group of already-busy people has been molded into a cohesive team – a testament to the pair's interpersonal, planning and managerial skills.
As a result, the successful implementation of Phase One of Destiny One earlier this spring has enhanced the interaction between the University and SCS students.
When asked about the secret to their team's success, Greco-Pepe and Giarrdano espouse variations on a similar theme.
"A strong team is built on mutual trust and respect. We need to trust that everyone will do the best they can, and have the respect and understanding that sometimes there are limitations," says Greco-Pepe, Manager, Administration at SCS.
Giardino, Senior Manager, Client Services at SCS, echoes those sentiments. "Trust your team members to do a great job with challenging work. No one is expected to be perfect," she says. "Strong teams aim towards doing excellent work, by working together to accomplish a shared goal by counting on each other."
Not surprisingly, both Greco-Pepe and Giardino derive some of their greatest satisfaction – and inspiration – from their colleagues.
"I witness on a daily basis people who are action oriented, driven, creative and resourceful," says Giardino. "I see colleagues and staff being very helpful when dealing with others or when trying to find solutions, and doing so because they care about what they do. They do things because their heart is in it, no matter how challenging the task."
"The best part of my job is the variety of the work, and the people I work with – they are never afraid to lend a helping hand with a 'can do' attitude," says Greco-Pepe. "We are either helping students or instructors, answering the phone, processing payroll, reviewing computer inventory, etc. And if we are not doing any of that, we are preparing budgets or working on projects… I always tell people that we do everything, 'from soup to nuts'."