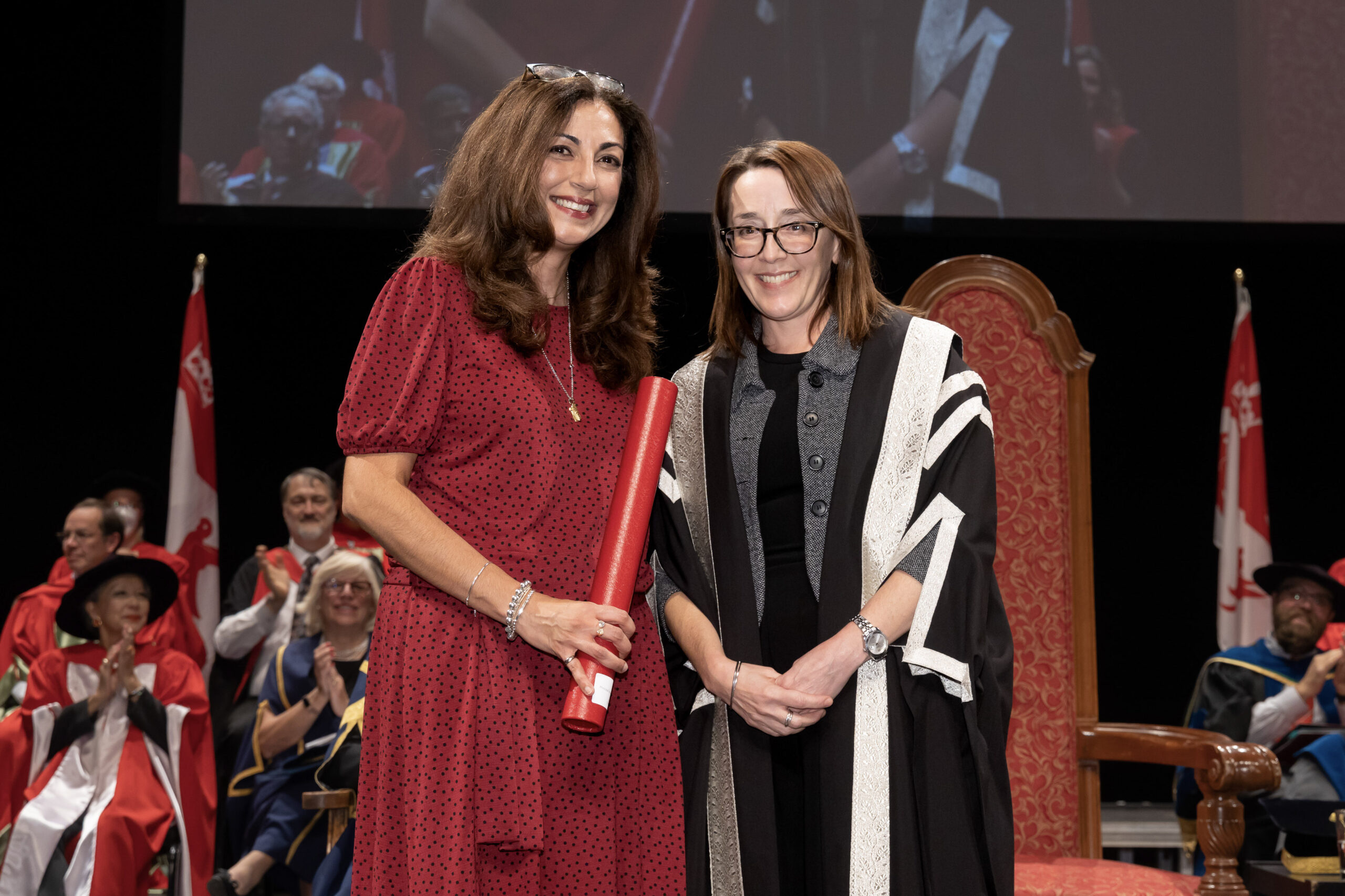 Yesterday's Fall Convocation ceremonies marked one year since McGill returned to in-person celebrations of our newest graduates. It was therefore fitting that a few moments of the afternoon ceremony were dedicated to recognizing the team behind restoring this venerable tradition.
The core Convocation Team—Laura Di Gravio, Heidi Emami, Pauline Frixione, and Clara Spadafora—are the 2022 recipients of the Principal's Award for Administrative and Support Staff in the Teams Category. The award recognizes the team's remarkable success in completing a hat-trick of Herculean tasks: pivoting to online Convocation celebrations after the pandemic curbed in-person gatherings for the better part of two years, restarting in-person celebrations in Fall 2021, and the massive undertaking that was Spring 2022 Convocation.
The pivot to virtual
When COVID-19 scuttled hopes for in-person Convocation in Spring 2020, the Convocation team dedicated themselves to creating the best possible remote celebration. In short order, the team assembled a group from across McGill with the necessary skills and expertise to plan and create the videos, the website, and the social media strategy behind the virtual celebration.
Thousands of people tuned in from around the world to celebrate the achievements of more than 3,100 graduating students.  The Spring Virtual Convocation Ceremonies even earned the distinction of becoming the first event certified by the relaunched McGill Sustainable Events program.
It was a huge undertaking to keep the magic of Convocation alive when we couldn't celebrate in-person—and the Team repeated that achievement two more times, in Fall 2020 and Spring 2021.
In-person returns
As beautiful and appreciated as the virtual ceremonies were, there was always that hunger to be able to hear the strains of "Hail! Alma Mater" ring through a room filled with smiling graduates and their friends and family.
That opportunity arrived in Fall 2021—and when it did, the Convocation team had to move fast to make the University's first in-person celebration since 2019 a reality.
Planning for Fall Convocation usually begins in the summer. "The Convocation subcommittee had been meeting regularly to monitor the situation," recalls Heidi Emami, Associate Registrar, Records, Exams & Convocation, Enrolment Service, "but it wasn't until partway through September when we saw the opportunity that we could potentially have in- person ceremonies" because of positive changes to the public health situation.
The team immediately surveyed the Fall 2021 graduating class to gauge interest in attending an in-person ceremony, even if it meant following restrictions such as providing proof of vaccination, wearing masks, and inviting fewer guests.
"We did get a really good response and a lot of graduates said that if there was an opportunity to have an in-person ceremony, they would attend," recalls Emami, who has worked on Convocations since 2005. "So, using that, we started thinking about when it would be possible."
The team booked two days at Place des Arts, the traditional site for Fall Convocation, to split the usual two ceremonies into four. "We wanted people to be more spread out so everybody would feel safe and at the same time have their moment."
All told, hundreds of graduates crossed the Places des Arts stage last November, complete with the traditional tapping, capping and photo ops.
"Everything we did required rethinking and adapting—from seating to ticket distribution—as we were moving forward because we knew that [public health] information and COVID protocols were always changing," says Clara Spadafora, Associate Director, Academic Records.
"It was challenging," admits Emami, "but also really exciting that we were going be able to hold in-person ceremonies for the first time. And I think that we got very lucky because as soon as we had our ceremonies, there were shutdowns announced for December and then in January. We know from our colleagues at Concordia that they were planning to hold ceremonies in early January, and they couldn't because of the restrictions."
"We got a lot of nice emails, even from the moment that we announced Fall Convocation," says Laura Di Gravio, Records Administrator and Trainer. "Students were very, very excited and very thankful."
As soon as Fall Convocation was over, Di Gravio started getting a slightly different type of excited email, this time from students who graduated during the darkest days of the pandemic: "I hear the in-person Fall Convocation was great—so when I can I come back to campus for MY convocation?"
Cue Spring 2022 Convocation
The 2022 Spring celebrations were nothing short of epic, an unprecedented series of ceremonies to celebrate not just the Class of '22, but the two previous years' worth of graduates. Spring planning usually starts in January, but it wasn't until mid-March that the Omicron wave had settled enough that an in-person celebration looked possible.
Not only was the Convocation team again facing a much shorter turnaround time, a fluid public health situation, and procurement issues (diplomas and envelopes aren't immune to supply chain bottlenecks), but they had to organize 26 ceremonies instead of the usual 14, plus a special event marking the installation of McGill's new Chancellor, John McCall MacBain.
"We had we had a huge task ahead of us, plus the pressure that we wanted to make sure that we were holding ceremonies that were worthy of our graduates coming back," remembers Emami. "We wanted to make sure that that moment was special for them and that we weren't just holding the ceremony just for the sake of holding a ceremony. We wanted them to have to have that special moment. That was a big pressure that we all felt."
Interest was high, with upwards of 30 per cent of graduates saying they'd be coming back to Montreal for their deferred ceremony. When surveying those graduates to prepare for the virtual ceremonies, the team asked what elements of in-person ceremonies were particularly important.
"We knew that the most important aspects for students were getting their diploma, crossing the stage, hearing their name, and sharing the experience with their peers," says Di Gravio. "So those things became something that we really wanted to highlight in these postponed celebrations. That helped our planning in terms of how we're going to frame these celebrations."
All told, a whopping 17,500 graduates crossed the Convocation stages on the downtown and Mac campuses last spring.
"Spring Convocation is always an incredibly happy time, but the energy for those deferred ceremonies was different," says Emami. "The returning graduates were so happy they were here. So many times on campus, we would encounter grads who were just hugging and crying and just being so happy to be there and able to cross the stage. The fact that these graduates had graduated during the pandemic, and they hadn't been back to campus since, really contributed to that vibe and energy."
Di Gravio recalls the high volume of emails the team received before—and after—the Spring ceremonies.
"Before, it was a lot about 'How are you making sure people are safe? How are you organizing this? How are you planning this?' And then after the fact, it was a lot of 'How did you guys do that? How did you pull that off?'"
"What I really want to highlight is that in addition to our core team, our bigger team helped us so much," adds Emami. "This wouldn't have been possible without every single one of our colleagues in the Academic Records, Exams and Convocation unit. Everyone was always willing to help, even if it was not necessarily their job mandate. They're all dedicated, hardworking and amazing."