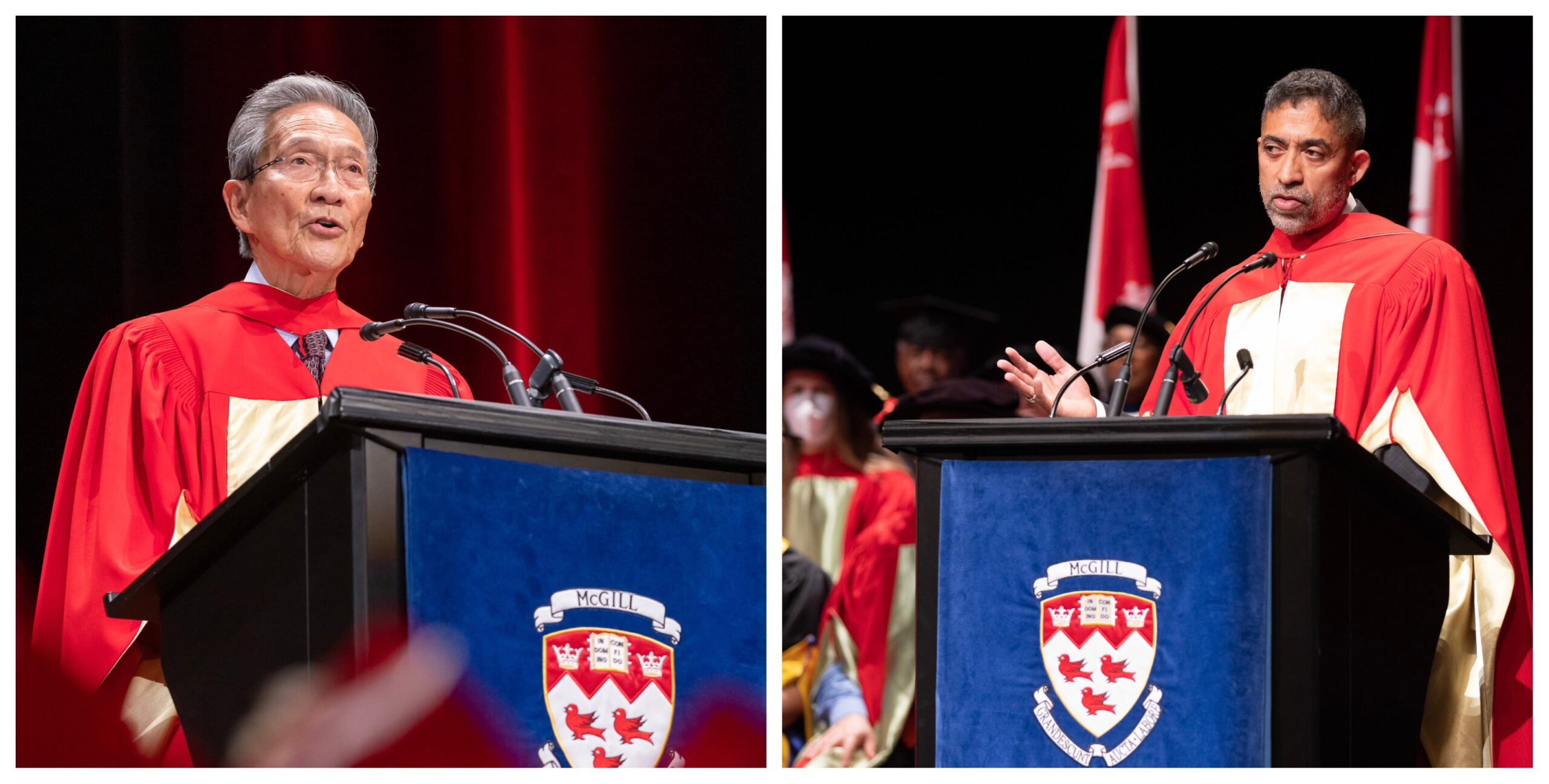 As part of the Fall 2022 Convocation ceremonies, held October 26 in Place des Arts, McGill conferred honorary degrees on two highly talented and engaged individuals who serve as an inspiration for its community of students, professors, researchers, and staff: Alan Emtage and Dr. Neville Poy. Click on the videos below to hear their speeches. 
Stephen Alan Emtage
B.Sc., M.Sc. (McGill University)
Doctor of Science, honoris causa (D.Sc.)
Stephen Alan Emtage came to McGill in 1983 from his native Barbados as an undergraduate scholarship student. When he left the University less than a decade later, he had not only earned two degrees, but had established himself as one of the pioneering innovators of the Internet age. 
While completing his McGill studies, Emtage worked as a systems administrator for the School of Computer Science. Although the Internet was still largely in its infancy, there were already millions of files hosted on servers around the world. The problem, Emtage realized, was the absence of a simple way to quickly explore this growing wealth of information. He came up with the idea to index the Internet and created Archie—which we now recognize as the world's first search engine. What once took hours upon hours of manual searching could now be achieved in seconds. 
After graduation, Emtage and Peter J. Deutsch cofounded Bunyip Information Systems, Inc., the world's first company dedicated to Internet information services. Emtage went on to play a leading role in the evolution of Web technologies. He was a founding member of the Internet Society, a non-profit organization that promotes the development of the Internet as a global technical infrastructure, which formalized many of the standards for Web technology used today. He chaired several working groups at the Internet Engineering Task Force, including co-chairing the Uniform Resource Identifier working group, which created the standard for Uniform Resource Locators – more commonly known as URLs – the standard by which Web sites are accessed to this day. He has served on advisory panels for organizations including the National Science Foundation and the Library of Congress.
Emtage has also proven himself a visionary when it comes to realizing the Internet's potential to advance social good. In the 1990s, his Web development company, Mediapoliswhile primarily working for a range of clients from startups to multinational corporations, dedicated significant resources, free of charge, enabling most of the major LGBT organizations in the United States to create and maintain an Internet presence.
In 2017, Alan Emtage became the first Barbadian, and the first person from the Caribbean, inducted into the Internet Hall of Fame. This prestigious lifetime achievement award recognizes  his groundbreaking contributions to the Internet age, as well as his dedication to the spirit of altruism and collaboration. 
Dr. Neville G. Poy, O.C.
B.Sc., M.D.C.M., M.Sc. (McGill University)  
Doctor of Science, honoris causa (D.Sc.)
Dr. Neville Poy is deeply connected to McGill University, starting with his time as a student and growing to include roles as a Visiting Professor, committed volunteer and passionate ambassador for his alma mater. 
As a child, Neville Poy moved to Canada with his family from their native Hong Kong. After completing his studies at McGill, Dr. Poy embarked on a long career in the field of plastic surgery. He specialized in treating and researching severe burns at Scarborough General Hospital's pioneering Burn Unit, long the only unit of its kind in Canada—and earned a reputation for treating his patients with unparalleled compassion and kindness. 
He distinguished himself both in his professional practice as well as in giving back to the community, his peers, and to the next generation of medical practitioners. He served as the President of the Ontario Medical Association, Plastic Surgery Section, was active in the Scarborough General Hospital Medical Society and the Health Research and Development Council of Ontario, held several leadership positions with the Scarborough General Hospital, and gave his time to advancing the work of the North American Lipolysis Society, the Canada China Child Health Foundation and the Canadian Association for Accreditation of Ambulatory Surgery Facilities.   
In addition to teaching as a Visiting Professor, Dr. Poy has remained engaged with McGill by serving on the Dean's Medical Advisory Board of the Faculty of Medicine, and leading philanthropic efforts for the Faculty of Medicine.   
Medicine is not the only field in which Dr. Poy has excelled. In 1995, he retired from his surgical practice, having felt "I had contributed everything I could to our hospital and the plastic surgery community and the community of our city." He renewed his focus on photography, a lifelong passion since receiving his first camera at age 11. He has since held many exhibitions of his photographs, including at galleries at the Universities of Victoria and Toronto, and served as Honorary Chairman for Photographic and Art Exhibitions on China, a 2002 initiative sponsored by the Federation of Chinese Canadians.  
Dr. Poy has been recognized with many awards and honours, including the Queen's Grant of Arms, lifetime appointment to the Queen's York Rangers, and the status of Officer of the Order of Canada and Officer of the Order of St. John.