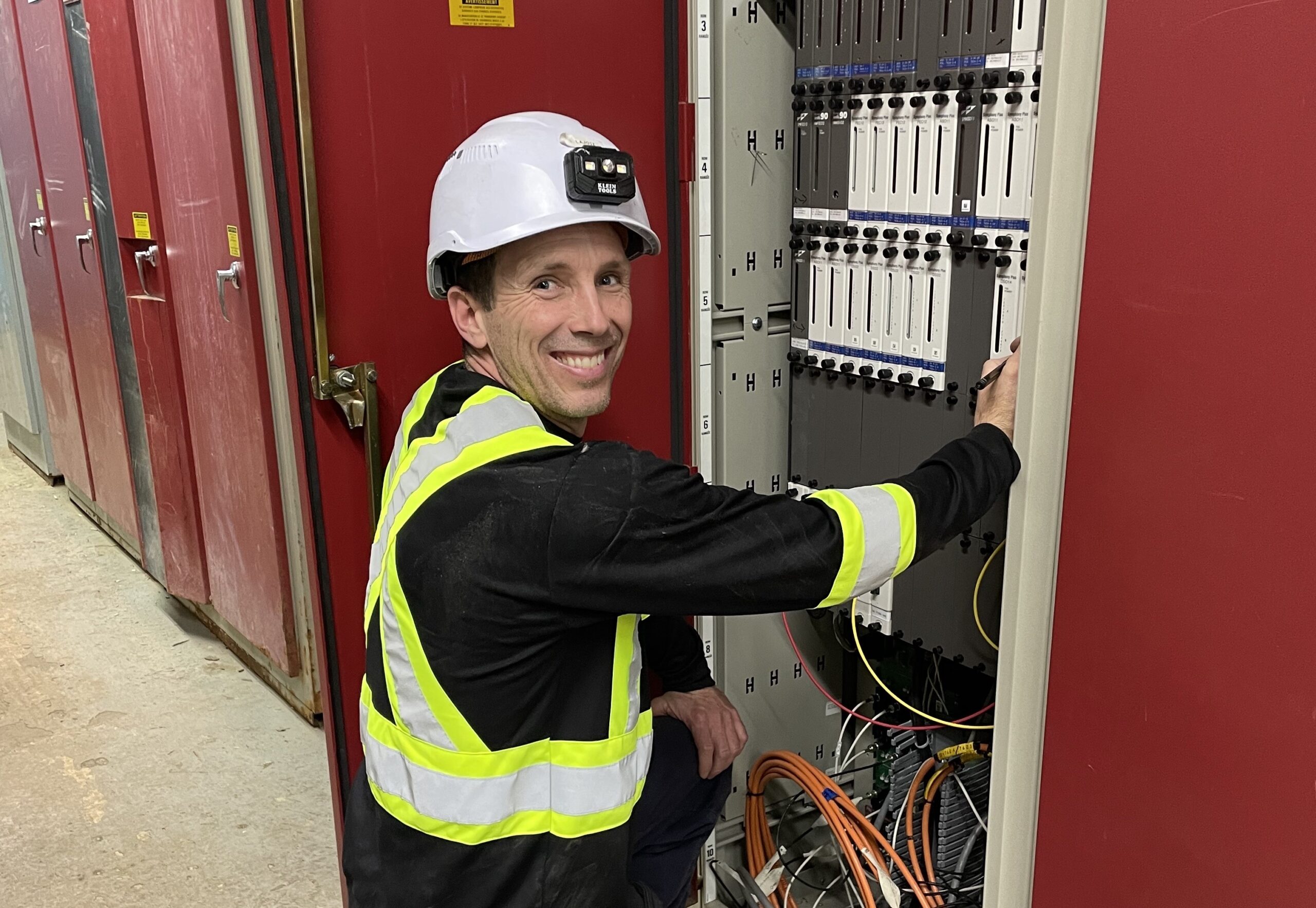 Part of the work that goes on at Utilities and Energy Management, a unit of Facilities Management and Ancillary Services, is designing strategies to lower the greenhouse-gas (GHG) emissions produced by McGill buildings. When it's time to implement them, that's when the expertise of staff like Steve Lajoie, Instrument and Controls Technician, comes in.
A natural leader, and a dedicated agent of change, Lajoie received the Principal's Award for Administrative and Support Staff in the Trades and Services Category at yesterday afternoon's Fall Convocation ceremony in Place des Arts.
Lajoie is based at the downtown powerhouse (next to the Ferrier Building), where the steam that heats most of McGill's downtown buildings is produced. He is responsible for programming and monitoring the automated system that controls this production and distribution across campus, as well as the emergency generators and chilled-water (or cooling) systems that service a dozen surrounding buildings.
Lajoie's work also involves programming and maintaining the meters that monitor the energy consumed by McGill buildings to inform energy efficiency initiatives. "We provide all the data on the energy consumed by our various buildings and adjust the system controls in line with the energy management decisions that are made using that data," he says.
At the moment, Lajoie is on the front lines of the biggest initiative yet at McGill to reduce its buildings' GHG emissions: the replacement at the powerhouse of one of the boilers powered by natural gas with two electric boilers, a project that will lead to a reduction of 25% in the campus's energy-related emissions and 13% in McGill's total emissions compared to 2019.
Replacing industrial-grade boilers is not a small endeavour – in this case it is a $33-million one, since major renovations to the building were needed to accommodate the new equipment. Lajoie has been a key player in every phase of the project.
"Steve has participated in all the design meetings and brainstorming sessions to find solutions to challenges during the project design and construction," says Jerome Conraud, Director, Utilities and Energy Management.
"The equipment is expected to work and perform a certain way. I work closely with the engineers to see how best to connect the equipment to our systems and program it to achieve these results," Lajoie explains.
Trained as an Instrumentation and Control technician, Lajoie joined McGill from the private sector in 2010. With McGill's support, he has since obtained several other certifications – from stationary engine mechanics to electricity – that are all pertinent to the operation of a heating plant, making him an esteemed colleague co-workers turn to for technical support and solution seeking.
"Steve has consistently demonstrated interest in improving practices that go beyond his trade," Jerome Conraud adds. "For instance, he has developed several programs and automations to make the work of the powerhouse operators easier."
Lajoie says he's happy to have his work recognized with the Principal's Award. "At the same time, my work is very stimulating and I feel lucky to have the opportunity to be a part of the projects underway."