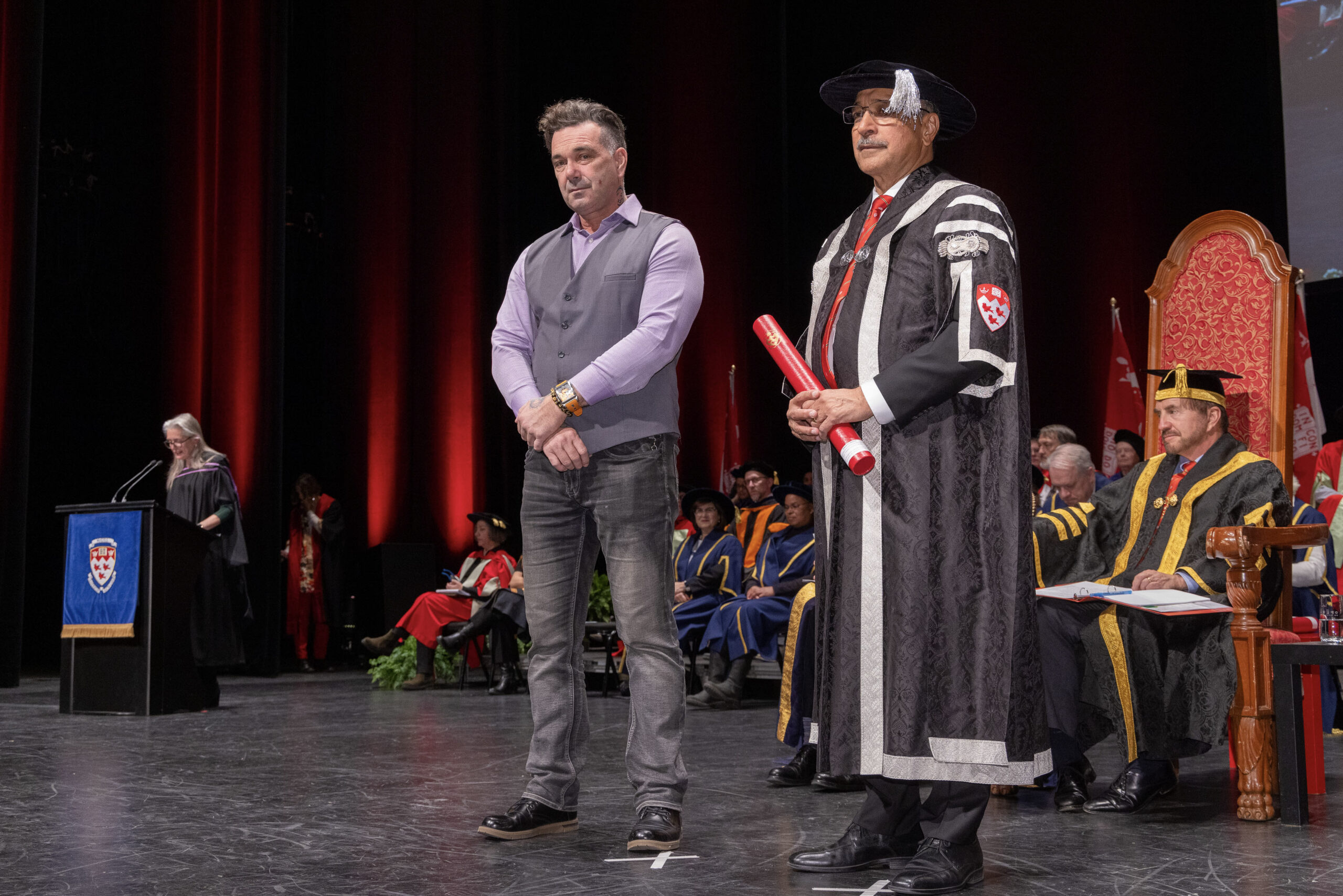 Since he started working at McGill, 16 years ago, Pascal St-Jacques, a Building Operator at Facilities Management and Ancillary Services (FMAS), has worked in every sector of the downtown campus. He admits to having a soft spot though for the North sector, where he is currently based, and where he oversees the operation of the heating, ventilation and air-conditioning (HVAC) systems for the Neuro (including the hospital), the Lyman Duff Building, and the Athletics facilities.
"I love it here. It's very hectic," St-Jacques says. He likes the variety of facilities in this area of campus and welcomes the challenge that comes with managing critical infrastructure. "When you are responsible for making sure patients are comfortable or valuable research samples are not lost, you can't just say 'oh, I'll come back tomorrow'," he adds.
St-Jacques received the Principal's Award for Administrative and Support Staff in the Trades and Services Category at yesterday's Fall Convocation ceremony at Place des Arts.
"Pascal leads his team by example, always in a jovial mood that is contagious to those around him, and with a dedication to McGill that is unparalleled," said Diana Dutton, Interim Vice-Principal (Administration and Finance), and Associate Vice-Principal, Human Resources, when introducing St-Jacques. "Pascal often takes the initiative to propose himself for an early morning shift or weekend duty and he makes sure that everyone on his team feels included and heard. Simply put, Pascal makes everyone around him better and he is a true asset to our university."
Maintenance and prevention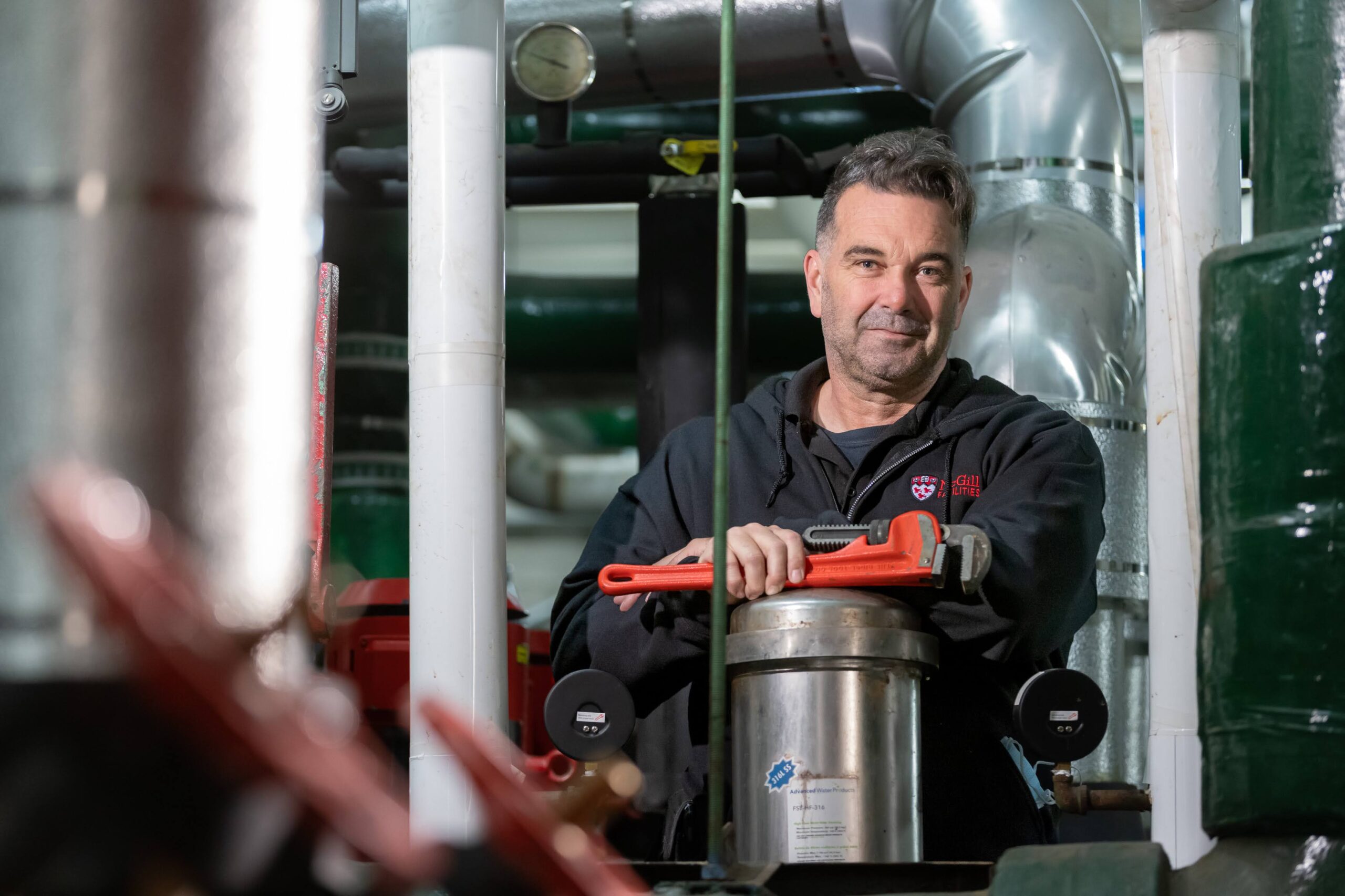 St-Jacques and his team of three handle some 25 to 30 service calls a week – probably double that when accounting for construction project-related calls.
"Most calls to the Facilities Call Centre for our sector will come to me and then I will dispatch appropriately, to a plumber or an electrician, for example, depending on the source of the issue," he explains.
And then there is regular maintenance, such as changing filters, or, as is the case at this time of the year, emptying cooling systems to prevent pipes from breaking during winter.
But building systems are like cars, he points out. "You can do maintenance and prevention on your car but a mechanical failure can still happen."
St-Jacques finds it important to remain calm, for example when an issue takes longer to resolve and occupants' patience wears thin. "I try to put myself in their shoes," adding that "dialogue is important to arrive at a mutual understanding and trust."
Feels like home
Prior to joining McGill, St-Jacques worked as an industrial investigator, before switching gears in his early thirties and going back to school to study stationary engine mechanics.
What attracted him to McGill was the size of the campus and its many buildings. "I like moving from one building to another. I didn't want to stay inside a single building all the time, like can happen when you work in the industrial sector."
He also appreciates the camaraderie and the dedication of the staff who work in the North sector of campus. "I feel like I'm at home here. Everyone is supportive of each other."
St-Jacques says he is happy and proud to receive the Principal's Award, and grateful for this recognition of his work. "It took me a couple of weeks to take it in!"