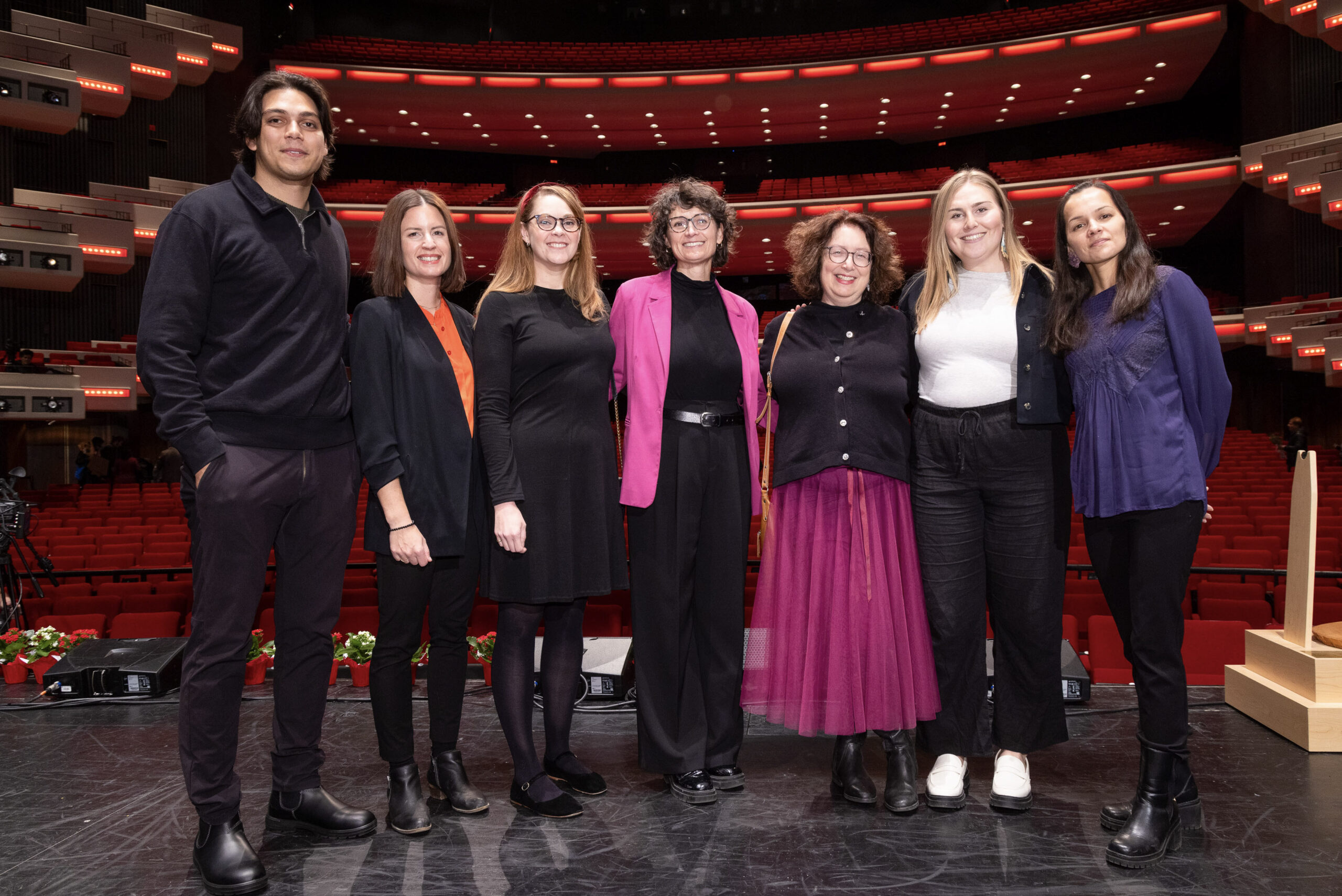 On November 20, the meteoric rise of McGill's Indigenous Mentorship and Paid Research Experience for Summer Students (IMPRESS) program reached new heights. As part of the afternoon Convocation ceremony, Lynnsey Chartrand, a Red River Métis from Treaty 4, accepted the Principal's Award for Administrative & Support Staff in the Team category, on behalf of other IMPRESS team members Veronica Amberg, Marlowe Dubois, Thomasina Phillips, Krystle van Hoof, and Kim Reeve. 
Not bad for an initiative that's not even two years old. 
IMPRESS is a summer program that pairs undergraduate Indigenous students from across the country with McGill professors and graduate students to gain hands-on research experience, build their professional skillsets, and find an Indigenous community on campus. The collaborative initiative is run by Branches, McGill's community outreach program in Enrolment Services, and is partnered with First Peoples' House (FPH); and Healthy Brains, Healthy Lives (HBHL), within the office of the VP Research and Innovation. 
"[The IMPRESS team's] commitment to quality, collaboration, and innovation resulted in a comprehensive forward-looking program that goes beyond conventional mentorship experiences and provides students with a diverse range of opportunities for community building, deeper cultural connection, personal growth, and professional development," said Diana Dutton, Interim Vice-Principal (Administration and Finance), and Associate Vice-Principal, Human Resources, during the award presentation. 
"With this program, the IMPRESS team has empowered students and positively impacted supervisors and the broader university community, while making significant contributions to McGill's project of recognition and reconciliation with Indigenous peoples." 
Rapid growth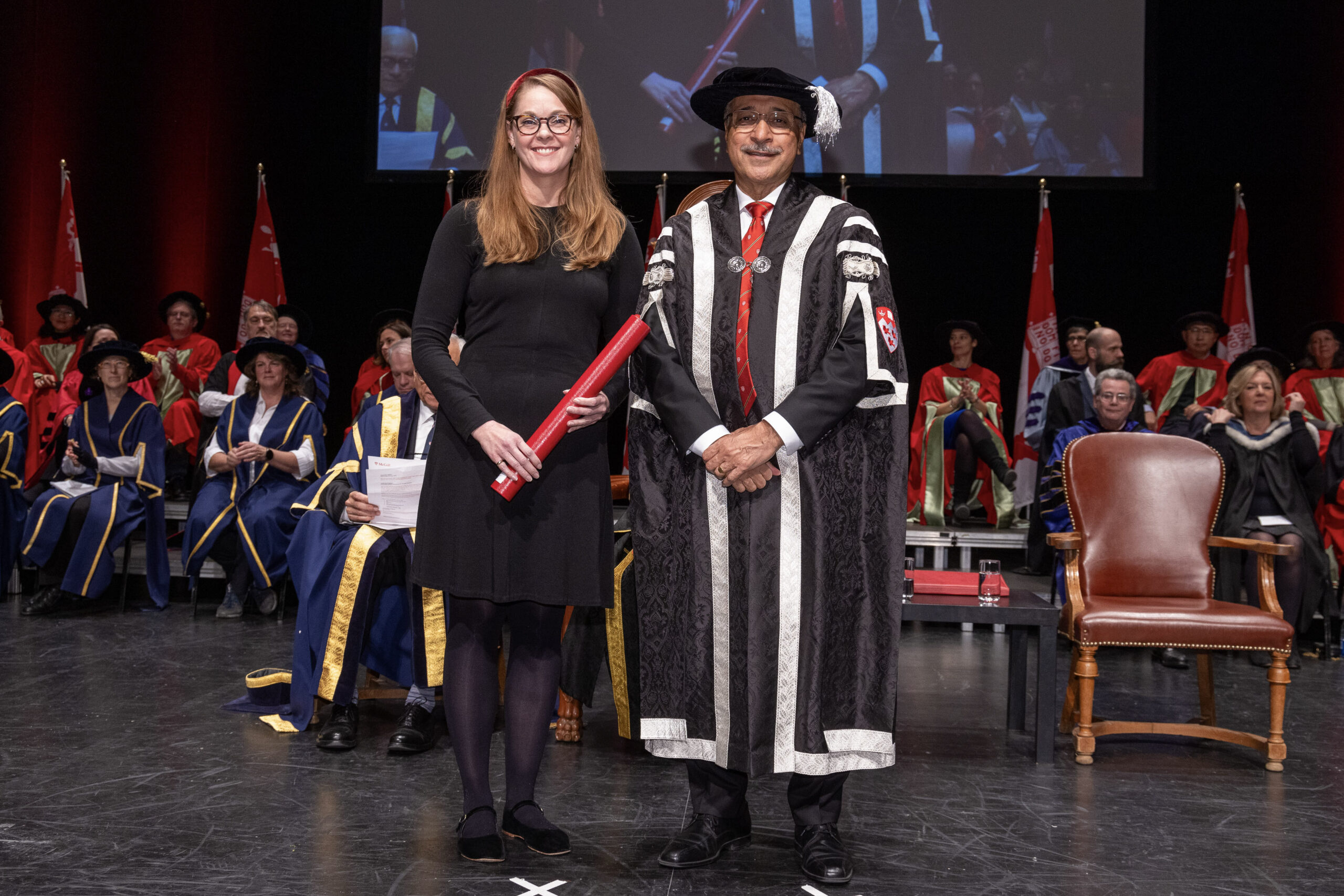 When IMPRESS first launched in early 2022, organizers tempered their expectations. Five participants would have been considered a good start for the fledgling program. Instead, they welcomed 14 students to McGill for eight weeks over that inaugural summer.  
This past summer, the program more than doubled, with 29 participants taking part in a broad range of activities including 15 hours a week in a research setting, five hours of professional development and leadership training, and a variety of social and cultural activities. Participants were paired with a professor or a professional from a McGill unit.  
This year, students were placed across the University in a diverse range of disciplines including social work, education, engineering, and with McGill Library. The biggest placement, however, was with HBHL. 
"In the first year, HBHL had four internships with us, and the second year there were 12 internships – which was fantastic, especially given the underrepresentation of Indigenous students in STEM," says Chartrand, Indigenous Program Advisor at Branches, and the IMPRESS Project Manager. 
"Branches works relatively closely with First Peoples' House, but HBHL was a new partnership for us, and it's grown into a fantastic relationship. It's fun to be able to connect with folks you wouldn't normally work with daily." 
Building community 
One of the unique features of IMPRESS is the social and cultural aspect. Originally, however, organizers hadn't put much stock into that component. 
"When we were designing the program that was kind of an afterthought," says Chartrand with a laugh. "We were so focused on the technical components – how are we going to match the mentors with the students, and the professors with the students? Where were we going to host the various sessions?  
"It came as a surprise to all of us when we got the comments back from the first-year cohort. The connections, the sense of belonging, and the networking was such a front-and-center positive part of the program. It's a real core component of what we're doing here," says Chartrand. "What makes IMPRESS unique is how it takes a holistic view in terms of program delivery." 
First Peoples' House plays a pivotal role in creating a sense of community for IMPRESS participants. The de facto 'home away from home' for McGill's Indigenous students, FPH is a hub that helps connect IMPRESS participants to the broader Indigenous community of the University. FPH also taps into its large network to bring Indigenous people to campus to support the IMPRESS program – an Elder to officially open the program, or someone to lead a medicine walk on Mount Royal. 
But it's the personal touch that really has an impact.   
"This summer, Marlowe [Dubois] was cooking these fantastic meals for the students and Thomasina [Phillips] helped lead a beading session. It makes students feel like this is a place for them. It becomes their home on campus." 
Maintaining quality while expanding 
Chartrand says IMPRESS has received interest from other McGill units – and even other universities – to come in as partners, similar to HBHL. While the success is exciting, the priority for the IMPRESS team is to build the program while preserving its core values. 
"We want to make sure that we're developing something that's built to last and that this program will become a staple at McGill that's known throughout the province and beyond for giving fantastic experiences to Indigenous undergrad students," she says.  
"What really is most rewarding about IMPRESS is seeing the results with the students at the end of these summers and seeing how they have connected," says Chartrand. "We get comments in our surveys like 'this really made me feel like I have a place on campus,' or 'I've made friends that are going to last a lifetime.' As we grow, we have to ensure that the quality of the experiences is maintained."