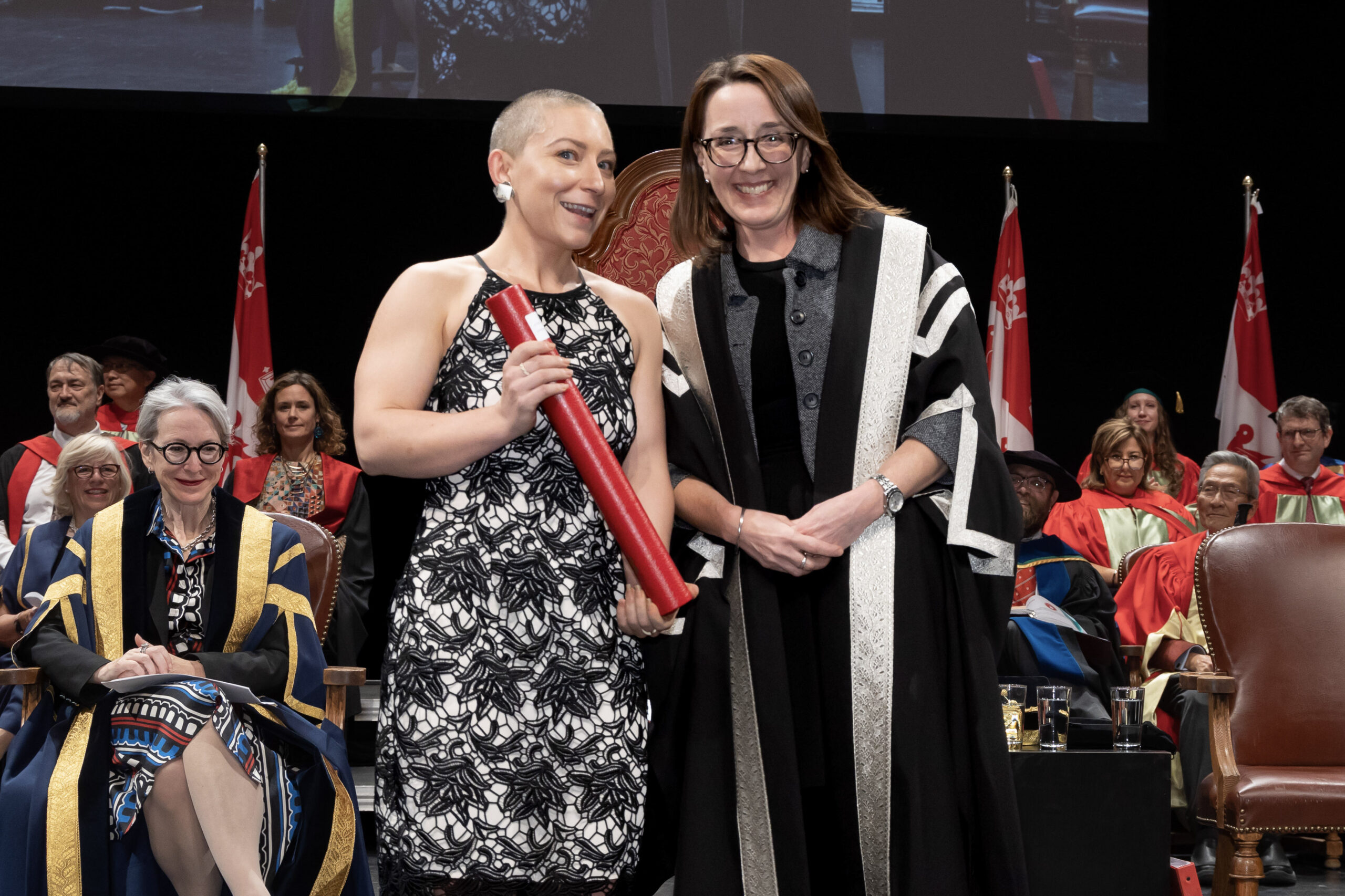 It doesn't take long in talking with Anaik Fortier, this year's winner of the Principal's Award for Administrative and Support Staff in the Clerical Category, to realize she is a 'people person.' Smart, funny, engaging, she is a pillar of positivity.
A case in point: Fortier's McGill origin story.
In 2018, she applied for a position at the McGill Institute for Health and Social Policy (IHSP). Her interview was at Meredith House, right at the steepest point of Pine Avenue.
I remember going up the hill and thinking, 'Boy, I sure hope this is not actually where the job is,'" she says with a chuckle. "In fact, when they asked if I had any questions, I definitely asked if this was where I'd be working."
Fortier landed the job and she found herself making the climb daily.
"The Director of the IHSP at the time was Daniel Weinstock, and everything he said was so in line with what I wanted to be a part of – and what I still want to be a part of," says Fortier. "So yeah, it convinced me to take on the hill."
Fortier's been taking on hills – and conquering them – ever since.
Beyond the call of duty
"The area in which Anaik works recently underwent significant transitions, including moving to a new space and being incorporated into a new academic Department within the new School of Population and Global Health – all in the uncertain context of the pandemic," said Diana Dutton, Associate Vice-Principal, Human Resources, during the presentation ceremony on October 26, as part of Convocation.
"Throughout, Anaik demonstrated her service-mindedness and team focus, ability to listen and find solutions, and enthusiasm to learn and take on new tasks beyond the call of duty," said Dutton. "As a research institute committed to policy engagement, Anaik's area hosts many public conferences and seminars. Anaik was instrumental in adapting these events to the new pandemic realities of fully virtual or hybrid."
Enhancing her job skills through a variety of workshops, Fortier became indispensable in the organizing and hosting of a number of large-scale virtual events. One of the most successful events Fortier helped run was a four-day virtual conference on Wellbeing Policy in May 2021, which attracted over 300 attendees, including academics, policymakers, and civil society members.
"Thanks to Anaik's dedication to her community, rather than seeing attendance diminish during the pandemic, participation and impact expanded," said Dutton. "And the team has emerged more resilient and engaged than before."
People skills developed at home
Fortier credits growing up in large family for her ability to work well with people.
"I have a big family – seven older brothers – so it definitely has helped me understand that people have different points of view and different strengths," she says. "Sure, there's going to be conflict or miscommunication at times, but in a family that size, you learn how to make things work. I think it served me well. So, thanks, mom, thanks, dad."
When asked how her parents reacted when they found out she had won the Principal's Award, she laughs again. "Oh, my goodness, they haven't been that proud since my 8th grade report card!"
Team made stronger
Asked about her colleagues, Fortier nods her head and smiles. The challenging times were hard, she says, but, in the end, they made the group stronger.
"I think the reason we're such a solid team now is the fact that people have gone through some ups and downs together," she says. "But no one blames anyone, we take the time to debrief and look at what went right and what went wrong. Because of that, we're at a place where things go right more often than not."
"I want to give a shout out to my colleagues at the School of Population and Global Health," says Fortier. "I feel like this award is, if anything, a reflection of their support and kindness towards me."