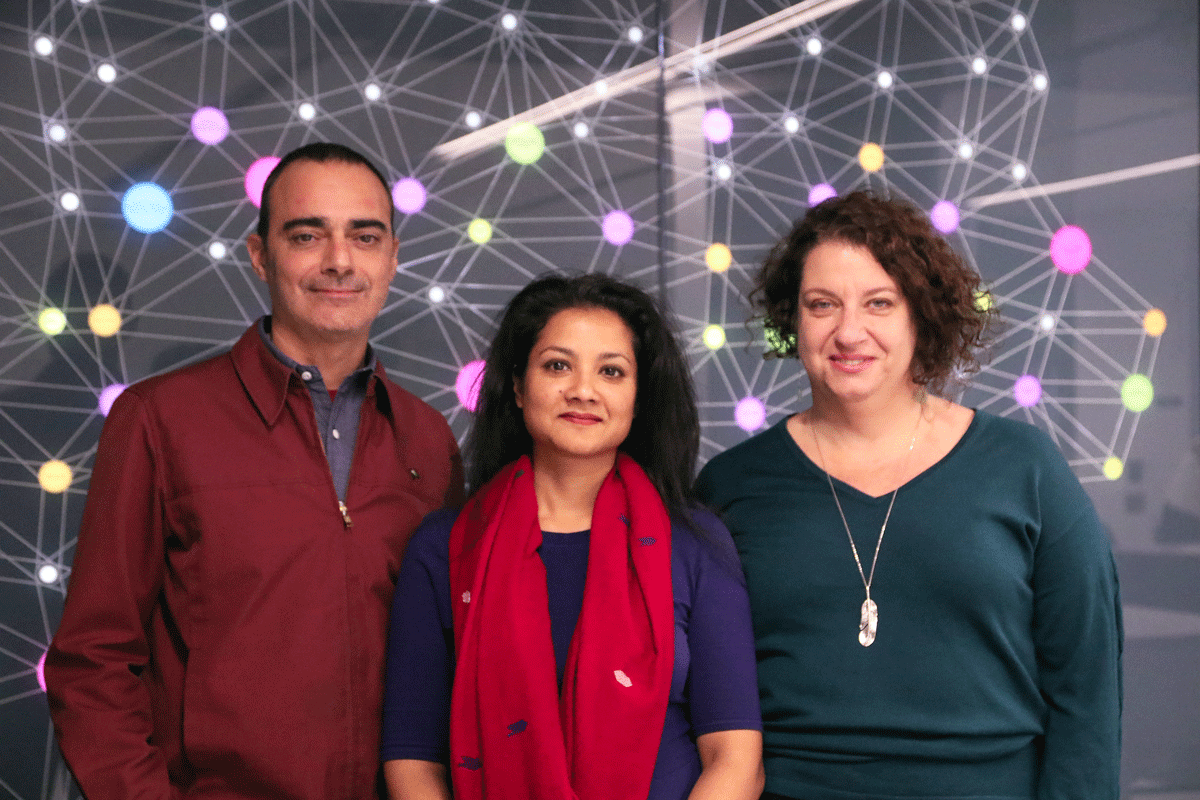 Each fall, Principal Suzanne Fortier recognizes staff members who have done an exceptional job – or, in the case of this year's recipients of the team award, an XXceptional one.
At next Monday's Fall Convocation, the communications team behind the Neuro XXceptional video series will take to the Place des Arts stage to receive a 2018 Principal's Award for Administrative and Support Staff will be handed out at Fall Convocation. (There will also be four individual awards. Learn more about those people here.)
The Neuro XXceptional videos profile some of the outstanding women who are on the frontlines of research and patient care at the Montreal Neurological Institute and Hospital. In the videos, which are available online, these nurses, doctors, neuroscientists, and students talk about what drives them to improve the lives of patients suffering from conditions such as Parkinson's and ALS.
Hoping to inspire young women
Communications officer Rosalia Felice says Neuro XXceptional was one of the most satisfying projects she's worked on in the 14 years she's been at McGill.
"Telling the stories of the women at the Neuro was a pleasure," says Felice. "The women, the people with two X chromosomes, play a big role at the Neuro, but they are not used to the spotlight."
Growing up as a child of Italian immigrants on the south shore of Montreal, she says her parents fully expected her to pursue university studies. But for many girls, post-secondary academics are not on the "to do" list, and especially not the Science, Technology, Engineering, Math, and Medicine (STEMM) subjects. Felice hopes that Neuro XXceptional will inspire young women to pursue dreams that they might not have otherwise thought were achievable.
Since wrapping Neuro XXceptional, Felice has moved to another corner of McGill. In July, she began a new job as manager of Career Advising and Transition Services in the School of Continuing Studies. There, she's helping professionals to navigate career transitions, and new Quebeckers to find their way in the workforce. As a first generation Canadian, she says this is how she wants to give back in the next chapter of her career at McGill.
The Principal's Award includes a $5,000 purse. Felice is planning on spending her share advancing her project of visiting every major island in the Caribbean. So far she has landed on 23, and there are 10 more on her list.
Elevating others
Communications officer Anita Kar studied anatomy and cell biology at McGill, graduating with a BSc in 2002. After discovering research was not the right fit for her, she decided to train to be a teacher of English as a Second Language. Kar then realized that what she really wanted to do was communicate scientific ideas, so she completed an MSc in science communication at the University of Bath. Kar has been at McGill since 2007, and is very proud of The Neuro. She says she now feels that she has landed exactly where she wants to be: a place that allows her to connect with, and elevate, others.
Born in Saudi Arabia, Kar's family is from India and moved around the world, spending the longest time in Oman, where her father worked as a geophysicist. She says she stays up late reading recipe books, and loves to cook and travel. Her main occupation is caring for her three-year-old daughter, who she is proud to say is becoming a very determined character.
As many of the recipients of the Principal's Awards are wont to do, she talks more about her colleagues and the people in the NeuroXXceptional videos, than about herself.
"I fell in love with the people featured in the videos, and am a super fan of the women scientists," she says. "I felt a real sense of elation when I found out our team had won."
Her share of the $5,000 will go to upgrade her computer technology to aid her in her work.
Telling important stories
Multimedia technician Anthony Revoy is the "go-to" person at the Neuro when a project requires photography or video. Revoy documents everything from patient cases in the operating room, to specimens and special events, and responds to the audio-visual needs of everyone in the building.
In recent years, he's focused more on what he calls the "visual narrative" of filmmaking, working with colleagues such as Kar and Felice to generate stories.
"Film and storytelling are collaborative arts," says Revoy. "With NeuroXXceptional, it's been very rewarding to document the work of the scientists, using the solid foundation my colleagues provided to give the stories impact."
Originally from Brampton, Ontario, Revoy came to McGill 25 years ago to study European history, and fell in love with Montreal. A 15-year veteran of McGill, his interests are music, filmmaking, photography and construction.
The best part of his job, he says, is helping others with a skill set that is uncommon in a medical/scientific environment. Working among what he calls "a sea of lab coats that are concentrated in their own field of study," he says it feels good to help tell their important stories through editing, music, animation or whatever it takes to bring the full emotional impact.
Do you know a team that's done outstanding work? Nominations for the 2019 Principal's Awards for Administrative and Support Staff begins in the spring.