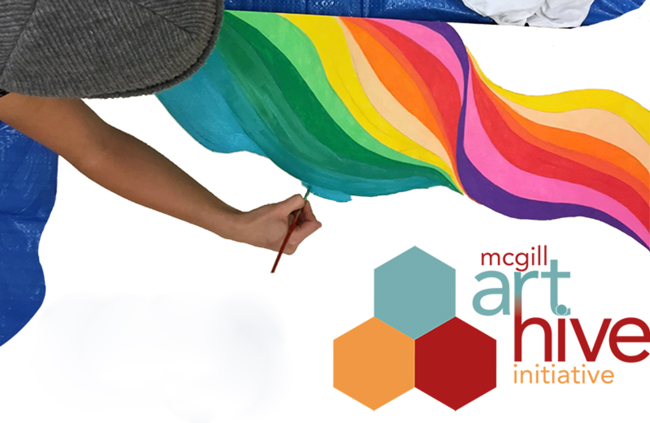 By McGill Reporter Staff
In an airy open area at the back of the first floor of the former library of the Faculty Education is a colourful space filled with art supplies and work tables. Along the wall there are bins and boxes of fabric, coloured pencils and paints, sketch pads, paper, and all manner of recycled objects, ready to be remade into anything the visitor desires. Welcome to the McGill Art Hive Initiative (MAHI).
Launched on Nov. 28, the MAHI is an open access walk-in studio for making art and is a repository for art supplies of all kinds, available at no charge to whomever wants to use them, in an unguided, respectful and fun way. MAHI is open Wednesdays and Thursdays, from 10 a.m. to 4 p.m.
The MAHI website says the Art Hive "is a gathering place, a simple space for making art. Participation requires no art background or experience. It is a space where conversation, getting to know fellow artists, and creating community can accompany the process of making art. It affords members of the McGill community the opportunity to step out of their daily challenges, spend time in a very different place, and to return to their work feeling more relaxed and focused."
When Maria Ezcurra became the Artist-in-Residence in the Faculty of Education in 2015, she was already involved with the Art Hives Movement through Concordia University and the founder of the Art Hive movement, Professor Janis Timm-Botts. Ezcurra suggested that the Faculty of Education start an Art Hive.
There are now about 20 Art Hives in Montreal, including one at the Montreal Museum of Fine Arts.
Ezcurra smiles when asked what people make at the Art Hive. "All kinds of things!" she says. "They make both art projects (painting, modelling, drawing, collage, crafts) and amazing crazy little endeavours. They see other people's work and share their own creations. They write and read. They talk. They have lunch or drink tea. And sometimes they visit the space but don't do anything specific, which is perfectly fine."
Ezcurra is now the Art Facilitator of the MAHI, and the Artists in Residence are Victoria Stanton and Aaron Richmond.
"Doing art helped me survive and finish my PhD," says Ezcurra. "There is a growing awareness of the need for different approaches to wellbeing for students, and the entire McGill community. Art making in a warm and friendly environment can help make people be more successful by lowering stress levels and stimulating creativity. Taking a break and doing an art project can maybe help you solve a math or legal problem by stimulating the imagination.
"We have long been interested in the role of the arts in helping people relax, a key part of our Art Hive initiative," continues Ezcurra. "We have also been interested in how art making helps to provoke important conversations about different aspects of life. For a learning community, which is what universities are meant to be, conversations about caring, compassion, and curiosity are all important. Art making process can be key to helping people listen to each other."
One of the main projects for the MAHI in 2018 is to start collecting and recycling usable materials from the Faculty of Education, and McGill at large, to make them available for the Art Hive.
Ezcurra says there is always a need for donations of materials from individuals and the larger community. The Art Hive works with a tight budget to buy art supplies. Most of the materials available at the MAHI are donated by the Art Hives Movement and the Concordia University Centre for Creative Reuse.
The Faculty of Education's Art Hive is supported by the P. Lantz Initiative for Excellence in Education and the Arts, the Rossy Foundation, and the McGill Institute for Human Development and Well Being.