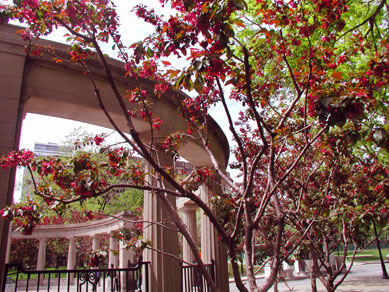 Winners of 2016 Principal's Awards for Administrative and Support Staff announced
Each year as part of Fall Convocation, the Principal pays tribute to the dedication and exemplary work of exceptional McGill employees by bestowing upon four staff members and one team the Principal's Awards for Administrative and Support Staff. Here are this year's winners.
Technical and Libraries category
Winner: Frank Caporuscio, Laboratory Technician, Department of Chemical Engineering 
Frank Caporuscio has been serving the McGill community for 38 years. "The fact that he will one day retire keeps me awake at night. He is such an important person in our department," says one of the colleagues who supported his nomination.
Caporuscio is responsible for all the undergraduate laboratories in the Department of Chemical Engineering, making sure that all setups and supplies are ready for the more than 350 students who use the labs every year. He also assists with lab equipment setup, maintenance and repair at the graduate level. "His technical abilities are exceptional. There is nothing he can't build or fix. He pays attention to the finest details, from the ergonomics, operational safety and environmental impact, to the ease of maintenance."
Caporuscio is deeply committed to safety and "is tireless when it comes to teaching students safe laboratory practices and skills," his colleague says. He has designed safety training sessions for undergraduate and graduate students, initiated weekly emails on safety tip reminders and serves on the departmental safety committee. His nominator says that the department's safety practices have become a standard within the faculty and the University. "Many of the best practices now implemented by our Faculty Safety Committee were developed by Frank," he says.
Clerical category
Winner: Rafat Noor Khan, Senior Accounting Clerk, Financial Services
As a member of the Accounts Payable unit, Rafat Noor Khan is dedicated to providing quality service by taking the time to properly explain processes to clients, answering their questions and making sure the information he has provided has been well understood. Colleagues praise his in-depth knowledge and diligent attention to detail, as well as his reliability and helpfulness. "If the information required is not readily accessible, he takes the time to access resources and provide clients with the right information," says his nominator.
In addition to his professionalism, Noor Khan is known for his community spirit and his efforts toward positively influencing workplace culture by promoting engagement and dialogue. He has shared ideas to increase the efficiency of his unit, for example, and has participated in McGill initiatives such as the preparation of McGill's giant fruit salad a few years ago.
Noor Khan's commitment also extends to the larger community. He has served on various foundations and boards of directors in the education sector and has also devoted some of his time to fundraising activities for health organizations. In 2012, his community service was recognized with a Queen Elizabeth II Diamond Jubilee Medal. More recently, he has helped support Syrian refugees integrate into their new life in Quebec.
Trades & Services category
Winner: Pascal Pilotte, Building Operator, Facilities Management & Ancillary Services
To do great work, a comfortable physical environment is important and Pascal Pilotte knows he can help provide that to McGill staff and students. "Building directors like working with Pilotte. They know he cares about their needs. He always prioritizes clients' requests," says his nominator. "He cares about supporting McGill's teaching and research mission," adds one supporter of his nomination.
A member of McGill's heating, ventilation and air conditioning (HVAC) team, Pilotte is not only meticulous and rigorous in his work, he regularly makes suggestions on how to improve McGill's facilities. "He always tries to ensure that staff and students' comfort is the best it can be," says another supporter of the nomination, who also applauds Pilotte's capacity to adapt easily to whatever is asked of him.
In addition to his technical skills, his diligence and his remarkable performance, colleagues praise his leadership skills, which he has had a chance to apply even further since being asked to fill in for his supervisor recently. He has fulfilled that role brilliantly, say colleagues, not only through efficient operations but also by instilling respect and cooperation from his team. "He is an excellent team leader," says his nominator. "He knows how to motivate his team and help them grow."
M and excluded category
Winner: Catherine Stace, Career Advisor, Career Planning Service (CaPS)
Catherine Stace's advice is in high demand. In fact, some students who call the Career Planning Service (CaPS) insist on meeting specifically with her. "She is known for going above and beyond for others," says her nominator, and "seeks to bring together units and individuals who are doing similar things so that we can maximize our resources and efforts to best serve students."
In recent years, Stace has worked with the Faculty of Arts, the Desautels Faculty of Management and the School of Continuing Studies, among other units. She played an integral role in expanding the Faculty of Arts' alumni speaker series from two speakers in two weeks to over ten speakers over the course of the year, also contributing to the series' attendance by participating in its promotion.
She has also been a valued contributor to Desautels' popular International Management major, helping find international exchange and internship opportunities for students and creating promotional tools for the program, in addition to serving on the program's board.
More recently, Stace has been a key member of the Experiential Learning Network, set up to help coordinate McGill's efforts to provide experiential learning opportunities for students.
"Her passion for service is evident and her care for students is unmistakable," says one supporter of her nomination.
Team Projects category 
Winner: automation of the leave process
Amele Djeridi (now Faculty of Medicine, formerly of Pensions and Benefits, Human Resources), Karen Rasinger and Sharron Smith (Pensions and Benefits) and Charles Wan (Financial Services)
McGill's aging (but soon to be replaced) HR management information systems can make some administrative processes cumbersome. Some involve numerous manual interventions that are time consuming and inefficient. The management of leaves of absence was one such complicated process, until a team made up of Amele Djeridi, Karen Rasinger, Sharron Smith and Charles Wan stepped in last year to automate it.
Employees managing leave of absence requests previously had to "navigate through 16 types of leave letters and forms, manually enter the employee's profile, prepare letters and make copies for follow-ups and emails," explains the nominator. The team knew "there had to be a better method."
The four staff members decided to take up the challenge of simplifying the process after participating in a LEAN training session together. "Through discussions with individuals from different units within the University and with different areas of expertise, they were introduced to new ideas and possible solutions," said one of the supporters of the nomination. The team worked closely with members of the HR Service Centre, who are responsible for the day-to-day processing of the leave requests, to make sure to get their input and feedback.
The new and improved leave process now relies on an application that automatically produces all the required correspondence for a leave and provides a tracking and monitoring function. "It has substantially reduced the number of errors and the processing time for leaves," said another supporter of the nomination, and delivers the information to the employee "quickly and effectively".
See the complete list of this year's nominees.