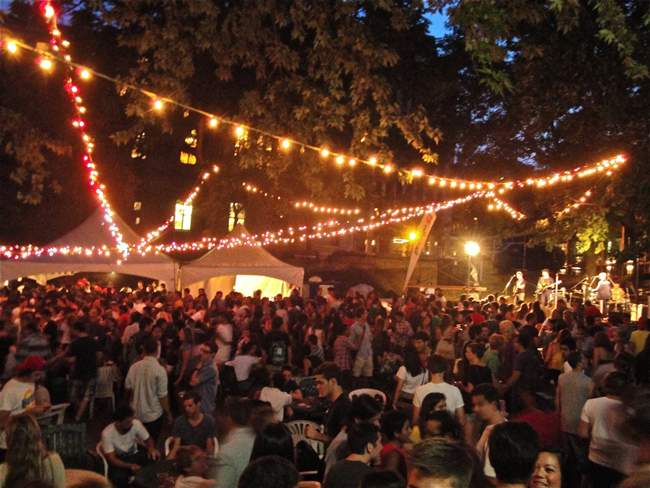 By Neale McDevitt
Believe it or not, Open Air Pub (OAP) has been a McGill tradition since 1982. But if McGill veterans have a hard time remembering those first, heady events, they can be excused. "We've been told that the first OAP was just a few engineering students handing out drinks from a single table on lower campus," says Annie Pike, one of the organizers of the upcoming OAP Lite taking place on April 23-24. "Needless to say, we've expanded a bit since then."
Expanded is an understatement. OAP is now one of the focal celebrations on the students' calendar. In the fall, OAP is a two-week long festival of live music, barbeque and, of course, a beer or two. Held in the park around the Three Bares, the event attracts thousands of people to come and partake in the fun.
Spring is ushered in each year with OAP Lite, a truncated version of the festival that runs over two days. Shorter, yes, but not short on good times.
"This year, OAP Lite will feature all-McGill entertainment, including six live bands – three per day," says Pike. "It's a great way for people to hang out with friends and relax during what can be a pretty stressful time of year."
Each year, the festivals attract more and more people (anyone can take part, as long as they are admitted along with a student with a valid McGill ID), with lineups completely circling the park at peak periods. More people has been good – make that great – for sales. "We've tripled our beer sales since 2011," says Pike. "So we're raising a significant amount of money."
And that's a good thing, as the funds raised at OAP Lite go to the President's Choice Children's Charity, an organization that does everything from supporting special needs children to providing nutritious meals for school kids.
Pike stresses that, as always, the emphasis is having fun in a safe and secure way. "We work very closely with Security Services to make sure things run smoothly," she says, noting that the park around the Three Bares is a perfect venue because it allows them to control the flow of people. "We are always very conscious of the crowd," she says.
Pike, who has been volunteering at OAP and OAP Lite for several years now, says there has been a definite shift among students in the way they party. "Mostly people come to OAP and OAP Lite to hang out with friends and unwind after class. They're not really looking to get drunk," she says. "It is a different mindset than you'll sometimes find at off-campus events. This is their campus and people are proud of it. It's all about partying and having a good time with friends but in a responsible way."
But an event of this size doesn't just happen by itself. Pike and another dozen organizers (all of whom are Faculty of Engineering undergrads) started planning for this year's OAP Lite in January. "We're all volunteers, so no one is getting paid to do this," says Pike. "We do it because we love OAP and we love seeing people have fun on campus."
But even the best laid plans of mice and OAP organizers can sometimes go awry. Organizing an outdoor event in Montreal in April can be a crapshoot – as witnessed by roller coaster ride our thermometer put us through just a week ago.
However, even though spring arrived on campus later than usual, Pike says she isn't too worried about the weather. "We were a little concerned last week, but with all the sun the last couple of days, I think we'll be fine," she says with a laugh. "We've actually run OAP Lite while it was snowing before so a little mud isn't going to bother anyone. We're an all-weather crowd."
Open Air Pub, April 23-24, from noon to 9 p.m. Bands begin playing at 6 p.m. Free admission, but people must come with a McGill student with a valid ID. Visit the Facebook page for more information.