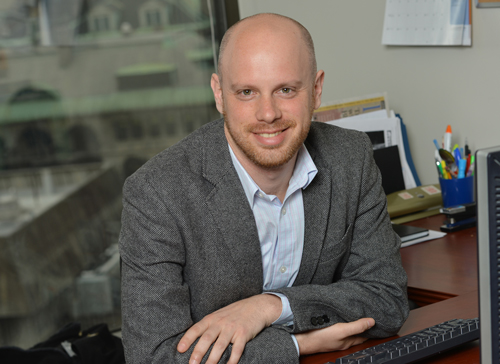 By Heather Pengelley
Take an intimate look, through an insider's eyes, at the McGill experience. One Day @ McGill is a new series of affordable, small-group seminars that give people a chance to meet McGill faculty members and share their experience.
"Our idea is to make McGill accessible," says Alex Megelas, Coordinator, Personal and Cultural Enrichment (PACE). "We want to give people a chance to interact very tangibly with the knowledge that McGill produces."
The McGill School of Continuing Studies presents the one-day seminars, featuring McGill faculty members, on Saturdays from 10:30 a.m. to 3:30 p.m. In the first seminar, Nancy Dunton, co-author of A Guidebook to Contemporary Architecture in Montreal and lecturer at McGill's School of Architecture, will host a building-to-building walk of the downtown core. People can quiz her en route about architectural design and learn to look at Montreal in whole new ways.
At the Schulich School of Music, percussionist Sean Mativetsky will host an interactive seminar on the music and culture of Northern India that will get participants sitting cross-legged and playing regional musical instruments.
Gwendolyn Owens, Senior Advisor, McGill Visual Arts Collection, will lead a tour of the campus in search of McGill's art gallery without walls, while Adrian Sheppard, Emeritus Professor in the School of Architecture, will look at the cultural and physical landscape of Vienna in the early 1900s, including emerging political and cultural movements, such as modernism.
One Day @ McGill places a lot of emphasis on creating an intimate environment for seminars to enable participants to ask in-depth questions, says Megelas.
"What excites me about the program is its beautiful randomness," says Megelas. "McGill is huge, and there's so much to it. One Day @ McGlll has really given me a chance to understand why this university is ranked so highly."
The fall program offers nine seminars – with more on the way.
For more information click here.