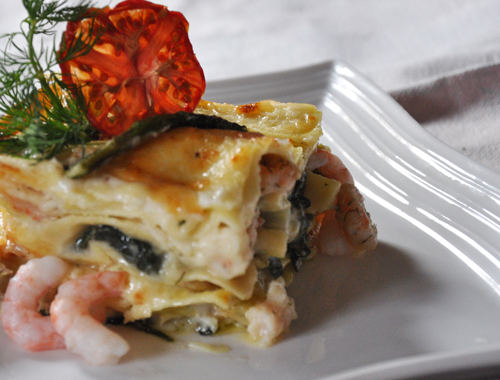 In this month's instalment of What's Cooking, Chef Oliver de Volpi shares what is quite simply the best shrimp lasagna you'll ever eat, not mention that it's made with Marine Stewardship Council (MSC) certified sustainably caught Nordic Shrimp.
Ingredients
• 1 pk or 4-8 sheets Lasagna (Fresh if possible) blanched
• 1 lbs spinach
• 1 leek (white to light green only), diced
• 1 lbs (450g) of MSC Certified Nordic shrimp, defrosted and strained
• 300g grated mild cheddar / Gouda cheese grated
• Mornay sauce (see below for Mornay sauce recipe)
• Dill pesto
• 2 tbs olive oil
• Salt and pepper
• 50g Parmesan cheese
Light Mornay sauce
Ingredients
• ¼ cup water
• 4 tablespoons all-purpose flour
• 3 cups milk 2% milk
• 1/4 teaspoon salt
• 1/8 teaspoon white pepper
• 50g grated cheese, such as Gruyere/cheddar or gouda
Preparation
In a medium saucepan, heat milk until it comes to a boil, stirring occasionally. In a separate bowl, whisk water and flour until smooth, and add to milk. Reduce heat and season with the salt and pepper. Simmer 2 to 3 minutes. Whisk in cheese until melted. If the sauce seems too thick, thin out with a little milk.
Dill pesto
Ingredients
• One bunch of Dill
• ½ cup olive oil
• 1-2 cloves of garlic
• 2 tablespoons of Pine nuts
• Salt and pepper to taste
Preparation
In a food processor or with a hand blender, chop oil, dill and garlic. Add pine nuts and blend for a couple of seconds.
Lasagna
Preparation
Preheat oven at 375F.
In a skillet, soften leeks on medium heat in olive oil. Reserve.
In a bowl, mix in the pesto (to taste) with the shrimps. Reserve.
In a standard lasagna dish (approximately 9×11, 8×12) place ingredients as follows: Mornay sauce, pasta, leeks and Mornay sauce, pasta, pesto shrimp and Mornay sauce, pasta, spinach and parmesan, pasta, Mornay sauce and cheese.
Bake for 45 minutes.
What's the deal with MSC?
In February 2013, McGill became the first Canadian University to receive the Marine Stewardship Council Chain of Custody Certification. In other words, when you see the blue MSC ecolabel in dining halls across campus, you're guaranteed your fish and seafood comes from a sustainable fishery.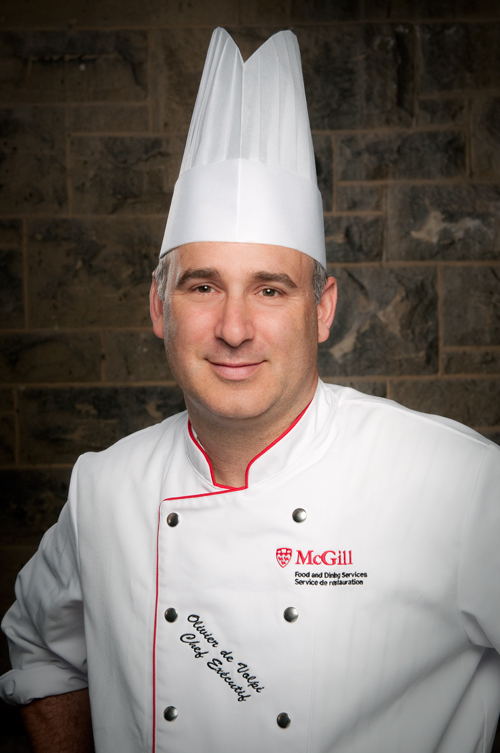 Meet Oliver de Volpi
"I've always been passionate about cooking," explains McGill Student Housing and Hospitality Executive Chef, Oliver de Volpi.
With fond childhood memories of making fresh pasta with his father and baking with his mother, it's no wonder Montreal-born de Volpi obtained diplomas in culinary arts from L'Institut du Tourisme et de l'Hôtellerie du Québec and L'École Hôtellière des Laurentides. Over the years, de Volpi's talent has brought him to lead some of Quebec's finest cuisines such as the Casino de Montréal and Casino du Lac Lémy, the Queen Elizabeth and the Place d'Armes. Today, he shares his passion with the McGill community thanks to Local Food Days, Culinary Workshops and events like the Tomato Festival.
A proud endorser of sustainable, local food and especially of the fresh Mac Farm produce, de Volpi's favorite meal honours his family's Italian roots: "Fresh spinach pasta with herbs and ripe Mac Farm tomatoes! Simply delicious! "