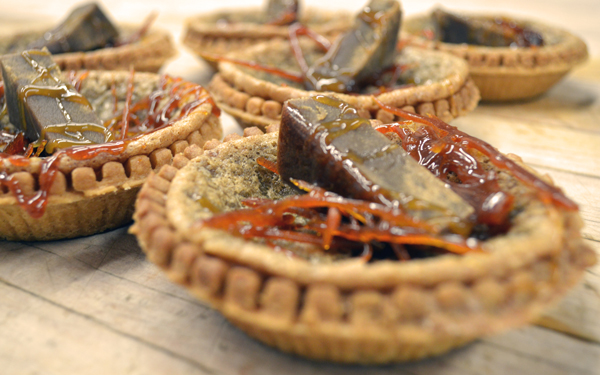 Warm and flavourful maple tarts are the perfect treat to satisfy your sweet craving. With McGill Student Housing and Hospitality Services' Cabane-à-sucre themed Local Food Days just around the corner, it's only fitting that we pay tribute to the Quebec tradition and send you home with a scrumptious dessert recipe. We're sure that it will uplift your spirits and kick spring into full gear!
Yield: Makes approximately 10 portions (4in. Tarts)
Pastry
Ingredients:
▪ 3 ¼ cups all-purpose flour
▪ 1 tbsp. brown sugar
▪ 1 ½ cup butter
▪ 1 tsp. salt
▪ 1 large egg
▪ 4-5 tbsp. cold water
Preparation:
In a large bowl whisk together the flour, sugar and salt. Blend in the butter. Sprinkle in the ice water and eggs, then stir until a dough forms. Knead the dough just a few times as needed to bring everything together.
Wrap pastry in a plastic film and let it cool for 1-2 hours in the refrigerator. Roll out thinly – about 1/4 inch thick – and place them into a lightly oiled 4-inch diameter aluminum pie plate.
Filling
Ingredients:
▪ 1 2/3 cups light brown sugar
▪ 2 large eggs
▪ ½ cup 35% cream
▪ ½ cup maple syrup
▪ 1 tbsp. unsalted butter, room temperature
▪ 4 tbsp. all-purpose flour
Preparation:
In a large bowl, whisk together sugar, flour, and butter. Swirl in the heavy cream and the maple syrup, and whisk in the eggs. Let the golden brown mixture stand for an hour.
Preheat your oven to 350ºF and turn on your convection fan if you have one.
Pour the filling into the prepared shells. Bake until puffed and browned, about 20-30 minutes.
Meet baker Paul De Resendes
A Sao Miguel, Azores native, McGill Student Housing and Hospitality Services' Baker Paul De Resendes arrived to Canada at the ripe age of 7. Growing up, it was his older brother's culinary career that inspired Paul to put on a chef's hat. After a few years occupying different stations, manning knives and cutting boards, and leading the kitchen, Paul's passion took a sweeter turn. He enrolled in various baking and dessert classes at L'Institut de tourisme et d'hôtellerie du Québec, and practiced his learnings in Italian bakeries and supermarket bakeries such as Provigo before coming to McGill.
When Paul's not testing out a new cheesecake recipe, he enjoys spending time with his wife and three kids. The handyman is also a sports amateur who practices martial arts, so don't get on his bad side.