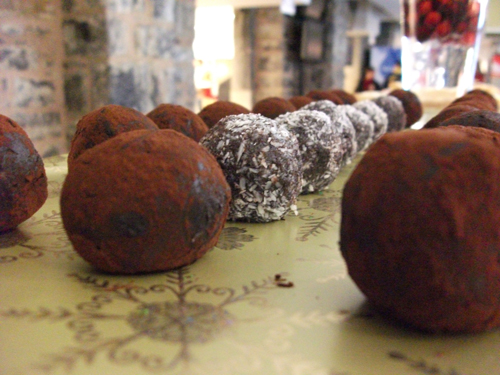 Chocolate truffles will put a smile on anyone's face and with the holidays just around the corner, we're more than delighted to be spreading joy and happiness. Our gift to you: McGill Students Housing and Hospitality Services' Executive Chef Oliver de Volpi's Chocolate Truffle Recipe. Better yet, get the hands-on training during December's Culinary Workshop: Chocolate Truffles, on Dec. 9 and 11. See the Facebook page for more details.
Yield: Approximately 60 truffles
Ingredients
• 500g of good quality chocolate (Cocoa Barry 58%)
• 250g of 35% cream
• 50ml Grand Marnier or cognac or any other liquor
• 100g quality cacao powder
Preparation
In two large bowls, divide the chocolate into two equal parts. Reserve one bowl to temper chocolate and one to create the ganache (truffle center).
Ganache
In a medium saucepan, bring the cream to the boil on medium heat. Pour the cream over one bowl (half the quantity) of chocolate. Allow to stand for 30 seconds, add in the alcohol and mix until smooth and creamy. Set aside to cool. When the mixture begins to thicken, portion with a pastry bag, or cool completely in refrigerator. Portion with a melon baller or Parisian spoon and roll into balls using your hands (the heat from your hands will help slightly melt the chocolate). Place on parchment paper and refrigerate overnight.
Tempered chocolate
Chop up the remaining 250 g of chocolate and place it gradually in the top of a double boiler, set over simmering water. Using a rubber spatula, stir gently and steadily until the chocolate melts and heats up to 115 Fahrenheit. Remove from heat and let it cool until it is warm (between 87 and 89 degrees Fahrenheit).
Truffles
Using a spoon, roll the ganache balls into the tempered chocolate and allow the excess chocolate to drip off. Roll them in cocoa powder for approximately 2 minutes. Refrigerate or serve at room temperature and enjoy!
In air tight containers, truffles can be stored in the refrigerator for up to 1 month or in the freezer for up to 3 months.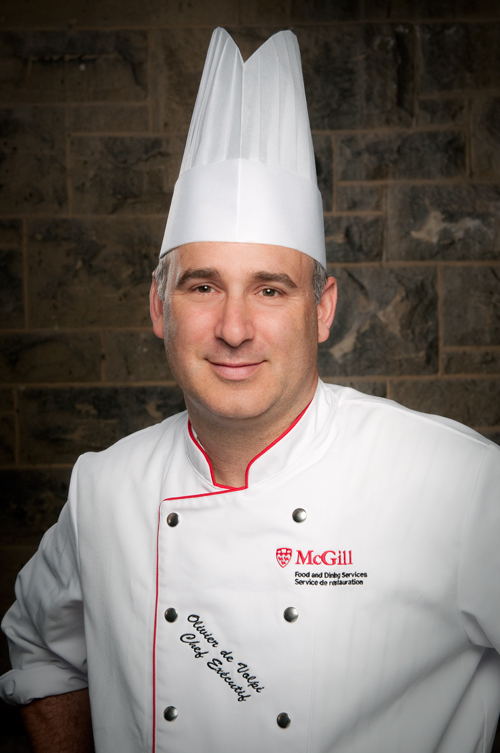 Meet Oliver de Volpi
"I've always been passionate about cooking," explains McGill Student Housing and Hospitality Executive Chef, Oliver de Volpi.
With fond childhood memories of making fresh pasta with his father and baking with his mother, it's no wonder Montreal-born de Volpi obtained diplomas in culinary arts from L'Institut du Tourisme et de l'Hôtellerie du Québec and L'École Hôtellière des Laurentides. Over the years, de Volpi's talent has brought him to lead some of Quebec's finest cuisines such as the Casino de Montréal and Casino du Lac Lémy, the Queen Elizabeth and the Place d'Armes. Today, he shares his passion with the McGill community thanks to Local Food Days, Culinary Workshops and events like the Tomato Festival.
A proud endorser of sustainable, local food and especially of the fresh Mac Farm produce, de Volpi's favorite meal honours his family's Italian roots: "Fresh spinach pasta with herbs and ripe Mac Farm tomatoes! Simply delicious! "