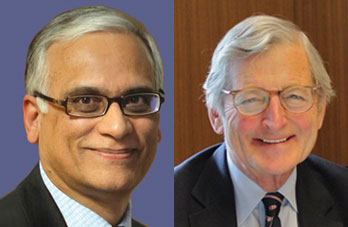 During the closed session of its meeting on December 1, 2016, the McGill Board of Governors approved two recommendations from the Nominating, Governance, and Ethics Committee. Board member-at-large Ram Panda will assume the duties of Chair, while the Honorable Michael A. Meighen will begin a second term as McGill's Chancellor.
Stuart H. (Kip) Cobbett, the current Board Chair, announced the decisions in an e-mail to the McGill community. He characterized Panda and Meighen as people who "understand and appreciate the values of the University, and are deeply devoted to the vitality and well-being of the McGill community."
Ram Panda (MEng'71, MBA'77) came to Canada – specifically, McGill – from his native India in 1968. After graduation, he stayed in Montreal, co-founding Invera Inc., which is now one of the leading software providers for the metal industry. In recognition of "the hospitality I experienced and the level of acceptance I encountered [that] helped me to settle down quickly and integrate easily into Canadian life," Panda is dedicated to giving back to the community. He is one of the philanthropic drivers of the Institute for Sustainability in Engineering and Design and has been a member of the Faculty Advisory Board for Engineering since 2007. "Ram is passionate about sustainability and McGill's role in the community," noted Cobbett in his message. Panda has been a member-at-large of the Board of Governors since 2014, a position to which he has been reappointed for a five-year term.
Michael A. Meighen (BA'60) was appointed McGill's 19th Chancellor on July 1, 2014. Meighen is a prominent lawyer, political player and former Senator (1990-2012), and was presented with an honorary degree by McGill in 2012. Grandson of former Prime Minister Arthur Meighen, he served as co-counsel for the Deschênes Commission on War Criminals from 1985-1986, and was elected president of the Progressive Conservative Party of Canada from 1974-1977. He was co-chair of Campaign McGill, which raised more than one-billion dollars. In his position as Chancellor, Meighen is an ex-officio member of the Board of Governors, where he has served on several committees. "For the past two-and-a-half years, Michael has presided over our spring and fall convocation ceremonies, congratulating thousands of new graduates as they crossed the stage," wrote Cobbett, "and has represented the University with warmth and grace at alumni functions and other events around the world."
Cobbett was first appointed to the position of Chair on January 1, 2010. His current term ends on June 30, 2017.
Panda's appointment as Chair is for five years; Meighen's second term as Chancellor is for four. Both appointments are effective July 1, 2017.