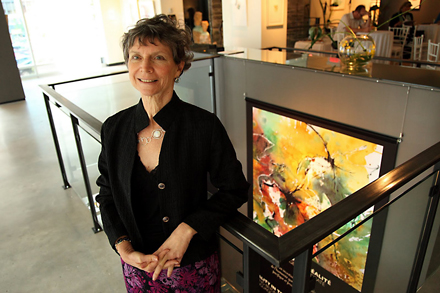 During the Spring 2021 virtual Convocation ceremony for the Desautels Faculty of Management, McGill recognized Professor Emerita Nancy J. Adler with the Medal of Exceptional Academic Achievement for her prolific contributions to the University, the Faculty of Management, and the discipline of global leadership.
"This award acknowledges the arc of my entire career, not simply one project or publication," Adler reflects. "That broad perspective means a lot to me. It has been quite a journey since I first joined McGill."
No stranger to firsts
Adler is the fourteenth person, and the first member of the Desautels Faculty of Management, to win the McGill Medal, which was created in 2010 to honour uniquely impactful professors upon their retirement, but she is no stranger to firsts. In 1980, Adler became the first woman to be offered a tenure track position in the Faculty of Management. She later became the first woman to receive tenure and the first woman to be promoted to Associate Professor and then to Professor. In her role as the S. Bronfman Chair in Management, she inspired countless students, colleagues, managers, and leaders to pursue a more holistic, more innovative vision of management.
Early in her career, Adler helped found and advance the field of cross-cultural management. The daughter of an American father and Austrian mother, she first learned the art of cross-cultural communication as a child. As a UCLA student enrolled in the first MBA program to focus on arts management, she completed her internship with the Minister of Culture in Israel even after the outbreak of the 1973 Yom Kippur War.
Adler's experience of reverse culture shock upon returning to California from Israel inspired her to become the first scholar to conduct research on the re-entry of expatriate managers and their families back into their home countries and organizations after assignments abroad. Many people today are facing a similar transition as they leave the foreignness of the pandemic's lockdown culture to return to a more familiar way of life, Adler notes.
Global leadership and artistic practice
Over the course of her career, Adler published more than 150 articles and 10 books on topics related to global leadership. "The innovativeness of Nancy Adler's work, its profound impact and enduring legacy on the field of management, and its significance to corporate, government, and civil-sector leaders globally makes her an extremely deserving recipient of the Medal," said Morty Yalovsky, Interim Dean of the Desautels Faculty of Management.
Adler's ability to develop cross-cultural and global leadership skills in current and future leaders made her a natural fit for McGill given its internationally inclusive community and vision. "I'm grateful to have worked for decades with the wide range of people at McGill who embrace a global perspective," she affirms. She currently finds working with McGill's Health Leaders (IMHL) program particularly satisfying, as its participants focus not just on Canada but on helping the rest of the world successfully navigate challenges like the COVID-19 pandemic.
Adler is also a recognized visual artist who integrates the arts into her leadership teaching and scholarship in addition to exhibiting her own work. Organizations around the world invite her to create unique Leading Beautifully Awards to honor their achievements.
"Now that I have retired from McGill, I am giving the artist in me more time and opportunity, similar to what I gave to myself as a teacher, scholar, and writer these past 40 years," Adler says. "I have retired from McGill, but not from being a professional. I certainly have not retired from being an artist. I have not retired from life."