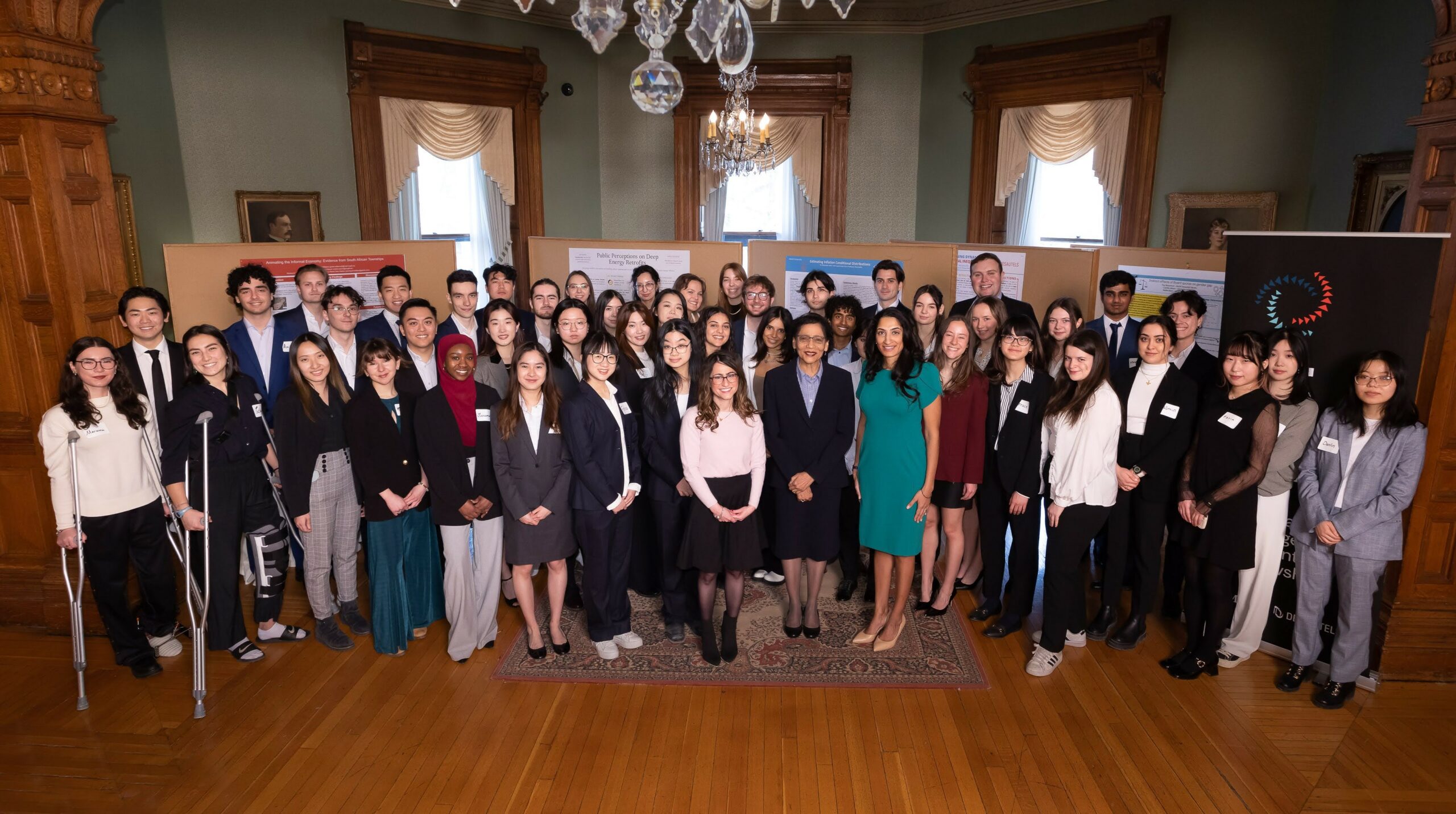 The gulf between the classroom and the community can sometimes seem pretty wide, but the Desautels Faculty of Management's Integrated Management Student Fellowship (IMSF) seeks to bridge it. It's an experiential leadership development program for students who want to make an impact, and its fellows take on initiatives that make a difference in the community.
"IMSF projects focus on areas where real improvement is possible: mental health, Indigenous rights, the environment, and more. Every initiative targets an issue that society needs answers to," says Sabine Dhir, IMSF Program Director and Acting Director of the Marcel Desautels Institute of Integrated Management (MDIIM)
"Just a few months ago, students didn't fully understand the problems they have sought to address. But with a little bit of structure and support, you can accomplish a lot in over the course of an entire academic year The students bring motivation and drive, and it's incredible to see so many projects continue, even after the fellowship has officially ended."
The two-semester, six-credit IMSF program consists of three components: course work, a faculty-guided research project, and the impact initiative. While offered by Desautels, it is open to students from all McGill faculties, encouraging a multidisciplinary experience And this year's cohort presented their work in a showcase event on March 31.
"It's symbiotic. The course work and research project allow the impact initiative to happen," says Dhir.
Maximizing impact
IMSF fellow Oceanne Guy wanted to help social entrepreneurs maximize the impact of their work. Social enterprises are businesses that seek to address social, cultural, or environmental issues. But the challenges they faced weren't exactly what Guy and her team anticipated.
"We thought we'd make a website for donations, because we noticed donations weren't being used, but after we talked with community members, we realized their biggest problem is obtaining financing. So, we pivoted," says Guy.
Investors had money to finance social entrepreneurship, but social entrepreneurs weren't meeting the criteria to actually obtain it. So Guy and her team developed StartED, an online platform that educates social entrepreneurs about what investors expect.
"We talked to many social entrepreneurs in many sectors, and they faced different challenges, but one they had in common was financing. We identified a mismatch, and that was really sad. So, we created our tool to help bring entrepreneurs up to par with what investors are looking for."
Guy argues it's a win-win. Greater knowledge of what's expected helps social enterprises obtain financing, but it also gives investors more options.
"If there are only two social enterprises that qualify, and they don't meet an investor's needs, no one is chosen. But if there are twenty, and only half meet their needs, there will still be more that get financing. And that means more community problems will be solved."
Encouraging more mindful composting
Adam Livshits wanted to address an important challenge in waste management. Montreal aims to be waste free by 2030, and all households and businesses will need to compost by 2025. But while many assume that our municipal compost systems work well, they have problems that need to be addressed. Contamination is one.
"People have a habit of throwing things out, and never thinking of them again, but so much happens after that," says Livshits.
Different cities have different rules, and only one of Canada's composting facilities accepts all types of compostable products.
"We saw contamination was an issue and began thinking about solutions. We conducted student surveys, and found that many knew very little about McGill's waste systems."
So, the team created posters to increase awareness. Survey responses showed students found signs helpful in making waste disposal decisions, so the posters included information about what could be composted, and a QR code that links to McGill's official waste sorting website.
"We hope to encourage active thought and engagement in disposing of compost waste on campus," says Livshits.
"We talked to a lot of people in sustainability and composting, and had to do our due diligence to understand the problem. With a classroom assignment, you can chalk up some things as being external, and having no power over them. But when you're making something real, you have to consider everything."
The IMSF's tangibility also appealed to Guy.
"It was almost like an internship. The workshops were hands-on, and learning from practitioners made it feel very practical," says Guy.
"During consultations, we really talked to people in the community, and that made me feel closer to Montreal. And even though the IMSF was challenging sometimes, having a dedicated professor really helped keep us on track. We always had someone there to push us when we needed it."