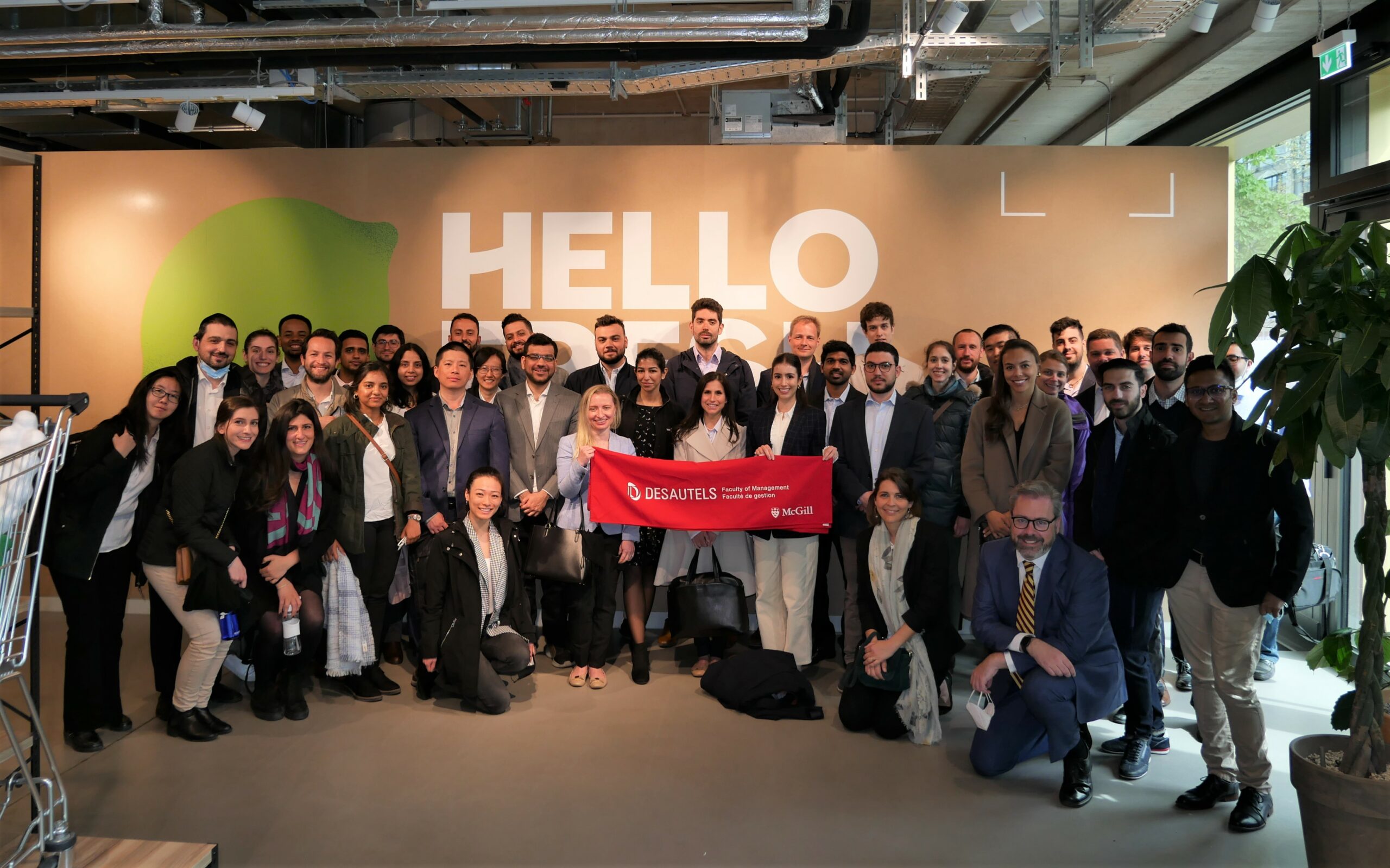 Management is both a science and an art, and while you can learn a lot about it in a classroom, sometimes there is no substitute for the real deal. Some say the best way to learn something new is just to jump right in and do it. 
Think about the possibilities – visiting countries of emerging market economies, and learning from companies who are leading their businesses into a developed economy. Putting your data analytics skills to work by helping a local non-profit build a database to better serve client needs.
In 2021, thanks to the generosity of alumnus Don Lewtas (BCom'75), the Desautels Faculty of Management established the Lewtas Office of Experiential Learning, to create those powerful hands-on learning experiences that play a vital role in the student journey.
"The best-case scenario [for the Lewtas Office] is that as students are going through their program, they're encountering these different types of experiential learning opportunities," explains Leigh Korey, PhD, Academic Associate, Teaching and Learning Services. "Initially, it might be on one end of the continuum, where it's a smaller project that's just helping make those initial connections to the real world, but by the end of their experience, they'll have had some fairly extensive experiences."
Acquiring transferable skills
The hope is that by the time students graduate, they'll have confidence in their abilities and a clear understanding of the different types of work environments and careers that are open to them.
"As important as my classes are to my education at Desautels, I believe experiential learning is just as important," says Rohit Vankat Ramanan, a U2 Finance student. "By participating in extracurriculars outside the classroom, I have learned important transferable skills such as critical-thinking and communication, and through experiential learning, I have a better understanding of the real-world, and have developed skills that can help me in both my career and personal life."
Programs like the Integrated Management Student Fellowship (IMSF) an experiential leadership development program under the Marcel Desautels Institute for Integrated Management (MDIIM), are designed to help BCom students prepare for impactful and fulfilling careers by developing new skills. By working on innovative research and action projects in direct collaboration with professors, Fellows in the program have unique opportunity to sharpen their soft skills and apply the concepts taught in the classroom in tackling community and social issues with holistic, creative and interdisciplinary approaches.
"Out of the classroom learning has been an integral part of my education at McGill – it has bridged the gap between my studies and my future career, opening my eyes to the vast array of opportunities out in the world," says Kelly Zhang, a student in McGill Desautels' BCom Honours in Investment Management stream, a unique program that combines rigorous academic groundwork with real-world experience in investment management, global internship opportunities, and access to the expertise of corporate partners from around the world.  Zhang has also participated in the Integrated Management Student Fellowship, attended the Israel study trip and is slated to head out on Prof. Karl Moore's Hot Cities of the World trip to Ghana and Cote D'Ivoire over reading week.
Guiding principles 
Over the course of the last year and a half since the launch of the Lewtas Office, Korey and her team have been hard at work assessing the landscape of experiential learning at Desautels to ensure they have the right approach.
"We conducted a survey to find out what are all the different experiential learning offerings that we have? In what form do they take place," says Korey.
Experiential learning can mean different things to different people, she explains, so it was important that they take the time to assess the needs of not only the students at the faculty but also the instructors who would be facilitating. Based on the results of that survey, the team at the Lewtas Office determined that there was a deep need for greater communication and consistency in experiential learning projects at the Faculty.
To address this, they've developed a set of guiding principles for all experiential learning as well as a toolkit for instructors that covers everything from the basics for those who are incorporating experiential learning for the first time to best practices for writing an NDA for collaboration with external bodies.
BCom redesign
Alongside developing new guidelines and establishing best practices, Korey and the experiential learning committee have been collaborating on the redesign of the Bachelor of Commerce program to integrate an experiential learning requirement. Many of the Faculty's graduate level programs have experiential requirements, like Desautels Capital Management, which puts students in our Master of Management in Finance at the helm of Canada's first student-run investment management firm which comprises four funds with over $8 million in assets – but, up to this point there has been no requirement to complete an experiential learning module at the undergraduate level.
"The BCom, because it hasn't been redesigned in a really long time, doesn't have that," explains Korey, "So although we do have a lot of experiential learning offerings, we don't have it embedded within the program itself. What that would look like is, in order to graduate with a Bachelor of Commerce, all students would have to do at least three credits of substantial experiential learning."
What's most important, Korey says, is that students from all backgrounds have equal access to experiential learning. While the BCom redesign is one step towards that, Korey and her team have also been working on a new course for undergraduates called "Guided Experiential Learning," which will allow students to get course credit for outside experiential activities.
"Many schools have co-ops where students will take an entire semester and do an internship," explains Korey. McGill doesn't have a co-op for a number of reasons, but what we want is for students to still have the opportunity to engage in these internships."
Student favourite
Korey and her team recognize that not all students can take unpaid or full-time internships due to a variety of reasons but can still engage in other meaningful experiences. Whereas other institutions may see activities like part-time work to fund studies as a detriment to their academic success, the Lewtas Office is designing this course with the opposite in mind, to leverage the activities students are already doing and help them see that they have value and can be meaningful experiential learning opportunities.
"We know that students love experiential learning," says Korey. "This is a message we get over and over – that they've enjoyed the courses, the best courses they had were the ones where they did this project and they got to talk to so and so in this company and so we want their experience and their time at Desautels to be valuable and meaningful. I think we can often be very focused on end goals and outcomes but it's also important, what they're experiencing in the moment."
Zhang credits her involvement in experiential learning opportunities like the IMSF, the Honours in Investment Management program and study trips to Israel, Ghana and Cote D'Ivoire with granting her the opportunity to meet and learn from accomplished industry professionals.
"Most importantly," she says, "It has given me unique experiences shared by a handful of people whom I now call my friends."