McGill's valedictorians are outstanding students whose strong academic performance, leadership and community involvement has earned the respect of their peers. This year's cohort is remarkable for its diversity, each having vastly different backgrounds, experiences, passions and goals.
What they do share is ambition, curiosity, and a desire to have a positive impact on the world.
As with most students, McGill's valedictorians were challenged over the course of their studies. But, with perseverance, dedication, and the support of people around them, they thrived. The University has benefitted just as much for having them as valuable, contributing members of our community.
As part of our Spring 2023 Convocation coverage, the Reporter is conducting a series of Q&A interviews this year's valedictorians.
In this instalment, we feature Nabil Anouti, valedictorian for the Desautels Faculty of Management ceremony on Wednesday, May 31, at 10 a.m. Anouti will receive his Bachelor of Commerce in Management with concentrations in Finance and Entrepreneurship.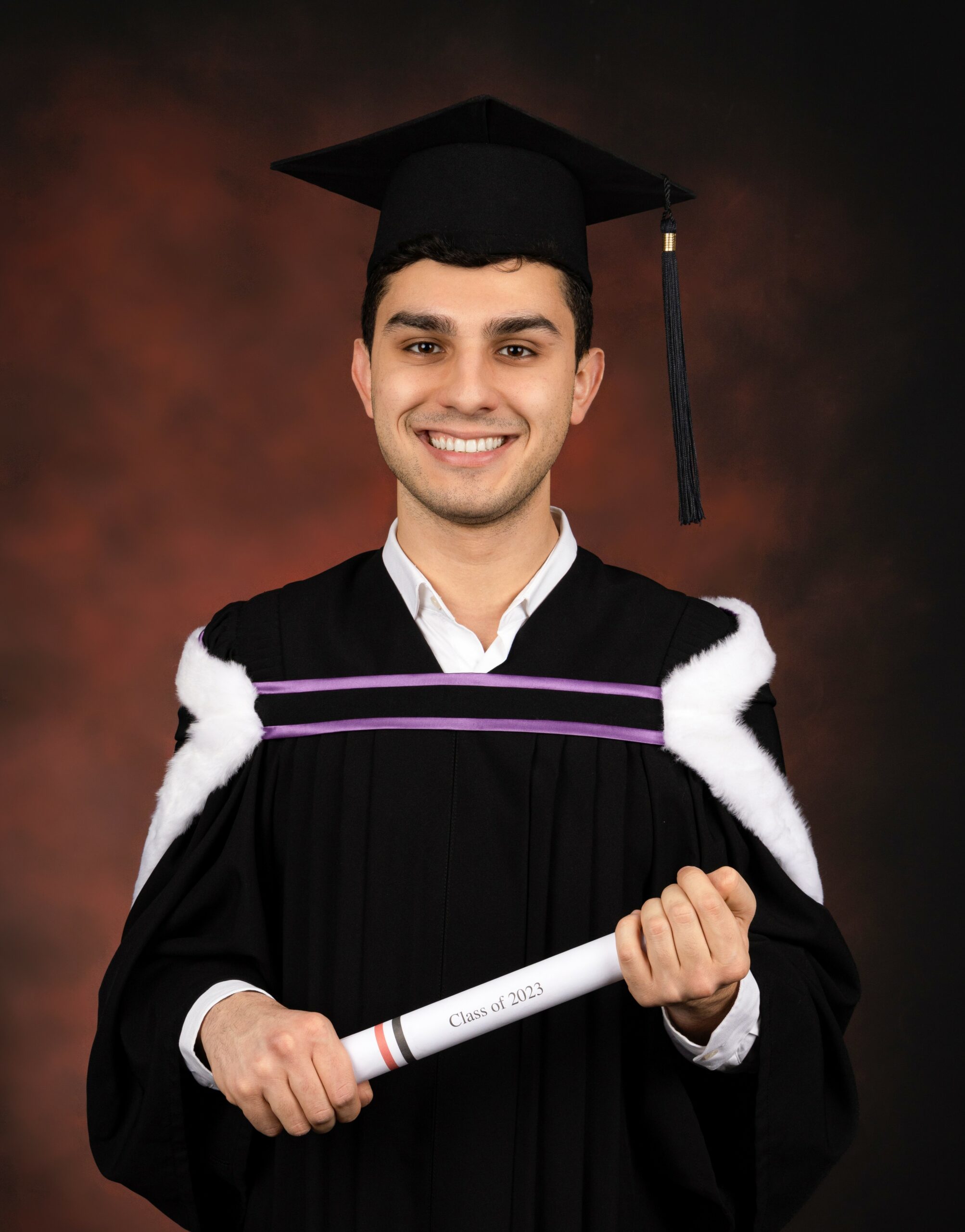 Where is your hometown?
That's always a tough question to answer! I was born in Lebanon and grew up in Canada, Jordan, Egypt, and Switzerland. However, I've been in Montreal since middle school. So, mostly here, but I consider many places to feel like home.
Why did you choose McGill?
The urban campus, the quality of education, and the incredible people. Coming from a French Baccalaureate school, I also wanted to continue studying in English.
What were some of your impressions when walking onto campus for the first time?
I have a picture of my 2-year-old self in front of Roddick Gates, so I honestly don't remember much. When I came onto campus for my first in-person class, though, I felt a sense of freedom and excitement. It was the start of a great three years!
What are some of the highlights of your time as a McGill student?
Founding and leading the McGill Student Entrepreneurship Society was the most impactful and rewarding experience. Turning a vision into a reality during the pandemic, leading an incredible team, and seeing our impact has taught me so much – not to mention the great people I've connected with along the way.
I've also grown tremendously from visiting the Ivory Coast and Ghana with Desautels, conducting research with renowned professors, getting elected to student government, partaking in case competitions, and contributing to clubs like JED Consulting, the McGill Marketing Network, etc.
Three favourite places on McGill campus?
The Y-intersection and its surrounding areas any time it's sunny; Bronfman's 3rd floor for chilling or studying; and the language building for the views (and because that's where I finally became fluent in Spanish).
What were some of the biggest challenges you faced during your time here and how did you overcome them?
Connecting with classmates during my remote first year was particularly challenging, and so was raising funds and spreading the word about the Entrepreneurship Society.
It's through creativity and resourcefulness that I overcame these. I also realized that 'hacking the system' is about inquisitiveness. When a roadblock seemed intimidating, I was curious about its origin and looked for people who could help. Any initiative worth pursuing comes with challenges and sometimes involves rejecting dogma – it was also about mindset!
What's next for you, both short and long term?
In the short term, I'm pursuing entrepreneurial projects – mainly growing my web design agency, NAB Design. I'll also be travelling and exploring my options. In the long term, I see myself at the intersection of entrepreneurship/commerce, tech/innovation, and creativity/design.
Tell me about your Faculty and your classmates. How important have they been to your overall McGill experience?
My Desautels professors and classmates have been integral to my experience in every way. From mentorship and collaboration to fun times and personal growth, they've shaped my time at McGill and the years to come – no doubt about it.
Who or what will you miss most?
The spontaneous conversations, the conferences and fun events, the club meetings/dinners, the tennis/basketball/squash games, and the sunny days on Lower Field. We all keep a part of McGill with us after graduating (friendships, network, teachings), but I'll miss experiencing these every day.
What advice do you have for new students to McGill?
Take it all in, then prioritize. At first, that means trying many clubs, meeting as many people as possible, attending all events, etc. Towards the end, that might mean focusing on what you enjoy the most. Hone in on what's most rewarding as soon as possible and in different areas. It goes by quickly!
Do you have friends or family coming for Convocation?
My parents and sister will be there, and so will my grandparents, who are flying in! My aunt, her family, and a few friends are also attending.
What are some of the biggest challenges facing the world today? How confident are you that we can address these challenges and make a difference?
I believe humanity has the skills/resources to solve our most pressing problems, but I consider cooperation to be humanity's greatest challenge. While issues such as world hunger could theoretically be solved individually, such investments would only be sustainable with extensive partnerships.
It'll take unparalleled empathy and diplomacy to fight obstacles like polarization, but I'm optimistic about our ability to get there.
Do you have anything to add?
Above all, the past few years have taught me that exceptional impact is driven by courage and leaps of faith when one embraces uncertainty and spontaneity.
I urge whoever reads this to 'Dare to Venture,' i.e., embrace boldness and get outside their comfort zone. Regardless of how small it may seem, whether sending a cold email, saying hi to a stranger, or starting a business, 'Daring to Venture' is a powerful edge, regardless of the field or ambition. Use it!