By McGill Reporter staff
Claire Motyer is a 21-year-old violinist who's been playing since she was four. Motyer was studying performance at The Schulich School of Music but had to switch out because of a chronic wrist injury. Changing her focus from a career as a teacher and chamber music performer she has now immersed herself in the field of musicians' health. And that is why she and a team of about a dozen students organized Musicians' Health Awareness Week 2017 from Feb. 13-19. Featuring a full schedule of events, the week will include everything from a session entitled Self-care for musicians: Everything you can do in a tux or high heels; and a panel on women in music; to a spinning class, and yoga for musicians.
"Musicians' health is at the intersection of health, science, social justice, music and the arts," says Motyer. "I think that non-musicians will find the panel discussions really interesting and learn a lot about issues they probably didn't realize existed in the musical world, while those directly in the music community will feel this is a much needed conversation."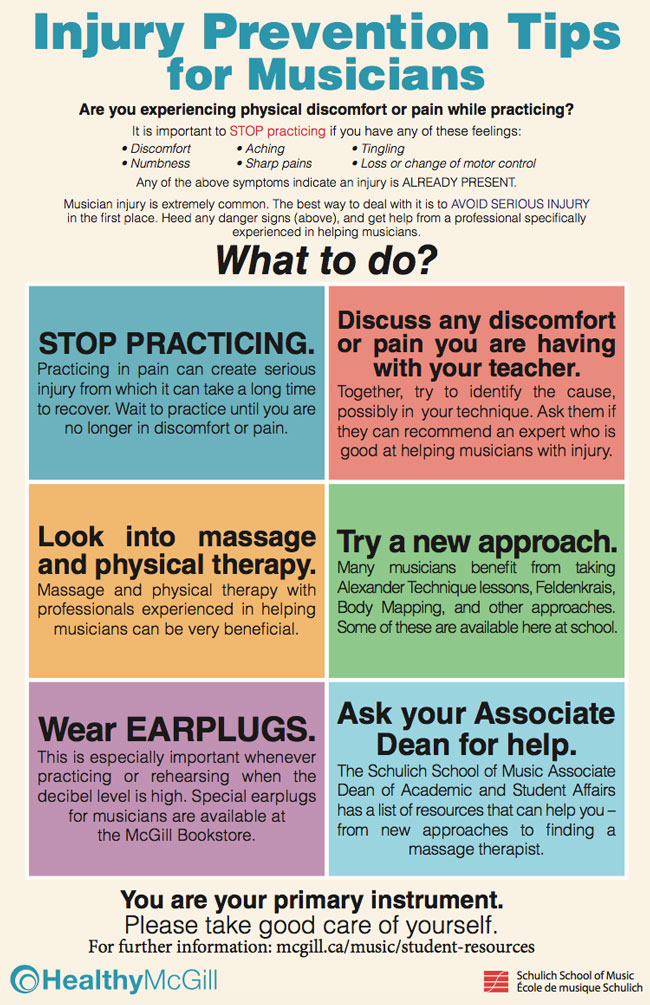 An instrumental musician practices five hours a day or more, often using small muscles in highly repetitious movements. It's as strenuous as training is for athletes. Not warming up, stretching or sleeping and eating properly can have an impact. Some examples of injuries for string players are tendonitis, focal dystonia, back pain and carpal tunnel. For brass instrumentalists, it's the embouchure or mouth, for clarinetists, saxophonists and bassoonists it's the thumbs, and for singers the vocal chords.
Student musicians also work in stressful environments and have high expectations in terms of playing quality as well as quantity. Research has shown that musicians are three times more likely to suffer from anxiety and depression. Research also shows that over 50 per cent of musicians experience some sort of playing-related health problem.
Motyer says sometimes it gets so bad that musicians drop out of school, change career paths, and most upsettingly, fall out of love with music and music-making.
Motyer's goal is to bring musicians, especially student musicians, the resources they need to learn how to take care of themselves mentally and physically in order to reach their peak.
The Schulich School of Music is leading the way in North America by adding wellbeing to the curriculum with a course called Music as Profession. There is also a new partnership with the Faculty of Medicine so that injured performers get the same priority accorded varsity athletes.
Jacqueline Leclair, Associate Professor of Oboe, Woodwind Area Chair, and Associate Dean of Academic and Student Affairs, has had challenges with arm pain during her own career.
"A happy by-product of my own struggles is that I learned, over the years, what the best ways are to avoid playing-related injury and how to recover from it," says Leclair. "The earlier we educate young musicians about these topics, the healthier and more successful they will be throughout their careers."
Leclair teaches one of the first performance awareness courses in Canada focussing on injury prevention that teaches skills to prevent occupational health problems. She says the School is working closely with the students on the issues.
"The School of Music administration is enthusiastically supportive of the Health Awareness Week, and has agreed to fund all associated expenses," says Leclair. "We are also including the Student Committee's representatives on the new Music Student Well-Being Committee which will, coincidentally, have its inaugural meeting Feb. 14."
Get more information about Musicians' Health Awareness Week 2017