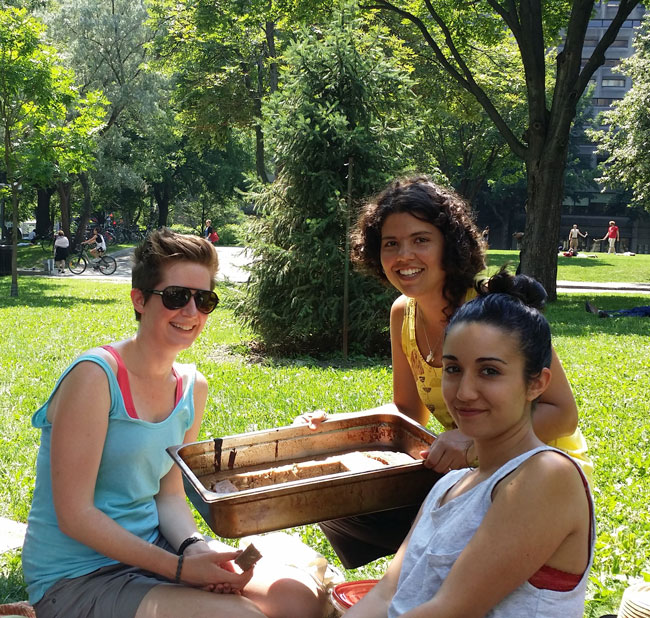 By Krystle Manintveld
A collection of students and community members gathered outside Burnside on Wednesday to share their final 'garden meal' of the season. The meal was put together largely from vegetables grown right on the McGill downtown campus thanks to the efforts of Midnight Kitchen volunteers.
The menu included tomatoes stuffed with rice, pasta spiced with garden fresh herbs and even homemade ice tea with flavours from the Midnight Kitchen's garden.
During the school year, Midnight Kitchen serves around 200 people every day beginning at 12:30 p.m. according to Tassia Araujo, one of the volunteers and a McGill Environmental Science student. The meals are free or pay-what-you-can. Students and members of the community are welcome to join – all that is required is for diners to bring their own dish and utensils.
But the goal is not only about providing meals for students or people who might be financially in need. "Students don't always have the time to prepare food," says Araujo. By working together, healthy and inexpensive meals are made available to students who might be too busy or even who might not know how to prepare nutritious meals on their own.
Midnight Kitchen serves only vegan options. This allows them to be inclusive and accessible of as many dietary restrictions as possible and is generally a low-cost and more sustainable choice. The group takes donations of food from local grocers in order to "use food surplus that would otherwise go to waste." Additional funding is provided by a SSMU initiative which has allowed the group to hire paid organizers in addition to its volunteer staff.
For anyone looking to get involved with Midnight Kitchen, they are always looking for volunteers to assist with cooking and cleaning and have paid positions open for the fall as well. Interested participants can contact: midnightkitchencollective@gmail.com