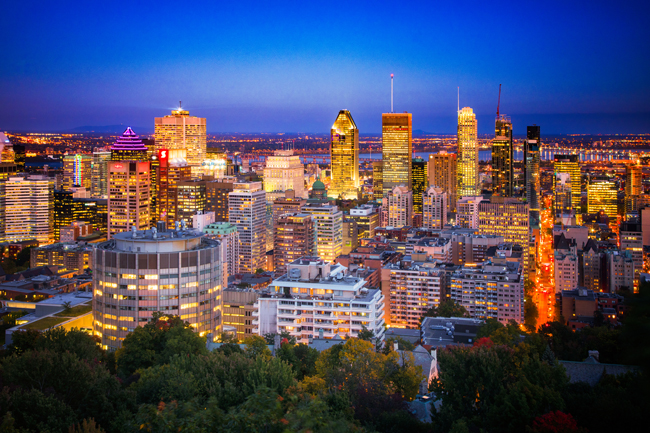 Generous donations will support research that puts Montreal and its citizens front and centre
Montreal, with its multilingual, multiethnic population, is an ideal living laboratory for researchers and students from the city's four universities and many specialized research centres. How can Montreal be designed to better accommodate the needs of its children? What measures need to be put in place to accommodate people of different cultures and religions living in close proximity? How is the city's nighttime economy different from that of the daytime and what are the implications?
These are the kinds of questions asked by researchers in fields ranging from history, geography and sociology to literary studies, language and urban planning. What these researchers have in common is a focus on the various aspects of life in Montreal today and a keen interest in understanding how cities in general, and Montreal in particular, can function best for their citizens in the future.
This morning, nearly three years to the day that the Centre for Interdisciplinary Research on Montreal (CIRM)  was introduced to the public in collaboration with Je fais Montréal, the BMO Financial Group and the McConnell Foundation announced that they are offering respectively $2.25 million and $1 million in new support for the Centre. This money will go towards supporting two positions designed to accelerate innovation and translate knowledge into action in the coming years:  the Knowledge Transfer and Partnership Advisor and the J.W. McConnell Foundation Visiting Professor of Practice.
"We are very grateful for these generous gifts from BMO Financial Group and the McConnell Foundation," said Principal Suzanne Fortier. "We look forward to the innovative ideas and projects that will grow out of this Centre, and we are committed to contributing to them, to moving forward with work that will truly touch us where we all live – the great City of Montreal."
CIRM was founded with the goal of acting as both a catalyst and a meeting ground for discussions and research about Montreal. Housed in the Faculty of Arts, its aim is not only to bring together researchers from the city's different institutions, but also to involve diverse community partners, whether they are from business, non-governmental citizen groups, or the municipal administration in the design of research projects and knowledge-building for the benefit of the community as a whole.
BMO's gift of $2.5M over 10 years will be used to enhance CIRM's operations and footprint in the city, and includes monies to support the creation of a Knowledge Transfer and Partnership Advisor position, whose role will be to accelerate innovation and the translation of knowledge into action for maximum impact on Montreal's social, cultural and economic development. A portion of the funds are earmarked for a set of BMO Research Awards, which will be awarded to students and postdoctoral fellows completing research projects at CIRM.
"My colleagues at BMO and I are delighted that the Centre for Interdisciplinary Research on Montreal came to life in part as a result of je vois MTL, a movement which BMO initiated and participated actively in 2014," said L. Jacques Ménard, president of BMO Financial Group, Quebec. "Through this commitment to the CIRM, we wish to make a difference in the community we live in, and this contribution will bring together key partners who will work towards developing innovative projects for the well-being of Montreal and its citizens."
The McConnell Foundation is contributing $1 million to establish the J.W. McConnell Foundation Visiting Professor of Practice in order to attract international-caliber researchers to the Centre. Their role will be to design projects that will both give Montreal students experience in the field and at the same time have a real impact on local organizations, associations or groups of citizens.
"Supporting the cutting-edge work of CIRM is part of our wider effort to build resilient, inclusive and innovative cities of the future," said Stephen Huddart, President and CEO of the McConnell Foundation. "It also builds on our eighty-year legacy of support to important projects here in our home city of Montreal."
To further support the CIRM's interdisciplinary and inter-university research and scope, and the significant donations made by the BMO Financial Group and the McConnell Foundation, McGill today also announced the creation of a new Canada Research Chair, Tier 1, in interdisciplinary studies of the city.
Learn more about the Centre for Interdisciplinary Research on Montreal by clicking on the video below.