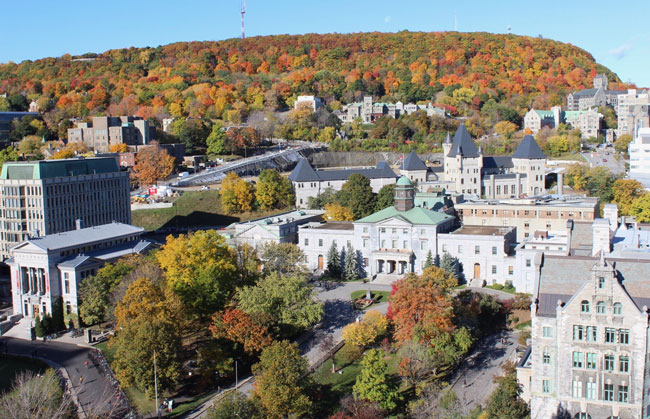 By McGill Reporter Staff
McGill just keeps getting better. That's the conclusion to be drawn from the latest QS World University Rankings by Subject released on March 8, 2017.
From a stunning third-place ranking for the University's program in anatomy and physiology (only Oxford and Cambridge were better) to a sixth-place rank for Mining and Minerals Engineering, McGill had 32 subjects ranked in the Top 50 in the world and posted 23 improvements since last year, against only 12 declines and 10 subjects where the ranking didn't change.
The seventh edition of Quacquarelli Symonds's analysis of subject-specific university performance lists the world's best universities for the study of 46 different subjects. Anatomy & Physiology is one of four new subject categories introduced in this year's listing.
"We are extremely pleased to rank among the world's top three universities in the study of anatomy and physiology," said David Eidelman, Vice-Principal of Health Affairs and Dean of Medicine at McGill. "This is a direct outcome of the quality of our academics and staff in these departments, who I congratulate for their stellar and hard work on behalf of our students. I am also gratified to see McGill's rankings rise this year in the medicine and pharmacology categories."
Dean of Engineering Jim Nicell was equally delighted with the results in Mining and Minerals. "We are very proud to be ranked so highly along with our counterparts in other Canadian institutions," he said. "The mining industry is an essential part of the economy of Canada, so we must always do our best to stay at the forefront in our teaching and research in support of this sector."
McGill's ranking in the Medicine subject category rose from 27th in 2016 to 22nd in the latest edition. In Pharmacology, McGill moved up to the 31st spot from 37th a year ago.
McGill was ranked in five subject areas and placed in the Top 50 in four of them – Medicine (28), Arts & Humanities (43), Natural Sciences (46) and Social Sciences & Management (49). McGill ranked 63rd in Engineering.
QS evaluated 4,438 universities, qualified 3,098 and ranked 1,117 institutions in total. More than 127 million citations attributions were analyzed and the British firm verified the provision of more than 18,900 programs. This year's QS rankings by subject feature a record 46 subjects, four more than the previous year.
"McGill University now features amongst the world's elite institutions in 40 of the 46 subjects and all five subject areas featured in this year's QS World University Rankings by Subject," said Ben Sowter, Head of Division for the QS Intelligence Unit.
The University is currently ranked 30th globally by QS, among the almost 1,000 universities surveyed for the annual report of world university rankings. McGill has been ranked as the top Canadian university for 11 of the 13 years that the QS/THE rankings have been published, apart from 2013 and 2014.
The full QS World University Rankings by Subject tables can be found online. The full methodology can be found here.