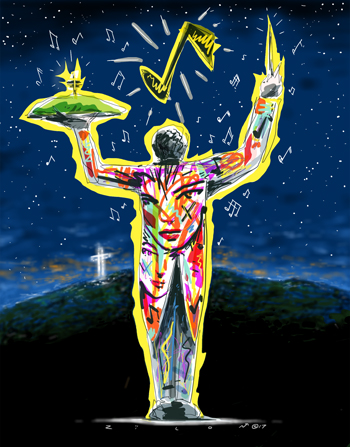 On August 19, at 9 p.m., the eastern flank of Mount Royal will become an outdoor amphitheatre for Montréal Symphonique. It's a free performance of major artists and Montréal's three great orchestras – the McGill Symphony Orchestra, the Orchestre Symphonique de Montréal, and the Orchestre Métropolitain, under the direction of Simon Leclerc.
More than 50,000 people are expected for a free two-hour outdoor symphonic performance on the side of Mount Royal. The program will also be broadcast on screens in parks in 18 boroughs across Montreal.
Four hundred musicians, pop artists and singers, including the McGill Symphony Orchestra (MGSO), the Orchestre Symphonique de Montréal (OSM), and the Orchestre Métropolitain (OM), will be on stage. The show will be presented continuously, without a host, against an illuminated visual backdrop.
"The McGill musicians will add an element of energy and youth, of 'fougue,' as representatives of the next generation of classical musicians. Their fresh voices will add a different element to the performance." says Simon Leclerc, the noted conductor of the OSM, orchestrator and composer who will be wielding the baton.
"As far as we know there has never before been a live performance featuring three orchestras on stage at the same time. They will play separately, as duos, and altogether, as an orchestra of orchestras," says Leclerc. "I cannot reveal the details of the program, but I can say that it will feature many styles and genres of music, and there are still a few surprises to come. We will use the music to talk about the four seasons of Montreal, plus a fifth imaginary season, representing what Montreal might become."
Leclerc will be conducting not so much from a podium, but from a platform spanning the three ensembles, spread across an enormous covered outdoor stage that will measure 128 feet by 56 feet. He jokes that he may need to wear running shoes to facilitate navigating the huge platform.
Annie Saumier, the Director Communications and Production for the Schulich School of Music explains how McGill's participation will include McGill musicians past and present. "When we were approached to be part of this great event, we agreed to 're-create' an MGSO from a mix of current students and alumni who recently were part of the MGSO," she says. "We are proud that there will be 38 McGillians on stage for this spectacular event."
Other performers include Alain Lefebvre, Coeur de Pirate, DJ Champion, Elisapie, ILAM, Isabelle Boulay, Marie-Josée Lord, Mélissa Lavergne, M-Mo, Patrick Watson, and Pierre Lapointe, with more performers to be announced.
This super production is organized by GSI Musique, the doyenne of Québec record companies, and directed by Nicolas Lemieux.  "There is no place more symbolic in Montréal than Mount Royal," says Lemieux, President of GSI Musique. "Thanks to the 375th celebrations, this free performance offered to all Montrealers will highlight music and cultural diversity."
Concert goers should be mindful of the fact there will be no rain check. The concert will go ahead regardless of the weather. There will be no parking available. No chairs are allowed. Pine, Parc and Mount Royal streets will be closed. Those who attend are encouraged to take the metro to the Mount Royal, Sherbrooke or Place des Arts stations, and walk to the site. There will be food and drink for sale, as well as public toilets.
Click on the thumbnail to view the promotional video