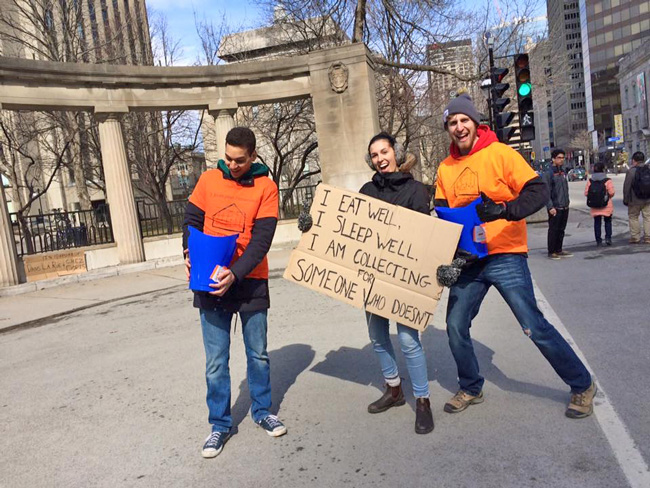 By Neale McDevitt
Editor's note: From March 13 – 18 students from across the country eschewed most creature comforts to live on campus – without shelter – for the annual 5 Day for the Homeless campaign. Participants were only allowed to eat food received through direct donations; have only a pillow and a sleeping bag; have no access to showers; and were not allowed to use cell phones or social media except to promote the campaign. Although the final tabulations are not in, the McGill team of 15 hearty souls surpassed its $15,000 goal and will likely end up donating some $17,000 to local grassroots organizations Chez Doris and Dans la Rue.
The annual campaign, which was founded by three students at the University of Alberta's School of Business in 2005, has raised $1,657,650 going into this year's drive.
Alex Grassby must have a different definition of the word "lucky" than most people. Case in point: "We were lucky," she says of her and her fellow McGill students who, over the course of five days last week, lived on campus, entirely outside, braving everything from rain and snow to sleet and hail. "Very lucky."
Or perhaps Grassby just has a different perspective than most people because, for the second year in a row, the Management undergrad has participated in 5 Days for the Homeless – in which university students from across Canada live outside to raise money for people living in the streets. Perhaps lucky has a new meaning when you have to rely on passersby for the food that you eat.
Grassby understands what it's like to try to sleep in sub-zero temperatures as she experienced in last year's 5 Days. This year's edition, though marked by damp and chilly weather, was temperate – in comparison. "It rained a few nights, so we slept under the McLennan library overpass. But on one of those nights there were too many of us, so some of us got a little wet," she says with a chuckle. "Luckily enough, we had a tarp, so it wasn't too bad."
There's that word again, lucky. Grassby underlines how fortunate she and her fellow 5 Dayers were to have the support of so many strangers who supplied them with 100 per cent of their food and drink. "But even though people were so generous, there was always that uncertainty. What will we eat tonight? Will we eat tonight?" she says. "And there was one night when all we had were granola bars and some other snack food. I can't imagine what it is like having to worry about your next meal every single day."
Some people, she notes, are not as fortunate as she is. "I did this for five days, but then I got to go back home. Homeless people don't have that luxury," says Grassby. "They have to deal with uncertainty – Where will I sleep? What will I eat? – every day. There are some great organizations in Montreal that help the homeless, but we all need to do our part, however large or small. These people are highly dependent upon the support and care of others to survive."
When asked was the first thing she did when she finally got back home, Grassby laughs. "I took a long, hot shower," she says. "It is wonderful to be able to stay warm consistently and to feel like you are where you are supposed to be – your own space. There is a comfort level and a feeling of safety that is not there on the street. It is amazing how living outside for a few days makes you appreciate just how lucky you really are."
Everyone should be so lucky.
See related story:
Walking a mile in another's shoes