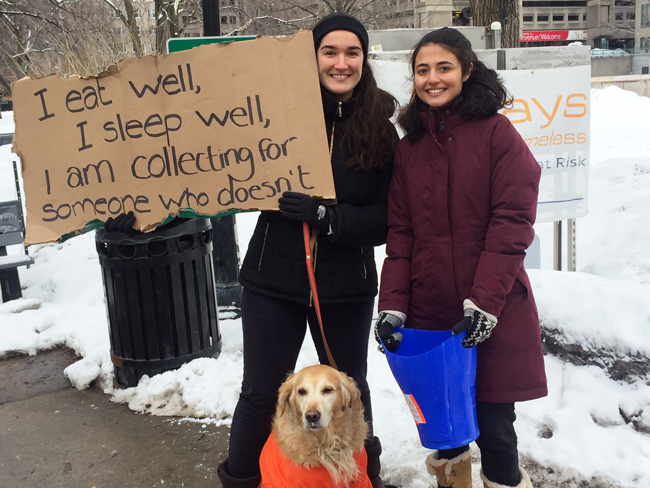 McGillians have been raising awareness of homelessness in Montreal by sleeping outside for five days. Since Monday, volunteers have been living and sleeping outdoors, armed only with a sleeping bag (and maybe a pillow), no income and surviving on food received by direct donation – all while attending classes.
It's called Five Days for the Homeless and it started in 2005 at the University of Alberta's School of Business. This week, 18 universities across Canada are participating, including McGill. The money donated to McGill participants by passersby will go to local organizations Dans la rue and Chez Doris. The five-day homeless challenge ends on Friday afternoon.
The movement is in direct response to the plight of Canada's homeless population. The I Count MTL 2015 census of the Montreal's homeless population said there are 3,016 homeless people in the City. Because of our climate, homelessness in Canada sometimes has dire consequences. About 100 people died on the streets of Toronto last year.
"I want to work on addressing the causes of homelessness when I graduate from Social Work," says Meghan Bottomley, currently studying Poli Sci and Indigneous Studies, and Executive Director of the McGill chapter of Five Days for the Homeless. "I became aware of homelessness as a high school student in Toronto, when our high school took us downtown to help homeless and marginalized people. It has become part of my life plan."
Bottomley has slept outside two nights of the five, and so has Suraiya Foss-Phillips, a second-year Poli Sci student who feels strongly about fighting homelessness. "I wanted to give back to the community and this seemed like a clear way to make a difference," she says. "I see people in the streets around the campus who are homeless, and I can see that they are suffering. I also know that the conditions they face are really rough in winter – it is cold and wet and really exhausting."
On this day, Foss-Philipps was accompanied by Jade Perrot, and the Perrot family retriever Chanel, at the Y Intersection. Perrot, who is studying International Development, says the experience has given her a small glimpse into the hardships faced by people living on the street. "Even after one night outdoors, with the option of going into Bronfman to warm up and dry out our stuff, I felt tired and irritable from lack of sleep and not enough food," says Perrot. "It is a great cause because it gives us real insight into what homelessness is actually like."
Thursday night is the last overnight of the five day challenge, and Friday is the last day. The hope is that the McGill participants will raise $12,000 for two local non-profits that work with homeless and at risk people; Dans la rue, founded by recently deceased Montreal folk hero, Father Emmett Johns, and Chez Doris, a refuge for women who are homeless or in difficulty.
You can follow the McGill campaign online.