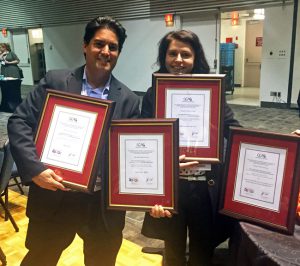 McGill has set a new gold standard for excellence in advancement, winning three gold medals at this year's Canadian Council for the Advancement of Education (CCAE) national conference in Hamilton, Ont. The Council's annual Prix d'Excellence awards are the benchmark for achievements in educational advancement in Canada, and McGill captured a total of four medals in categories covering traditional print content, digital communications and alumni engagement programming.
In addition, the CCAE's Outstanding Achievement Award for 2017 was presented to Marc Weinstein, Vice-Principal of University Advancement. In the citation for the award, the CCAE praised Weinstein as "one of the most open and collegial leaders in Canadian advancement" and commended him for his major contributions to Canada's advancement profession.
In accepting the award, Weinstein paid tribute to colleagues, mentors and friends at McGill and in the Montreal community for their support over the years, including Principal and Vice- Chancellor Suzanne Fortier, Principal Emerita Dr. Heather Munroe-Blum, and the Hon. Michael Meighen, Chancellor of McGill.
Here is the complete list of McGill's 2017 CCAE Prix d'Excellence awards:
Gold Medals:
Best Feature Writing in French, to the McGill News for a profile of McGill graduates who are involved in Montreal's multi-media sector.
Best Student and/or Young Alumni Event, for 'Welcome Class of 2016', a University-wide engagement campaign initiating graduating students into the McGill Alumni Association.
Best Use of Social Media for McGill24, McGill's annual day of giving digital campaign.
Bronze Medal:
Best Alumni Initiative for McGillConnect, the exclusive career/mentor network created for the McGill community.
2017 CCAE Outstanding Achievement Award:
Marc Weinstein, Vice-Principal, University Advancement