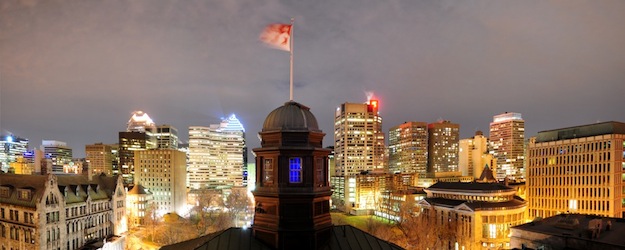 By Doug Sweet
McGill took another step this week into what many regard as the Next Big Thing in university teaching: the world of MOOCs.
Registration opened Monday for CHEM181x, McGill's first Massive Online Open Course.
Delivered through an international non-profit consortium called edX, which includes the likes of MIT, Harvard, Cornell, McGill, the University of Toronto and several other leading schools in different countries, edX MOOCs offer the opportunity for literally hundreds of thousands of people to study "at" some of the best universities on the planet on subjects as diverse as computational neuroscience or Walt Whitman's poetry. Through the Internet. For free.
That doesn't mean that MOOC students can pile up enough time in front of their laptops to earn a degree from any of the consortium's universities. EdX courses are not for credit. There are no marks, but if a student completes the program of study, including the various activities such as quizzes and participation in discussion boards and so on, a certificate of completion may be earned.
McGill joined edX last year and plans to roll out four courses over the coming year, beginning with this initial offering, called Food for Thought, to be delivered by Chemistry Professors David Harpp, Joe Schwarcz and Ariel Fenster.
"This course will shed light on the molecules that constitute our macro and micro nutrients and will attempt to clarify a number of the food issues using the best science available," according to the description on the edX website. "Other topics to be presented will include the diet-cancer relationship, the link between diet and cardiovascular disease, food-borne illnesses, food additives and weight control."
The first MOOC is a popular offering from the World of Chemistry series of courses. Subsequent MOOCs will focus on natural disasters (delivered by Earth and Planetary Science Professor John Stix and John Gyakum, Chair of Atmoshperic and Oceanic Sciences) and Management Professor Henry Mintzberg's Rebalancing Society: Social Learning for Social Impact, which will be delivered with Professor Leslie Breitner. A fourth, as-yet unidentified MOOC will also be offered, said Laura Winer, Interim Director of Teaching and Learning Services, who said it is hoped a course will be proposed from the arts and humanities side.
None of the initial MOOCs are new courses, but build on existing courses. Professors, a videographer, an instructional designer and a technical lead work together to create new ways of teaching the material.
Even then, a lot of work goes into developing a MOOC, Winer said. "You can't just film an hour of video and put it up on the web," she said. "A lot of people elsewhere are producing video with pretty low production values, or rediscovering the wheel. One of the reasons we're doing one at a time is that we're devoting resources into making sure it's really good. And they are going to be really good."
"MOOCs are incredibly labour-intensive and require many more support personnel than a traditional course, thus to be effective and efficient they have to reach these massive audiences, who will eventually have to pay something for what they are getting," Provost Anthony C. Masi said. "Like open courseware before them, MOOCs are raising the stakes for most institutions of higher learning. McGill offers a world-class education and we have to ensure we can continue to do so.
"Our model is very expensive to scale, but we still don't have a business model that makes sense for MOOCs. McGill is in edX using donations not operating revenues, but we have to see how we can shape our future to be both physical and virtual."
One thing educators have learned is to keep lecture segments short. A video component might be only eight to 15 minutes in length, Winer said, noting that while the lecture is the core content, a good MOOC involves exercises, discussions among students, and assignments for completion.
"During the present activity of preparing our Food MOOC," Harpp said, "It is already completely clear that with expert video editing and including more animated features, the course is even more inviting.
"If you are asking about how much extra time it takes to create a MOOC, we are on the learning curve but it is starting to add up.
So with all this time, effort and expense, why is McGill dipping a toe into MOOC waters?
"There are three drivers," Masi said. "To keep pace with the technological shifts that are occurring in higher education; to protect gains and our reputation for being at the cutting (not bleeding) edge of innovations in pedagogy related to these trends; and to improve the on-campus experience by participating with like-minded institutions who see a real value in campus, but who understand that for born-digital students we have to evolve."
In effect, McGill will be going to school through this project, to continue to learn about effective ways of conveying course material – either online or in the traditional classroom, or through a combination of both, for students who have grown up using technology far more than their parents ever did, Winer said.
"This is an opportunity for us to do more research in how to get the most out of our online world," Winer said. "That's really McGill's motivation. Let's explore what this is. Let's explore with other people."
Technology, Masi said, "is already changing the way we teach and the way students learn. Deep engagement is still the mantra, but how we get there must keep up with the times."
Universities have no choice but to explore this new world, Masi argued in an article in Literary Review of Canada's September issue. "If universities were traded on the futures market, I would only buy stock in those that are seriously addressing the key educational challenges of shifts in digital technology," he wrote. "Our [McGill's] approach builds on four interrelated pillars: evidence-based pedagogy, sound management of information resources, redesigned physical spaces and appropriate adoption of new instructional technology, including but not limited to MOOCs.
"Traditional universities do not currently possess appropriate, accurate and timely data on how our students learn, which adds frustration in trying to develop sound teaching guidelines and recommendations for professors. Another consequence of the lack of analytics is that units such as medicine and engineering, which need curriculum-mapping capabilities for their accreditation requirements, are left without the necessary tools. And the promise of such information is just one reason that McGill University has become a member of the non-profit MOOC consortium edX."
Will MOOCs supplant the traditional university, or become a dominant part of our pedagogy? Not in the near future, apparently.
"It is never likely to be the majority of what we do, but there is room for growth, slowly, deliberately, and always ensuring that we apply quality assurance measures commensurate with, and even identical to, what we do on campus," Masi said. "We have several committees already hard at work, and APC (Senate's Academic Planning Committee) has oversight for any new courses or programs."
MOOCs can't replace the traditional university, Harpp said. "A properly done MOOC takes a great deal of effort to produce and even if we hired a dozen editors and a dozen other helpers, we could not produce many MOOCs out of our approximately 10,000 courses – but we can create a few of them."
Winer concurs. "MOOC materials may become part of the content library that instructors rely upon," she said. "We're producing some really high-quality materials they'll want to use."
Discussions and debates about MOOCs – academics are far from unanimous about their benefits – have had one important spinoff effect, Winer said. "They have raised the profile of teaching and learning" – serving as a reminder that universities need to keep up with the latest in the domain of teaching as well as the world of research.