By Galitt Araf
On Jan. 14-16, McGill hosted Canada's third annual Fair Trade Conference with The Canadian Fair Trade Network (CFTN). The three-day event brought together leaders from across the country committed to the advancement of Fair Trade, both on a small scale and globally. Participants included Fair Trade campus delegates, food service companies, non-profit partners and government institutions.
As the first Fair Trade Campus in Quebec and the fifth in Canada, McGill is no stranger to getting involved in ethically responsible food sourcing. McGill's continued dedication to sustainability has secured its place as one of the key players in the Fair Trade movement.
One of the benefits of implementing Fair Trade practices is the significant improvement in the workers' quality of life – something Eric St. Pierre, a photojournalist and Co-President of l'Association Québécoise du Commerce Equitable, can attest to. During his 18-month stay in Burkina Faso, he witnessed firsthand what Fair Trade can do for a community. There he saw how more and more women had access to higher education and were able to choose their own partners instead of getting forced into arranged marriages.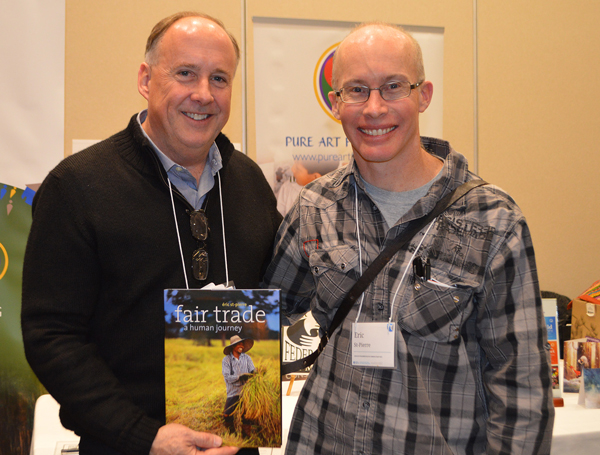 His latest book Fair Trade: a Human Journey catalogues his astonishing work photographing the lives of people around the world who produce items that we sometimes take for granted. St. Pierre said that we all drink coffee and eat bananas and chocolate, but most of us are unfamiliar with the hard work that goes into producing the final product. It's important for him to bring that work to the forefront.
Another speaker with impressive field experience was Marike de Peña, Director of Banelino, a banana cooperative comprising nearly 400 small farmers in Northwestern Dominican Republic. Her focus is on protecting and supporting small farmers by increasing their benefits, income, and influence, and by improving living conditions. Moving forward, Peña would like to limit the roles of businesses and NGOS and to introduce more family farming in Latin America. Her hope is that big businesses increase their commitment to change from conventional supply chains to more producer-controlled.
Peña believes that people are still misinformed when it comes to what Fair Trade can and cannot do. She noted that while it cannot remove poverty, it can improve the overall lives of individuals. Peña stressed that adopting Fair Trade practices definitely benefits numerous populations and makes the world a better place.
One of the topics of discussion was how we can further advance Fair Trade initiatives. Empowerment is key; whether that's empowering women by increasing gender equity in SPOs (Small Producers Organizations) or by giving students the tools they need to take initiative organizing Fair Trade events on campus.
Mark McLaughlin, Executive Director of Ancillary Services for Simon Fraser University was part of a panel that discussed Fair Trade progress on campuses. He told the audience how Simon Fraser gave Tim Hortons the ultimatum: provide fair trade options or you're no longer on campus.
When one of the students on the panel, Anneka Bosse from Brock, Ontario said that she encountered quite a bit of red tape when attempting to organize Fair Trade Programs on campus, Student Housing and Hospitality Services Executive Chef Oliver de Volpi insisted, "There are always people within the University who can help. Find your allies." Mr. De Volpi went on to say that it's easier than you might think to make it happen. The most important thing is to be persistent and not give up.
The Conference ended on a high note, with an informative Trade Show showcasing various Fair Trade vendors such as Ten Thousand Villages, which specializes in handcrafted jewelry, personal accessories, home decor, and skin care products. "You have to know the effect you have with every purchase you make…(your purchases) can help those you support. For me it's all about putting the artisan first. Putting people first," said Opal Lancaster, Manager of the Ten Thousand Villages store on Saint-Denis.
Another one of the brands on display at the Trade Show was Arayuma – a company that sells aromatic, high-grade True Cinnamon that's grown, harvested and traded according to Fair Trade standards. For the President, Chanaka Kurera, Fair Trade is "all about giving back to the people who deserve it." This was definitely one of the main themes of the event; the importance of taking care of the individuals who devote themselves to producing products that all of us use/consume regularly.
For more information, visit Fair Trade Canada.